Recently a gentleman knocked on my door and identified himself as a salesperson for a well-known pest control company. After a brief introduction, I told him that I wasn't interested, but that he should try China because I hear that the country, when all else fails, is open to buying just about anything. He smiled and looked puzzled.
But that is exactly the mantra that is broadcast by many every time the demand for something starts to waver and the price starts to adjust, including on silver lately. The word in various blogs was that – and I'm paraphrasing – "One should not worry, China will be a buyer of silver on the cheap."
Two often forgotten commodities have been telling a different story: Copper and cotton. These two widely-used raw materials within Chinese industry had already lost their appeal, with copper retreating 12% since mid-February and cotton dropping a whopping 30% since the beginning of March. Further hints were given by the Financial Times in April:
In the Chilean capital, at this week's Cesco conference, many in the industry were confused about the short-term outlook for copper. Nobody disagrees there has been a sharp rise in warehouse stocks in and around China. There are no official statistics, but traders estimate inventories of copper in bonded warehouses at ports – where it can be held before import duties are paid – doubled in the last six months to about 700,000 tonnes.
But we want to look at the state of oil demand and the ongoing "China-Saves-the-World" premise. The first take on this subject is strictly related to the U.S. market; Bloomberg had this to report before the EIA released inventory data last week, showing the focus on the American consumer:
"We're still continuing to see the builds" in inventories, said Jonathan Barratt, managing director of Commodity Broking Services Pty in Sydney [Australia], who predicted oil will average $100 this year. "The litmus test will be the employment data due out on Friday."
The employment data came and went, and didn't do much for the slick commodity -- even with unresolved Middle East/North Africa conflicts -- mostly because of a number of other factors in play, such as speculation cleansing.
The U.S. Energy Information Administration has complete oil consumption numbers for 2010, although I must point out that the data is still marked "F" (Forecast) with relation to developing countries – China, Russia, India, and Brazil, among others. But experience tells me that adjustments will be insignificant from a macro perspective. Thus, the charts that follow were constructed with data sourced strictly from the EIA.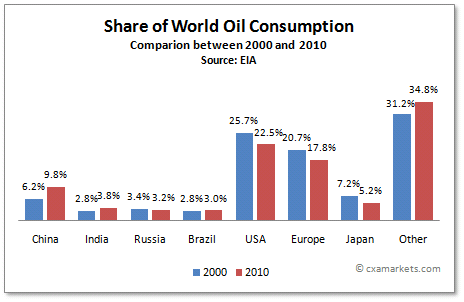 First, we look at the share of world oil consumption, highlighting both the well-known developed economies and the up-and-coming players. When comparing market share between 2000 and 2010, it is immediately apparent that developing economies are consuming a larger share, and the US, Europe, and Japan as a group represent 8.1% less than they did one decade ago.
Thus, the growth will come from the developing world, one may assume. That would only be true going forward if the dependency on developed economies was non-existent. Apart from China gaining 3.6% market share over 10 years, India and Brazil barely grew, while Russia declined. Thus the overall distribution shows an extremely mild shift, considering the length of time.
As further reference, world oil consumption grew 11% between 2000 and 2010, but only 1.4% between 2005 and 2010, emphasizing that increased consumption by developing economies is being met by reductions taking place in developed countries.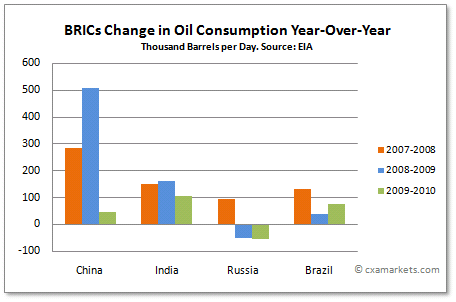 But let's take the end of 2007 as a starting point, because that is when the credit crisis blossomed, and that year has been used as a reference point when stating that BRICs would lead the recovery. It becomes apparent that these economies fell extremely short of providing the economic leadership that has grabbed headlines. China saw an increase of almost 300,000 barrels in 2008, over 500,000 barrels/day in 2009, and then came to a virtual stand still in 2010. According to Bloomberg, in November 2008, "China has finally unveiled a long-anticipated economic stimulus package of about $585 billion dollars to be spent by the end of 2010, amounting to a whopping 16% of GDP according to Morgan Stanley." That was the driver that has expired.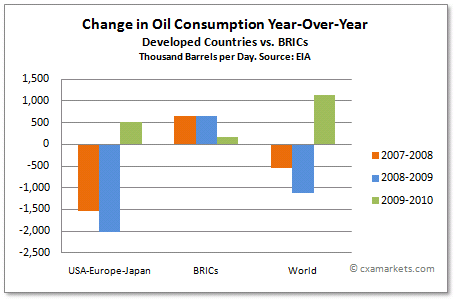 In 2010, the trio of developed economies – yhe US, Europe, and Japan – led the rise, accounting for almost half of the growth in consumption, while total world consumption was back to 2008 levels -- but still below 2007. Interestingly, China's consumption in 2010 grew by a paltry 0.56%, while Brazil, a much smaller player, had the highest growth rate of the group at 3.05%, or only 77,000 barrels per day.
Recently Saudi Arabia was criticized for reducing production while high prices prevailed, although the country's position is no different from last December when it indicated a lack of demand. With respect to Libya, Reuters reported.
Saudi Arabia and some other OPEC members unilaterally boosted oil production after the March uprising against Libyan leader Muammar Gaddafi shut down the bulk of the North African OPEC member's oil industry but weak demand for the additional production appears to have prompted the reduction in output. Naimi said Saudi Arabia had sold 2 million barrels of a special blend of crude that tried to replicate the high quality Libyan barrels lost. Demand for the blend has been tepid, according to oil traders.
The inflated price still reflects a "disruption premium," but as it stands, oil consumption for 2011 will be at 2009 levels if not lower, and the declining trend will resume, especially considering the unraveling economic background and the ever present technological advancements and efficiency that even BRICs want to adopt.
Maybe Spain will not deliver this summer's surprise, and we should be looking further east for the unthinkable.
Disclosure: I have no positions in any stocks mentioned, and no plans to initiate any positions within the next 72 hours.