Sometimes investing comes down to simplicity. One simple object humans will always need is food, which means companies related to food will always have room to grow. With that said, you must be cautious as restaurant and food companies are easy to replicate. Therefore a popular food chain today could be bankrupt tomorrow. Nevertheless, I will discuss five food chains that have plenty of room to grow and would be great additions to your long term portfolio.

One negative about food companies is commodity prices, which can dig into profit margins. Companies usually try to pass higher commodity prices onto the consumer, via higher-priced products to make up the difference. However, if a company simply equals the same profit every quarter, there will be no growth. And investors want to hold companies with long term growth potential, not a company that stagnates. Granted, if the stock price never dips, then you will never lose any money. But isn't the goal of investing to make a profit?

Sometimes inflation intertwines with commodity and food prices. Many believe the country, as well as the world economic system, is facing an inflationary period because commodities are rising to all time highs. However, as we saw this past week, the Federal Open Market Committee (FOMC) may be correct when it stated
that the economic recovery is on a firmer footing, and overall conditions in the labor market appear to be improving gradually.
The FOMC went on to say:
increases in the prices of energy and other commodities are currently putting upward pressure on inflation,
but that these affects will not last. If this holds true, restaurant companies will not have to worry about lower margins in the future. However, it must be noted that even if commodity prices drop, many restaurant companies have made and will make food more expensive since the consumer is willing to pay.

Domino's Pizza

One company that is growing to new levels not seen since 2007 is Domino's Pizza (NYSE:DPZ). Domino's stock has risen about 73% in 2011 with no signs of slowing down. Domino's recently beat earnings expectations and shareholders were rewarded. Domino's reported an EPS of 43 cents on revenue of $389.2 million. The expectations were 35 cents per share and $379.9 million in revenue. The biggest question for Domino's, as is every food company, has been how commodity prices affect food. As you can see here, Domino's combats rising commodity prices by franchising over 90% of its restaurants. By doing this, higher commodity prices are passed down to the owner of the franchise. But Domino's is still
focused on store costs as they impact our entire system, and we continue to work to drive further improvement in the level of profitability for our franchisees' stores.
Also, as I've mentioned in my instablog, Domino's has introduced several consumer friendly promotions. One negative trait Domino's has for a long term portfolio is a lack of a dividend. Despite the nonexistent dividend Domino's has the potential to outperform competitors and continue to grow for years to come. Once Domino's adds a dividend, the company will be a perfect holding for your portfolio.
Click to enlarge: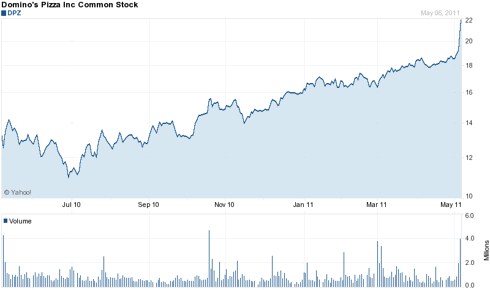 Chipotle Mexican Grill

Chipotle Mexican Grill (NYSE:CMG) is another restaurant that has been growing for years. Unfortunately, based on the latest earnings report, the company may be cooling off. Among other things, this slowdown may be due to higher commodity prices that were frequent throughout the first quarter. Chipotle reported earnings of $1.46 per share and revenue at $509.4 million. Chipotle's motto is to "demonstrate that food served fast didn't have to be a 'fast-food' experience" and that Chipotle uses "high-quality raw ingredients, classic cooking methods and a distinctive interior design." Because of these reasons, consumers flock to the restaurant for tasty food that is healthier than a pizza or a burger. In my mind, Chipotle still has room to run; despite having almost 1000 restaurants open. Just as Domino's, Chipotle has no dividend, which is very demoralizing for such a high cap stock. Chipotle has pulled back about 7% from its 52 week high. This pullback is most likely a healthy pullback as the share price was 26.84% above the 200 SMA; which means the company was probably overbought at the time of earnings. If commodity prices stay down this quarter, Chipotle will continue to grow at the rate we have seen the past year.
Click to enlarge: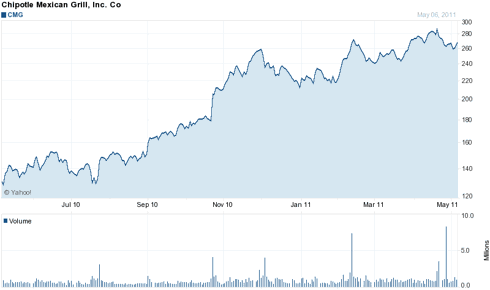 Whole Foods

Another company capitalizing on healthier food choices is Whole Foods (WFM). Whole foods is a market that sells healthier and organic food choices. The high percent of organic foods give consumers a healthier, tastier, and cleaner food option than a regular market. Whole Foods has been able to maintain profit margins because the "high class consumer has returned to the market much sooner than expected." The proof is Whole Foods' recent earnings report in which it reported an EPS of 51 cents on profit of $89.9 million. Whole Foods uses demographics to determine where it builds new stores. For instance, the company focuses on wealthier areas because wealthier people are willing to spend more on food. However, with rising food prices at other stores, Whole Foods is a healthier alternative. Whole Foods is another option for investors looking for a food stock that has great potential to keep growing over the next several years; especially if the economy continues to stabilize. Based upon Whole Foods lifetime chart, Whole Foods' shares will surpass their all time high from December 2005, sometime in the first or second quarter of 2012.
Click to enlarge: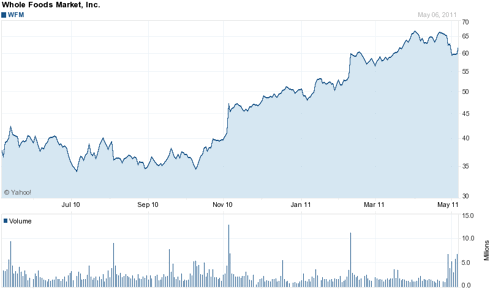 Buffalo Wild Wings

Another mid cap company with a strong growth curve is Buffalo Wild Wings (BWLD). The company recently posted earnings beats with revenue at $182 million and an EPS of 81 cents. Buffalo Wild Wings will most likely continue to beat earnings in the future as college age consumers go to restaurants very frequently. Given the fact that college is becoming a necessity, there should be a constant stream of students. On the one hand, Buffalo Wild Wings is family friendly, while on the other hand Buffalo Wild Wings is party friendly; just as BJ's Restaurants (NASDAQ:BJRI) is. The surge in popularity comes from the excellent quality of the food and the fun environment. This partying atmosphere usually involves watching sporting events. Also, Buffalo Wild Wings, just as Chipotle, uses fresh ingredients to make the food fresher and tastier. In terms of long term growth; investors must be cautious as there are many popular restaurants out there competing for the same costumer base. Nevertheless, I am expecting Buffalo Wild Wings to continue to grow for many years since the company has slowly grown since its IPO in 2003.
Click to enlarge: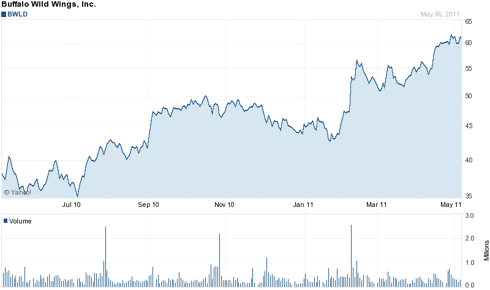 Darden Restaurants

Darden (NYSE:DRI) is one of the largest restaurant chains in the world with over 1800 restaurants. Due to its expansion, some think there is not much room for growth. However, I think based upon the 200 SMA over the past 16 years, Darden can still build more restaurants and exceed profit margins. Also, a company as big as Darden would have no problem acquiring other companies. Another way to spend excess cash flow is a constant dividend. SInce 1995 Darden has slowly increased its dividend, excluding 2005-2008. Currently Darden is paying about 32 cents per share per quarter as a dividend. Which is an increase of 14 cents over the entire year from 2010. This dividend is a sign that Darden has the cash flow to continually grow for many years. I wouldn't go as far to say Darden has as much potential as Domino's or Buffalo Wild Wings; but Darden would be a terrific addition to build a stable portfolio.
Click to enlarge: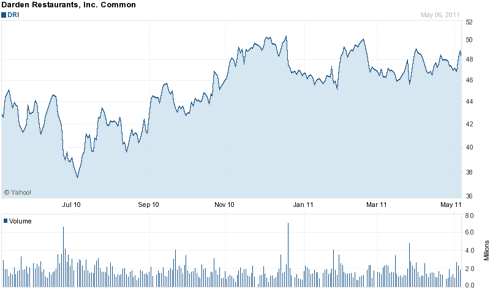 As you can see investing in a restaurant company can be tricky since many factors are involved. These companies above are not the only long term growth companies in the retail-restaurant sector, but these are proven winners with long term potential. If you can pick a winning long term restaurant company, your portfolio will be more stable, diversified, and most importantly, more profitable.

Disclosure: I am long DPZ.