The National Association of Publicly Traded Partnerships is a trade association representing publicly traded limited partnerships commonly known as master limited partnerships (MLPs). On May 5 it published a press release, which shook MLP securities:
Ways and Means Chairman "Would Not Be Inclined" to Consider Taxing Passthroughs

Investors in MLPs and other passthrough entities concerned about reports of a Treasury proposal to tax passthrough entities with income over a certain amount as corporations should be relieved to know that the idea is apparently a non-starter in the House of Representatives. According to The Hill newspaper, Ways and Means Committee Chairman Dave Camp (R-MI), when asked about the proposal, threw cold water on the idea, saying, "It's not something I'd be inclined to consider."

Camp's counterpart, Finance Committee Chairman Max Baucus (D-MT), on the other hand, has been quoted as saying, "We're going to maybe have to look at passthroughs, say they've got to be treated as corporations if they earn above a certain income. It's one possibility." In direct conversation with NAPTP representatives, however, Senator Baucus has indicated that he was not concerned about pipeline PTPs. From his comments it is clear that he understands the vital role that MLPs play in energy delivery infrastructure. In any case, even if Baucus were to support taxation of some passthroughs and convinced the Senate to adopt such a proposal, Camp's statement makes it clear that it would go no further.

In addition, an unnamed Administration official was quoted in The Hill as saying: "No decisions have been made about the substantive content of any specific reform proposal or the timing or manner in which the administration will push this dialogue forward."

Last week was a very difficult week for all securities and commodities. MLPs sold off sharply on the threat that the preferred tax status for distributions paid by MLPs were called into question. The Alerian MLP Index started the week at 390 and 4 days fell to 360, an unprecedented move for a low beta (not expected to have substantial sudden price swings) index. The Friday recovery brought the index back to 371. But this still ranks as one of its worst weeks for the index in its 15+ year history.

Alerian MLP Index --- 2 weeks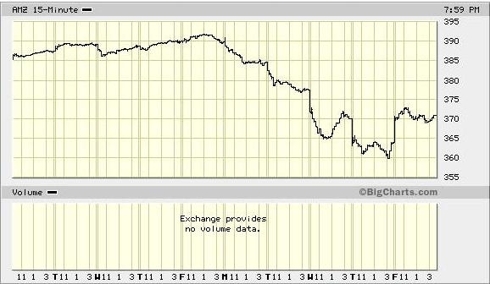 MLP distributions receive preferred tax treatment because MLPs build infrastructure for moving energy around the US, a national priority. Typically only about 15% of distributions are taxed in the current year, although there is a fair amount of hassle associated understanding K-1 tax forms, which are sent out late in the tax season cycle and additional record keeping is needed. The proposal to make passthrough entities pay corporate income taxes shook the MLP market but it looks like no changes will be made this year. However Congress controls taxes and a change in the preferred tax structure for MLPs is an ongoing risk. This risk should be remembered especially after the extraordinary 150% rise (almost triple with reinvested income) for the index during the last 2½ years. If Congress changes tax laws for passthrough entities, MLPs will sell off sharply when investors demand substantially higher yields.

Disclosure: I have no positions in any stocks mentioned, and no plans to initiate any positions within the next 72 hours.