Rogers Communications (NYSE:RCI) is a diversified communications and media company. It is Canada's largest provider of wireless voice and data communications services and also one of the leading providers of cable television, high-speed internet and telephony services. The company was founded in 1920 and headquartered in Toronto, Canada.
Note: All numbers used in this article are in Canadian dollars, unless otherwise specified.
Business Segments
Rogers operates in three business segments: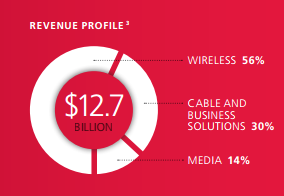 Rogers Wireless - Rogers is Canada's largest wireless voice and data communications services provider with over 9 million customers. The company operates under the Rogers Wireless, Fido and Chatr brands.
Rogers Cable - provides digital television and online viewing, high-speed broadband Internet access, telephony services, and home monitoring and automation solutions.
Rogers Media - operates radio and television broadcasting, sports entertainment, publishing and digital media properties. The radio group operates 55 radio stations across Canada; the publishing group produces over 50 consumer and trade magazines. Rogers Media also owns the Toronto Blue Jays Baseball Club, Rogers Centre and a 37.5% stake in MLSE.
Outlook
Rogers is the largest wireless provider and owns approximately 34% of the market share. Rogers Cable commands a 30% market share. The revenue and profits for both the divisions show stagnation or a small increase. However, the media business while expanding has been less profitable over the years.

Rogers has been concentrating on expanding its reach in the media business. The flatlining of revenue growth and possible decline in earnings over the next few years has Rogers (and other providers) look at media as an avenue for growth. Rogers recently launched a new streaming service called Shomi, clearly targeted at enchroaching Netflix's (NASDAQ:NFLX) market. Shomi is currently offered at the same rate as Netflix for $8.99/month. More recently, Rogers and Vice Media announced a $100M deal to produce content for Canadian consumers.
Rogers-NHL Deal: In 2013, Rogers secured a 12-year $5.2B broadcast and multimedia deal in Canada with the National Hockey League (NHL). The deal will provide Rogers with national rights to all NHL games, including playoffs and Stanley Cup finals. The agreement also guarantees that there will be no further regionalization of games or local blackouts while giving Rogers three exclusive windows to broadcast any game involving a Canadian team on Wednesday, Saturday and Sunday nights.
Acquisition of MLSE: In 2012 Rogers Communications, along with BCE Inc (NYSE:BCE), acquired MLSE - a holding company that owns Toronto Maple Leafs (NHL), Toronto Raptors (NBA), Toronto FC (MLS), Toronto Marlies and the Air Canada Center in downtown Toronto.
Risks
Being the largest wireless service provider, Rogers is at risk of losing its throne to other industry giants such as BCE Inc and Telus (NYSE:TU). BCE Inc has been able to grow its wireless segment in the latest quarter as seen in this analysis. The incumbent service providers also are at risk of new entrants. A fourth national carrier is speculated to possibly rise: Quebecor Media, which owns Videotron, is said by many experts to be the possible candidate. While still a regional player in the province of Quebec, the company has been vocal in attracting attention to expand in the rest of the country. Any fourth national player will definitely put a dent in the market share and revenue of the Big Three.
On the cable front, consumers have started cutting the cord and shedding their cable services to move to online content instead, which could see challenges in Rogers' cable segment.
The media business has seen smaller and declining profits over the years. It remains to be seen if Rogers can turn that direction around.
Dividend Stock Analysis
Financials
Revenue has flatlined over the past couple of years and earnings have been declining since 2012. This is a cause for concern and analysts are expecting the earnings to continue declining at a rate of 2% over the next five years.

The Return on Equity currently stands at 27.97%.
Dividend History

Rogers Communications Inc is a component of the S&P/TSX 60 index and has been paying dividends since 2000. Rogers has a record of raising dividends for 9 years in a row, with a five-year dividend growth rate of 11.7%. The stock yields approximately 4.25%. The EPS payout ratio is 68%.
Outstanding Shares

The number of shares dropped nicely after 2008, but have remained constant since 2012. However, it is comforting to see that in these rough times, the share count isn't increasing.
Book Value and Growth

The book value remains in an uptrend, although the growth rate has slowed in the last year.
Valuation
To determine the valuation, I use the Graham Number, Average Price-to-Earnings, Average Yield, Average Price-to-Sales, Dividend Discount (Gordon Growth model) and Discounted Cash Flow. For details on the methodology, click here.
The Graham Number for Rogers with a book value per share of $10.2 and ttm EPS of $2.64 is $24.61. Based on last closing price, the stock is currently 76% overvalued.
RCI's 5-year average P/E is 16.7 and the 10-year average P/E is 15.3. Based on the analyst earnings estimate of $3.06, we get a fair value of $51.10 (based on five-year average) and $47.03 (based on ten-year average).
RCI's average yield over the past five years was 3.63% and past ten years was 2.27%. Based on the current annual payout of $1.83, that gives us a fair value of $50.41 and $80.62 over the five- and ten-year period, respectively.
The average 5-year P/S is 2.20 and average 10-year P/S is 2.18. Revenue estimates for next year stand at $25.7 per share, giving a fair value of $56.54 and $56.03 based on five- and ten-year averages, respectively.
The Gordon Growth Model is a quick way to calculate the fair value of a company using the current dividend, the expected dividend growth rate, and our required rate of return or discount rate. Using an expected rate of return of 10%, and a dividend growth rate of 5% (lowest dividend raise in the past 10 years), we get fair value of $36.60.
The consensus from analysts is that earnings will decline at 2.1% per year over the next five years. If we take that number and assume that Rogers will turn around to start growing its earnings by 2% thereafter, running the three-stage DCF analysis with a 10% discount rate (expected rate of return), we get a fair price of $26.56.
Conclusion
Rogers Communications is a household name and one of the Big Three communication giants in Canada. The company is a component of S&P/TSX 60 and has paid dividends since 2000. A dividend grower for 9 years, the company boasts a five-year dividend growth rate of 11.7%. Rogers has been facing challenges of flatlining revenues and declining earnings. To counter the trend, the company is focusing its efforts on growing its media business segment and attempting to make it more profitable. The analysts and investors remain cautious and skeptical and due to this reason the stock price remains subdued. The stock is currently attractively valued, but challenges remain on its future direction and growth.
Full Disclosure: Long RCI, BCE. My full portfolio is available here.
Disclosure: The author is long RCI, BCE.
The author wrote this article themselves, and it expresses their own opinions. The author is not receiving compensation for it (other than from Seeking Alpha). The author has no business relationship with any company whose stock is mentioned in this article.