Bundling of oilfield products and services is a hot topic these days. Suppliers contend it's what their oil and gas industry customers need. Customers seem intrigued. Wall Street sees the concept as a catalyst for suppliers to grow revenues and expand margins, and a way for E&P companies and other asset operators (like drilling contractors) to reduce costs.

On the surface, it's easy to understand the enthusiasm. After all, who doesn't want to believe that leveraging a supplier's relationships and infrastructure by selling more goods and services to individual clients is a good thing? Likewise, for customers seeking more effective supply chain solutions and partnering practices, "one-stop-shopping" must be the way to go. Right?
Well, maybe not. Analysis of data collected as part of EnergyPoint Research's independent customer satisfaction surveys paints a more murky picture regarding the benefits of bundling than conventional wisdom might suggest.
More Looking Like Less
To better understand the impact bundling has on users' experiences, we segmented thousands of customer evaluations of oilfield suppliers from our industry-wide surveys into four groups based on the number of a supplier's product and service offerings used by the customer. We then calculated the average satisfaction rating customers gave the suppliers within each group.
What we found was that the greater the number of a supplier's offerings a customer utilized, the lower the overall satisfaction score the supplier received from the customer on average. The drop-off was especially apparent -- with a t-test showing 99% statistical significance -- when three or more offerings from the same supplier were utilized by the same customer.
(Click charts to enlarge)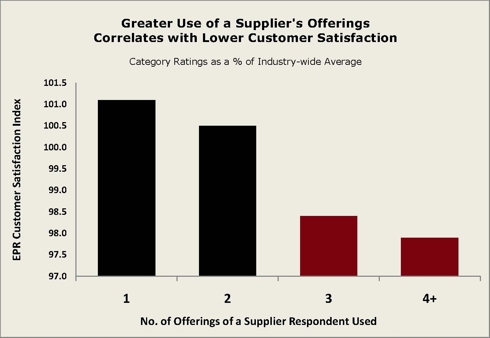 Who and What
To be sure, our analysis included some of the industry's largest and most high-profile suppliers. Equipment providers Aker Solutions (OTCPK:AKKVF), Cameron International (NYSE:CAM) and National Oilwell Varco (NYSE:NOV) all saw meaningfully lower levels of customer satisfaction when three or more offerings were used by the same customer. Baker Hughes (NYSE:BHI) and Halliburton (NYSE:HAL) showed only modest differences, while Schlumberger's (NYSE:SLB) gap was quite large. Weatherford (NYSE:WFT) was the only supplier examined that saw its satisfaction score actually rise with broader usage of its offerings.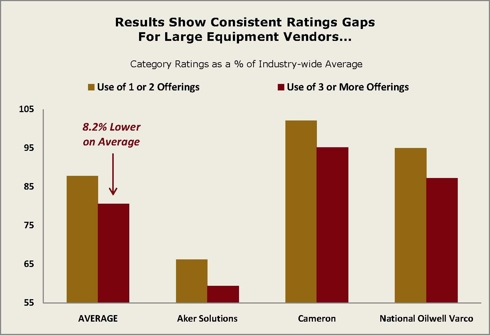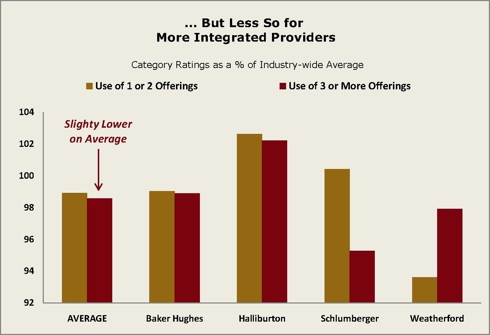 High-level results from EnergyPoint's recent surveys seem to confirm oilfield customers' preferences, at least in terms of customer satisfaction, for suppliers with more focused offerings. Companies like Core Laboratories (NYSE:CLB), Derrick Equipment, the Frank's companies, Newpark Resources (NYSE:NR), Oceaneering (NYSE:OII) and Lufkin Industries (NASDAQ:LUFK) all win disproportionally large shares of the industry's top rankings in our industry –wide surveys.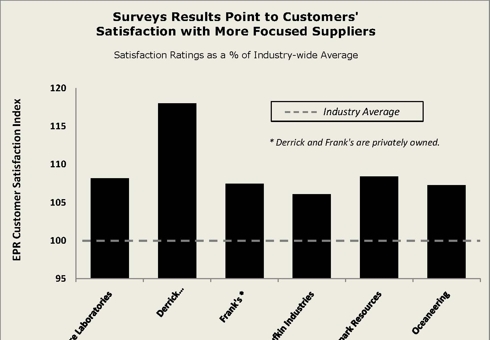 Of the 50+ offerings measured in EnergyPoint's surveys, downhole cementing equipment was the product category most often used in conjunction with others from the same supplier. Remotely operated vehicles (ROVs) were the least. On the services side, directional drilling was the most likely to be purchased in conjunction with others from a single supplier, while contract drilling was the least.

Reassessments Warranted
Dealing with a single supplier for multiple products and services is one thing, having a better overall experience with those offerings is another. Although correlation does not prove causation, if the practice of bundling is in fact a universally effective way for suppliers to add value for customers, it's our opinion results from the analysis would look much different.
At the very least, we believe the results cast doubt on any blanket contention that bundling significantly and/or consistently boosts customer satisfaction on average within the industry. What's more worrying, however, given the shape of the data, is that the industry's efforts at bundling may actually be hurting overall customer satisfaction levels.
Note - This analysis is derived from 6,000+ customer evaluations of oilfield product and service suppliers collected via EnergyPoint Research's independent surveys since June 2008.
Disclosure: I have no positions in any stocks mentioned, and no plans to initiate any positions within the next 72 hours.