China reported a trade surplus for the month of April at $11.4B, up from virtually 0 in March. Exports rose to a record $155.7B (up 2% m/m, 30% y/y) from $152.2B in March and $119.9B in April 2010. Imports slipped month-on-month to $144.3B (down 5% m/m, up 22% y/y), from $152B in March, and $118.2B in April 2010. The return to a monthly surplus will likely accentuate pressure from the US for China to alter its yuan policy, but there are other forces at work which will drive both upward and downward pressure on China's trade balance.
[Click all to enlarge]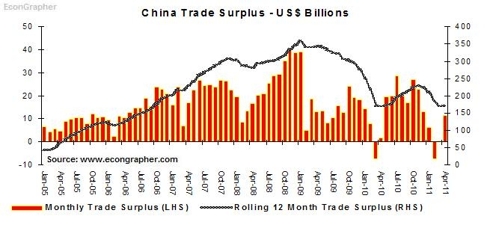 On a rolling quarterly basis, the trade figures look relatively stagnant as the holiday period slump still weighs down the data. That said, the period appears flatter than previous post-holidays. But one of the most disappointing parts of the results was the fall in imports on a monthly basis. Some of it may have stemmed from a spike in March, but the trend for rising imports is one of the most interesting parts of the trade data. It shows China's economic influence starting to grow as a credible source of demand for the world. And this trend should only be reinforced by the steady rise in incomes in China -- particularly in particular rural China, as it plays catch-up.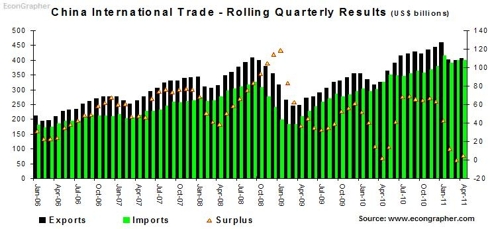 Indeed, I've often noted the importance of China actively reorienting its economy toward internal demand, rather than relying on external demand. The necessity of this is put in stark focus in times like the Great Depression, where trade volumes slumped. But as I mentioned, it is already a force set in motion through the structural trend of rising incomes. Another factor may well be inflation; China may be able to offset some supply-driven inflation through lifting imports in those products that are scarce ... though of course the yuan policy would need to be consistent with this.
So there is a set of forces that are at work that will likely see a more structural decline in the trade balance. Working against that, in the short term at least, is a potential decline in commodity prices; if the recent sell-off continues, it could well ease import prices and see a price driven increase in the trade surplus. But as inflation is set to be a potential driver of increased imports, it may also be a driver of the already increasing cost base, which will likely see China pass the torch of being the low-cost producer of choice to another developing country.
Overall, the results were relatively benign, but there are structural and cyclical forces working away in the background that are sure to have a noticeable impact on trade and China's economy in the medium term. In the short term, the result is positive in that exports are running at a healthy level, and that the first month of Q2 2011 already has a positive contribution from net exports to GDP. So in the short term, this is a positive sign for the Chinese economy, and is another non-slowdown bit of data. Keep your eye out for the rest of the April data, though.
Disclosure: I have no positions in any stocks mentioned, and no plans to initiate any positions within the next 72 hours.