Facebook, Inc. (NASDAQ:FB) laid the groundwork for a new generation of revenue when it purchased virtual reality developer Oculus VR for $2 billion. This acquisition has put the company in a unique position where it has control over one of the top hardware manufacturers in the VR industry in addition to being able to influence the production and direction of software and content for VR to its users and the population at large. Virtual reality is in its infant stages and I believe Facebook will continue to throw money at the industry through investment in Oculus and further strategic acquisitions to ensure a dominant position in the projected $2.3 billion hardware market and $4.7 billion software market by 2018.
While virtual reality is considered the future of gaming, some people have shown reservations over Mark Zuckerberg's vision that it can change the way people communicate and do business. There are technological hurdles to overcome and there are doubts that people will accept virtual reality contact as a form of truly connecting with others.
I will tackle the latter issue of marketability first. The criticism of VR communication is that while you are connecting with others on some level, ultimately you are alone. Detractors often point to the lackluster performance of Second Life, the online virtual world which was over-hyped a decade ago, as a reason to doubt virtual reality as something that will become mainstream. The videophone concept that started in the 1970s was never a commercial success, but eventually technology developed to the point where the concept gained market acceptance. Skype ended up getting purchased by Microsoft (NASDAQ:MSFT) for $8.5 billion in 2011 on the concept of face-to-face video communication that saves customers long distance phone charges.
Friends and family members who live at opposite ends of the world would find great use out of VR communication at the right cost and functionality, even if they are "alone." You are also technically alone while on Skype and yet that business model managed a valuation of more than four times of Oculus according to one of the largest technology companies in the world. In that context Facebook's purchase of Oculus looks very reasonable, albeit for a company that is a few years behind Skype on the revenue curve at the time of its purchase.
Virtual reality in its most fantasized form could blur the line between what is human bonding and what isn't - so the term loneliness is really put into question. If two or more people are in the same "location" and sharing the same experience in which they can reflect back upon at a later date, that is a large part of human bonding. I agree with Mark Zuckerberg's statement that Oculus has the potential to be the "most social platform ever" with the right strategic vision and necessary investment.
I also see virtual reality being utilized to enhance many different online social functions. For instance, online dating has exploded in popularity and is now mainstream because it's an efficient, anonymous and safe way to be introduced to many people at once which fits into the fast-pace lifestyle of the people who partake in it. But that anonymity and safety online can turn into a disadvantage when meeting face-to-face as people can lie about their physical and personality traits, potentially bringing harm or disappointment to the other party. I predict that "virtual dating" will be the next step in online dating as you can evaluate another person much better in the virtual world than with words on a screen or on Skype. In the case of a mismatch, it saves feelings of embarrassment as no one else will be there to witness one person walking out on the other and promotes safety because you can log out immediately if the other person is creepy. Such concepts are already starting to take place with avatars, but I believe it will be enhanced to a mainstream audience where the participants are required to provide a realistic likeness.
These types of utilities will be enormous for VR one day, but the technology is still in its infant stages. Oculus has made great strides between its first and second Development Kits and further improvements are expected as the company plans to release the long-awaited consumer version of the Oculus Rift sometime in 2015. In my article titled "Will Facebook Target This Leading Edge Virtual Reality Technology Company Next?," it was shown that the Spectra7 VR7100 chip made by Spectra7 Microsystems Inc. (OTC:SPVNF) was a key component in the improved DK2 version of the Rift.
Sophic Capital released an industry report titled "Virtual Reality: A Virtual Goldmine For Investors" which gets into the detail of the market size, uses and potential of virtual reality. Page 11 of the report shows what is inside the Oculus Rift courtesy of IFIXIT during its Oculus Rift Development Kit 2 Teardown. Sophic Capital provides a detailed breakdown of each component that's produced by a publicly traded company as outlined below.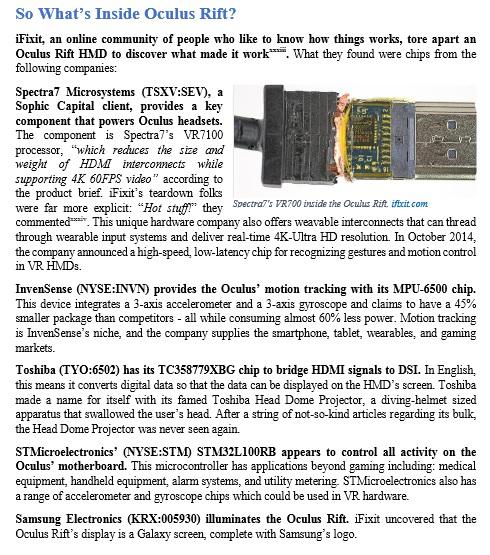 The companies mentioned as being component pieces of the Oculus Rift include:
Spectra7 Microsystems
InvenSense, Inc. (NYSE:INVN)
Toshiba Corporation (OTCPK:TOSBF)
STMicroelectronics NV (NYSE:STM)
Samsung Electronics Co. Ltd. (OTC:SSNLF)
Out of these five companies, the three of greatest interest and most highly traded on North American markets are INVN, STM and Spectra7, which trades much more frequently on the TSX Venture under the symbol SEV over its OTC symbol.
InvenSense builds the chips necessary to track motion in a variety of consumer electronics such as smartphones so the device can tell which way it has been tilted or for GPS-tracking capabilities. The VR industry would be a natural extension for INVN's chips, particularly if it can maintain industry-leading performance on size and efficiency on power as both are top concerns of VR manufacturers. The impact of the VR industry on INVN's revenue growth can be material as the company has around a $1.3 billion market cap and is expected to achieve $444M in revenue next year. If INVN grabs 2.5% of the projected $8.4 billion in aggregate VR hardware revenue from 2014 through 2018 as an input to the Oculus Rift and other VR devices, it collects $200 million in aggregate revenue during this time. This assumes that the conservative VR estimates aren't exceeded. The impact to INVN could end up being much more.
STM is a competitor to INVN and remains a threat to compete for INVN's business within the Oculus Rift as well as provide the inputs it currently produces for the VR headset. STM's market cap is considerably larger at $6.2 billion and with projected revenue of $7.5 billion next year the company's contribution to the VR industry is not likely to impact it too significantly. However, as a leading-edge chip manufacturer, expect it to compete aggressively for this business regardless as all opportunities for growth will be pursued.
Spectra7's contribution to the Oculus Rift remains the most interesting to risk-tolerant speculative investors as it has the smallest market cap at $80 million CDN and lowest revenue as an analyst expects $17 million in 2015. Like INVN, if it were to capture just 2.5% of the VR hardware market through its chip sales to Oculus and other manufacturers, revenues would be $210 million in aggregate and comprise the bulk of the company's business. Spectra7 continues to push the boundaries on the limits of VR technology as it released the VR7200 chip less than six weeks after releasing the VR7050 chip. Spectra7 believes that this new chip will "enable and accelerate the broader commercial availability of the market's first dual screen VR Head Mounted Displays ("HMDs") without the burden of multiple, thick and incremental passive cables." I believe that Spectra7 remains the best target for VR hardware manufacturers to bring in-house as it is the smallest brings significant competitive advantages and is the most pure play of the VR component producers.
What truly lies inside the Oculus Rift is investment opportunity. Not everyone has to agree that virtual reality will be the next big tech movement to hit the market. All that matters is that at least one company with a pile of cash and a large consumer reach in Facebook has a strategic vision. While that vision is being laid out, there will be a lot of investment dollars flowing into the technology and much of the investment media will jump on the bandwagon in search of the next big thing. Now is a great time to speculate as the Rift and other hardware devices are expected to hit consumer markets next year. If Facebook succeeds in its vision for virtual reality it will result in its dominant position for the burgeoning technology and smaller players who contribute and carve their niche either on the hardware or software side will also greatly benefit.
Disclosure: The author is long SPVNF.
The author wrote this article themselves, and it expresses their own opinions. The author is not receiving compensation for it (other than from Seeking Alpha). The author has no business relationship with any company whose stock is mentioned in this article.
Editor's Note: This article covers one or more stocks trading at less than $1 per share and/or with less than a $100 million market cap. Please be aware of the risks associated with these stocks.