Why I am short Salesfore.com (NYSE:
CRM
) before its earning release on May 20:
1) CRM is the most expensive large cap stock in the market. Below are stock screening results for market cap> 10B, PE ratio>150 and price to book>10.
The only result is CRM. The valuation is beyond priced to perfection.
2) Microsoft's (NASDAQ:
MSFT
) direct assault on CRM, which started on Dec. 6, 2010 when Microsoft announced that it would pay $200 per user credit for companies which switch to Microsoft Dynamic CRM on demand from Salesforce.com. This is in addition to the steep discount in pricing offered. Find below A current pricing comparison between Salesforce.com and Microsoft.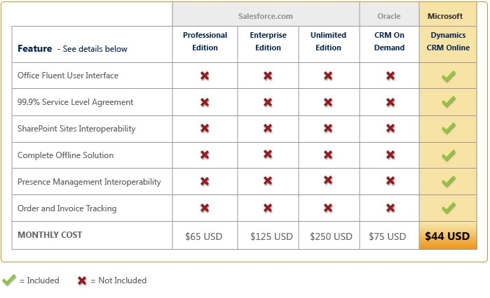 Microsoft has been very aggressive on CRM and even wrote aN open letter to CRM customers, published in The Wall Street Journal.
CRM's Q1 numbers should slow down in sales and/or margin squeeze. We will see GAAP EPS going negative this quarter. Such high valuations for a company losing money don't make sense.
3) Reviews of Microsoft Dynamic CRM 2011 are actually good. Though I'm not an expert here, the many reviews comparing dynamic CRM and Salesforce.com put both products at par.
4) High Expectations on CRM for Q1 2011
Revenue for Q4 2010 for CRM came at $457 million. GAAP EPS was 0.08 and Non-GAAP was 0.31.
CRM forecasted sales for $480-482 million sales in Q1 2011, GAAP EPS to be negative and Non-GAAP EPS to be 0.26 to 0.27.
Sales growth forecasted by CRM is in line with past sales growths. But with Microsoft's aggressive pricing and marketing; is this possible? My view is CRM should miss both sales and earnings guidance.
4) Limited upside and exponential downside for CRM. As mentioned before, CRM is already priced beyond perfection. Even if CRM meets guidance, the upside is limited -- but if CRM misses, we could have a massive selloff. Short interest is not extreme and thus there should not be a significant squeeze even if numbers meet guidance. The below chart shows the short interest ratio is less than 5% currently.

I believe June Put options are the better way to pay the earnings than shorting CRM stock.
Disclosure: I am short CRM.