Introduction
With the 10-year treasury yielding 2.34% to maturity I don't understand why anyone buying for income over the next ten years would ever buy them when there are far superior alternatives. Although stocks are seen as risky, these 3 stocks I am about to present are anything but risky. These stocks have an initial yield of greater than the 10-year treasury, are dividend aristocrats (blue chip companies within the S&P 500 that have followed a policy of increasing dividends every year for at least 25 consecutive years), and do not face the negative headwinds faced by blue chips like McDonald's (NYSE:MCD) and Philips Morris (NYSE:PM) as a result of societies changing habits.
Why These Stocks are Better than Bonds
Let's just forget that the stocks I will present will certainly be worth significantly more in 10 years as this article is all about income. In the next five sections I will show you why you can expect superior income with risk equivalent to the risk of the government in ten years not paying back your principal on the bonds you would have held instead.
Reason #1: Volatility Doesn't Matter
First of all, for anyone that plans on holding these bonds for 10 years, the same should be true for stocks. Thus, stock volatility should not be a valid reason to avoid them. Many bond investors overlook the fact that bond values fluctuate too. The table below show changing interest rates and the remaining number of years left to maturity could cause significant bond price declines. However, if you plan on holding for the full 10 years to maturity, these fluctuations are meaningless; the same is true for stocks. The table shows how $10,000 in initial principal in bonds would fluctuate in value in the ensuing years should bond rates change.

Reason #2: Higher Yield
The 3 stocks I am recommending are Coca-Cola (NYSE:KO), Procter & Gamble (NYSE:PG) and Kimberly-Clark (NYSE:KMB). These stocks yield 2.85%, 2.92% and 2.98%, respectively. Which, even including a 15% tax rate, exceed the yield of the 10-year Treasury bond.

Reason #3: Stable Outlook and Unbeatable History
As mentioned in the introduction, these stocks are part of an elite class of stocks called Dividend Aristocrats. To qualify for that title, they have had to pay dividends for at least 25 years and increased their payout each year. You might think that after 25 years these companies might be running out of room for growth. However, just take a look at that record over the past ten years. Between the 3 companies they averaged 8-10% compound annual growth of their dividends. Also, don't forget that the past 10 years included a major recession. Many companies were going bankrupt, decreasing or suspending their dividends, merging in order to survive, and taking bailouts from the government. Not Coke, P&G and Kimberly-Clark though, they were thriving and raising their dividends.

Source: Morningstar
Also Coca-Cola, Procter & Gamble, and Kimberly-Clark are in favorable industries with positive outlooks. Just take a second to think about the sustainability of their products and the brand name and quality associated with them. In the case of Coca-Cola, ten years from now people will still be buying PowerAde, Dasani water, Coke, Orange Juice, etc. For Procter & Gamble people will still be buying Old Spice deodorant, Head & Shoulder's shampoo, and Tide detergent, and Gillette razors. And at Kimberly-Clark people will still be buying Kleenex and Huggies diapers.
Reason #4: Dividends Grow
At the beginning of ten years $10,000 put into the 10-year Treasury bond, produces $234 in after-tax income. But unfortunately, at the end of 10 years, it also only produces $234 in income that year. Stocks however, have the opportunity to increase their dividends paid to shareholders. And in the case of these three stocks, it's practically certain that they will increase dividends for the next ten years. If we assume that they continue to grow at the same rate as the past ten years the total returns dwarf that returned by bonds. The charts below show the potential growth in income produced by the stocks. In year 10, while bonds would produce $234, the stocks would produce $500-$600 in after-tax income for their owner. In the second chart, you can see the cumulative effect that the higher starting yield and the ensuing growth would have on the total income from your investment over the 10 years.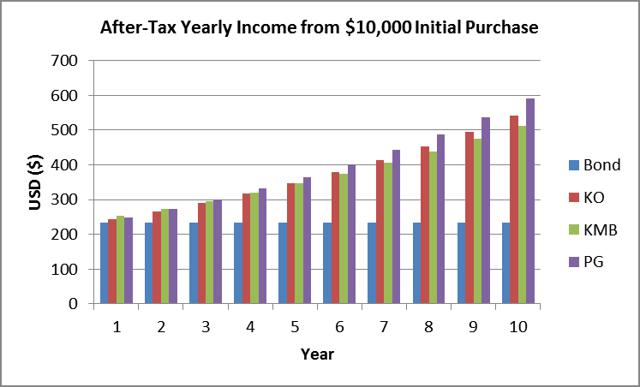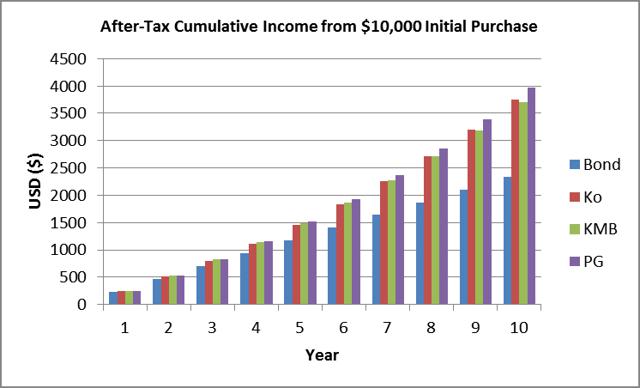 Reasons #5: Credit Ratings
If the margin of safety that exists between getting paid more and getting payments that grow wasn't enough for you, then this is my last ditch effort to show you that these companies are stable. The biggest concern with stocks is that they are risky and bonds are safe. I already show in reason #1 that volatility exists in both of them. I also show in reason #3 that these companies are stable and growing which will help protect your investment. But lastly, I just wanted to point out the outstanding credit ratings of these companies. These companies are all investment grade companies that have outstanding ratings that signify their ability to generate income in excess of their liabilities with a very high level of confidence and uncertainty.

Conclusion
This analysis is geared for individuals that may be buying bonds for income purposes. Thus the analysis of the stocks is for income purposes. In order to eliminate unneeded noise in the thesis, I do not discuss the capital gains potentials for these stocks; this would just be an added kicker for anyone interested. Looking at the dividend income of these stocks provides enough justification to own them over bonds. You get higher starting yields, a growing yield, and a peace of mind from stable and outstanding consumer staple companies.
Disclosure: The author has no positions in any stocks mentioned, and no plans to initiate any positions within the next 72 hours.
The author wrote this article themselves, and it expresses their own opinions. The author is not receiving compensation for it (other than from Seeking Alpha). The author has no business relationship with any company whose stock is mentioned in this article.