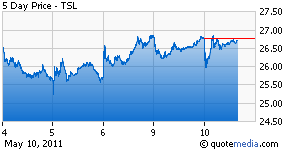 Earlier this morning, Trina Solar (NYSE:TSL) pre-announced earnings expectations ahead of its actual earnings release a week from today. The news came as a surprise given the company had already set its earnings date without a pre-announcement, and especially after smaller rival Jinko Solar (NYSE:JKS) not only exceeded expectations in the first quarter but also guided for a sequentially stronger second quarter. TSL also gave Q1 guidance fairly late in the quarter when it announced Q4 2010 earnings, which suggests the shipment shortfall came late in the quarter. It also potentially suggests orders already booked may have been placed on hold (most likely due to policy uncertainties in Italy) and pushed out to future quarters.
Trina Solar now expects first quarter shipments to range between 320-322mw, down from its "slightly higher than fourth quarter 2010 (351mw)" level. Overall gross margin is expected to be between 27-28%, slightly ahead of the company's prior "mid to high 20s in percentage" range.
As a result of the updated guidance, I have to revise my prior Q1 2011 estimates for TSL down significantly. I now estimate total revenues to be $100m below my prior forecast, or $555m in Q1. Gross margin should also be slightly impacted and below my prior 29.6% estimate due to what appears to be slightly weaker than expected blended average selling prices ("asp"). Operational earnings which exclude foreign exchange translations are expected to be around .99 in earnings per share (EPS), or down from my 1.44 EPS estimate.
In addition, the euro appreciated significantly against the U.S. dollar following my prior article on Trina Solar. Assuming TSL kept the same currency and hedging exposure as in the prior Q4 2010 quarter, the company may also post sizable net foreign exchange losses for the first quarter of 2011. Although the exact figure is impossible to estimate without insight on the company's true hedging practices, Trina Solar could post net foreign exchange losses of $60m due to forward hedging. The EPS impact could be as large as .75 for Q1 2011.
However, Trina Solar did keep its annual 2011 guidance unchanged. The company still expects total shipments in 2011 to range between 1.75-1.80gw. Again this suggests shipment shortfalls in the first quarter may not have been lost due to weaker demand, but rather delayed as a result of policy uncertainties in key markets. It is also worth noting that the first quarter is also typically the weakest quarter of the year due to weather impacts, which can slow solar project installations in many key markets in Europe.
Many higher tier peers to Trina Solar also recently announced recent weakness in demand but nevertheless maintained their annual shipment targets. JA Solar (NASDAQ:JASO) announced Q1 2011 earnings today, and despite primarily operating in perhaps the most challenging vertical for the solar market recently, JASO kept its full year shipment guidance of 2.2gw unchanged. LDK Solar (NYSE:LDK) also reiterated its 2011 shipment targets, despite warning the first quarter would fall below prior forecasts. Jinko Solar also maintained full year 2011 targets although this is much less of a surprise given the company exceeded expectations in Q1 performance and Q2 guidance.
If larger, higher-tier solar companies can achieve their original annual shipment targets, then it would validate their repeated claims how brand and competitive positioning differentiate industry players apart in what many generalize as a commodity industry. So far many of the U.S. listed Chinese solar companies such as the names given above have performed much better than their international rivals. Many smaller as well as more structurally challenged peers even in low cost regions such as Taiwan have experienced significant declines in their operations recently. If 2011 plays out much like 2009, higher tier companies such as Trina Solar should perform relatively better in a potentially destructive and bi-polar market as they gain share against smaller or less competitively positioned rivals.
Lastly, if current annual shipment targets can be achieved, higher tier companies such as Trina Solar should not experience 2011 EPS declines over 2010. Given how many U.S. listed Chinese solar companies including TSL are trading anywhere from 3-6x trailing earnings, perhaps most of the uncertainty has already been priced into the stocks.
Disclosure: I am long TSL, JKS, LDK, JASO.