By Sumit Roy
Has oil moved into backwardation yet? What does corn's roll yield look like? How do you know when it's time to buy—or sell?
Each week, we investigate the futures curves of the U.S.' most important commodities, helping investors better understand the market and seize buy-and-sell opportunities as soon as they arise.
To see current contango curve and front-month roll costs for each of our selected commodities, please select a sector or commodity below (or read the whole report):
Data from May 2, 2011 to May 6, 2011
Data courtesy IndexUniverse
| | |
| --- | --- |
| Energy | Agricultural Commodities |
| Precious Metals | Soft Commodities |
| Industrial Metals | |
Commodity Roll Costs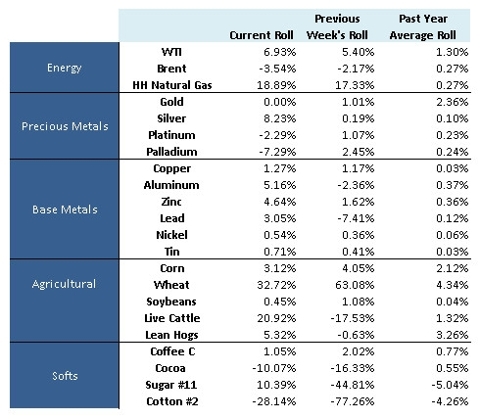 (Click to enlarge)
Energy
NYMEX WTI Crude Oil
CONTANGO WATCH: Compared with the enormous price decline in WTI futures last week, the shape of the forward curve was relatively little changed, with its front end steepening just a bit.
ROLL COSTS: Front-month annualized roll costs rose to 6.93 percent, up from 5.4 percent last week.
BOTTOM LINE: Contango to Backwardation
ICE Brent Crude Oil
CONTANGO WATCH: Interestingly, despite the plunge in Brent prices last week, backwardation on the front end actually increased.
ROLL COSTS: At 3.54 percent annualized, investors net more on the front-month roll compared with last week.
BOTTOM LINE: Backwardation
NYMEX Henry Hub Natural Gas
CONTANGO WATCH: The natural gas forward curve steepened just a bit, as prices plunged last week.
ROLL COSTS: Annualized roll costs edged up to 18.89 percent, up from 17.33 percent last week.
BOTTOM LINE: Contango
Precious Metals
COMEX Gold
CONTANGO WATCH: Any contango in the gold futures curve was erased after last week's tumultuous movements, but don't expect it to last.

ROLL COSTS: Annualized front-month roll costs are now zero, down from 1.01 percent last week.

BOTTOM LINE: Flat/Mild Contango

COMEX Silver
CONTANGO WATCH: After last week's excitement in the silver market, prices fell precipitously across the curve. The front end got hit the hardest, leading to a significant steepening of the contango.

ROLL COSTS: Annualized roll costs ballooned to 8.23 percent from 0.19 percent.

BOTTOM LINE: Contango to Backwardation

NYMEX Platinum
CONTANGO WATCH: The platinum forward curve has shifted back into backwardation on the very front end.

ROLL COSTS: Investors now make an annualized 2.29 percent on their roll.

BOTTOM LINE: Backwardation to Contango

NYMEX Palladium
CONTANGO WATCH: Like platinum, the palladium curve saw the very front end shift into backwardation.

ROLL COSTS: Front-month annualized roll costs for palladium contracts fell significantly this week, and investors now make an annualized 7.29 percent.

BOTTOM LINE: Backwardation to Contango
Industrial Metals
LME Copper
CONTANGO WATCH: Despite the plunge in prices, the shape of the copper forward curve was little changed from last week.

ROLL COSTS: Copper roll costs edged ever so slightly higher to 1.27 percent from 1.17 percent last week.

BOTTOM LINE: Mild Contango

LME Aluminum
CONTANGO WATCH: The shape of the aluminum forward curve is quite similar to last week's.

ROLL COSTS: Roll costs jumped back to positive territory this week − up to 5.16 percent − largely because we are now using the June-July roll instead of the May-June roll for our calculations.

BOTTOM LINE: Backwardation to Contango

LME Zinc
CONTANGO WATCH: Zinc remains in steady contango throughout its entire forward curve.

ROLL COSTS: Zinc roll costs almost tripled to 4.64 percent from 1.62 percent last week.

BOTTOM LINE: Steady Contango

LME Lead
CONTANGO WATCH: The lead forward curve remains extremely steep on the front end.

ROLL COSTS: Investors still get paid to roll front-month (as in, May to June) lead contracts. But for our calculations, we are now using the June-July roll, which costs 3.05 percent annualized.

BOTTOM LINE: Backwardation

LME Nickel
CONTANGO WATCH: The nickel forward curve remains in mild contango until August 2011, when it shifts into steady backwardation.

ROLL COSTS: Investors pay a 0.54 percent annualized cost to roll front-month nickel, only slightly higher than last week.

BOTTOM LINE: Mild Contango to Backwardation

LME Tin


(Click to enlarge)
CONTANGO WATCH: The shape of the tin forward curve was little changed week-over-week.

ROLL COSTS: Font-month roll costs increased to a modest 0.71 percent, up from 0.41 percent last week.

BOTTOM LINE: Mild Contango

Agricultural Commodities
CBOT Corn
CONTANGO WATCH: The corn forward curve was relatively little changed, despite last week's steep drop in prices.

ROLL COSTS: Annualized corn roll costs fell from 4.05 percent to 3.12 percent this last week.

BOTTOM LINE: Contango to Backwardation



CBOT Wheat
CONTANGO WATCH: Wheat remains in steep contango by any measure, but using the next-month contracts for our calculations reveals a significant flattening.

ROLL COSTS: Wheat's annualized front-month roll costs fell to 32.72 percent, or nearly half last week's toll.

BOTTOM LINE: Steep Contango

CBOT Soybeans
CONTANGO WATCH: The shape of the soybeans forward curve didn't change much, despite an almost 10 percent plunge in prices.

ROLL COSTS: Annualized soybeans roll costs fell just slightly to 0.45 percent, down from 1.08 percent a week ago.

BOTTOM LINE: Contango to Backwardation

CME Live Cattle
CONTANGO WATCH: The live cattle curve is now in contango throughout the majority of its one-year forward curve.

ROLL COSTS: While investors made money on their live cattle roll last week, this week annualized costs increased significantly to 20.92 percent.

BOTTOM LINE: Contango

CME Lean Hogs
CONTANGO WATCH: The lean hogs forward curve remains relatively flat on the front end, at least by lean hogs standards.

ROLL COSTS: The cost to roll front-month lean hogs contracts increased to positive territory this week, moving from -0.63 percent to 5.32 percent.

BOTTOM LINE: Mild Contango to Backwardation
Soft Commodities
ICE Coffee
CONTANGO WATCH: The coffee forward curve was relatively well-behaved this week.

ROLL COSTS: Annualized front-month roll costs for coffee fell slightly, from 2.02 percent to 1.05 percent.

BOTTOM LINE: Humpbacked Contango

ICE Cocoa
CONTANGO WATCH: The shape of the cocoa forward curve was little changed from last week, with backwardation at the very front end and contango thereafter.

ROLL COSTS: Investors net 10.07 percent from rolling front-month cocoa contracts, which, while still significant, is down from last week's 16.33 percent.

BOTTOM LINE: Backwardation to Contango

ICE Sugar #11
CONTANGO WATCH: The plunge in sugar prices led to an extremely significant shift in the sugar forward curve, from steep backwardation to contango.

ROLL COSTS: Investors now have to pay 10.39 percent annualized to roll front-month sugar contracts, compared with last week when they instead made 44.81 percent annualized.

BOTTOM LINE: Contango

ICE Cotton #2
CONTANGO WATCH: While the shape of the cotton forward curve didn't shift as dramatically as that of sugar, it still moved in the same direction.

ROLL COSTS: Investors net 28.14 percent from rolling front-month cotton contracts, down notably from the 77.26 percent of last week.

BOTTOM LINE: Steep Backwardation