For two weeks, I have tried to post my notes from the first quarter earnings conference call for Lender Processing Services, Inc (NYSE:LPS), a major provider of mortgage and consumer loan processing services, mortgage settlement services, default solutions and loan performance analytics. Over this time, data on the housing market has worsened and even hit some important, and ominous, milestones-- all of which illuminated LPS's claims that the company should soon see an improvement in its foreclosure-related businesses.
The data appear to validate LPS's claims that a backlog of foreclosure activity has grown to unsustainable levels and must soon get worked down. For example, on Monday, Bank of America (NYSE:BAC) indicated that it plans to reduce by half its $850B portfolio of bad home loans over the next three years. Some of this activity will occur through a streamlined loan modification process, and certainly some of it will result in an increased flow of foreclosures.
Moreover, the prospects for Americans who are desperately trying to hold onto their homes seems to get worse as many markets continue to experience price declines and more homeowners find themselves underwater on their mortgages. Three weeks ago I pointed out reports indicating that prices in some areas like Atlanta, GA have fallen to levels from the 1990s. Last week, Clear Capital reported that on a national basis, the housing market dipped backed into a recession (pdf) as prices broke their March lows. One statistic of many was quite telling: "All the major Metropolitan Statistical Areas (MSA) tracked in this month's report showed quarter-over-quarter declines…While year-over-year national price changes reached -5.0%." Over 33% of home sales are distressed sales in the form of REOs (real-estate owned).
On Monday, Zillow further confirmed the poor numbers in the housing market. Curbed National put together some choice quotes from Zillow's report along with a related WSJ article. The most important:
"[H]ome values fell at a pace we haven't seen since 2008″ [Zillow]

By the end of the first quarter, 28.4% of single-family homeowners with mortgages were underwater [Zillow]

Prices have now fallen for 57 consecutive months [WSJ]"
(In a previous report, Zillow indicated that Las Vegas leads the nation with 82% of mortgages underwater. Phoenix comes in second at 70%.)
The headline news for LPS earnings appeared poor as the company disappointed investors yet again. LPS reduced earnings guidance for the second quarter and full fiscal year – $0.79 -$0.82 and $3.57 -$3.64 EPS respectively. Last quarter, LPS issued full-year guidance (pdf) of $3.74 -$3.81 EPS. Expectations for free cash flow also dropped from $320-340M to $300-320M. The immediate reaction sent the stock up 3%. While that pop has already been erased, I think there is a sense that LPS's fortunes are about to change for the better. Even though the fortunes of many homeowners continue to worsen.
A month ago I speculated that the announcement of enforcement action from the Office of the Comptroller of the Currency (OCC) likely confirmed the bottom in LPS's stock. So far so good, barely (see chart at bottom of the post). The investors/traders who still maintain large September put open interest seem to disagree. Or, they are trying to protect themselves from "the worst." (My earlier earlier post also contains a chart showing the high amount of short interest in LPS).
I have posted below my notes from the conference call, organized around themes. Question and answer (Q&A) is listed separately. I have highlighted what I think are the most important notes for the company and the housing market in general. LPS is well-armed with dire and foreboding statistics.
(Click here for the earnings announcement, or click here (pdf) for the supplemental materials for this earnings call).
LPS business opportunity
Key growth strategy: increase usage and penetration of current products, expand platform, introduce new products – expanding into local government technology space

Regulatory pressures providing opportunity for LPS to develop best practices and become a trusted strategic partner as there is a continuing trend toward outsourcing and centralization
To-date, foreclosure activity has dropped...
Mortgage servicers have pulled back significantly on foreclosure activity due to regulatory pressures at federal and state levels

Major revisions in servicing standards at federal and state levels, as well as initial effects of Dodd-Frank legislation

Decreased industry volume trends in core origination and default segments: 12% year-over-year decline in industry origination volumes and 35% decline in notices of default
...Leading to poor forecasts for the year
2011 mortgage origination activity will be down over 30% year-over-year (although LPS will outperform markets with a loan market share of 10%, strong performance on industry metrics, a continuing need for consistent and high quality underwriting data, and a trend toward centralization of process.)

Lowered estimates of 2011 foreclosure activity based on significant weakness in first quarter foreclosure activity and significant near-term regulatory requirements

Input from largest customers confirms immediate focus will be complying with tight timelines, and the regulatory orders causing foreclosure activity to continue at low levels in second quarter and then begin to increase the second half of the year

As a result, foreclosure starts will be down 10% in 2011
However, prospects are looking up for LPS as prospects look poor for homeowners: Key factors that should drive foreclosure activity are still present
Decline in estimated default market revenues is deferral, not a permanent loss

The inventory of seriously delinquent loans and loans in foreclosure remain at elevated levels, well above 4M

Average age of inventory continues to grow, as the average age of a loan in delinquency is 368 days and that same metric for foreclosure inventory is now 549 days

Unemployment rate remains very high

Percentage of homes in negative equity position remains at over 20%

Best case for 2011 home prices is probably flat with a more likely scenario being a modest decline

As a result of these factors LPS has adjusted default revenues forecast upward
Consent order provides more clarity and certainty on regulatory actions
Most importantly, consent order is positive progress and a key milestone as it establishes a framework for resolving issues with federal regulators

Ultimate outcome of inquires will not have a material impact on the company (matches my expectation based on my reading of the enforcement action)

Continues to fully cooperate with inquiries into default operations, entered into consent order with Federal Reserve and other agencies on April 13

No finding of fact or conclusions of wrongdoing

Requires LPS to enhance oversight, compliance, audit, and risk management programs – independent risk assessment of default services including document execution services from January 2008 to December 2010

To the extent the reviews require additional remediation of mortgage documents, LPS will execute a plan to do so

Difficult to predict final outcomes at this time

Confident in its ability to prevail in pending litigation and legal challenges
Strong repurchase activity represents confidence in business opportunities
First quarter: LPS bought 2.1M shares for $84M

Authorization of $250M repurchase on October 29, 2010

$171M left under authorization starting 2011. $88M remaining balance

86.3M in outstanding shares
Q&A
(I did not note analyst and company names. I focused on key points and statistics that address industry health and trends. I left some questions blank where I did not catch the specific question and where the answer seemed to provide enough context or explanation).
Q: Concerned you have aggressive expectations to meet revenue and earnings targets.
A: The driver is the volume of inventory out there that remains. Expecting less artificial suppression of inventory as the consent orders get dealt with (volumes). In 2009, foreclosure inventory was 3.5M, now 4.3M. Will see meaningful increase in volume coming.
Q: You ave paid down a lot of debt, will you consider taking leverage back up?
A: Yes. [Through] acquisitions. And consider increasing leverage given decline in stock price.
Q: Can you quantify the costs of additional reviews?
A: Expected cost of additional review process will be $1-2M over the next two quarters. Consent order is expanding things LPS is already doing. After a full assessment, we will have a better idea whether there are any additional costs.
Q: What is the attitude of the FIs(?) – hand off and let someone else handle things or better get in-house and keep control over things.
A: "Both"
A: The part of the consent order that is look-forward is proactive. We want to make sure LPS has the "industrial strength."
Q: You are pretty adamant that this is a deferral not a cancellation. Is there any scenario like short sales that detracts from that revenue? Just trying to poke holes in thesis.
A: The absolute numbers of short sales are small. We have a lot of work on these because of potential fraud. We provide services to do short sales. There is other revenue we can get, including title.
Q: How did margins go up with a sharp decline in revenue?
A: The cost structure went down.
Q:
A: Difficult question to answer what comes out of state AGs (Attorney Generals). LPS is not involved in negotiations between AGs and the servicers. Our base approach is to remain in compliance with main the regulator (OCC).
Q:
A: Revenue going through LFS is revenue based on centralized title production, supporting primarily refinance operations. On the default side we have what is called TSG = Trustee Sale Guarantee. Doing title search for the purpose of identifying various lien holders so they can be notified as a part of foreclosure process. Pre-default stream. Also building up default title revenue from overall REO sale. Once the banks take it on their books, they're going to market it and once it sells they need to pull title to support that sale. That revenue stream also falls under default title. Percent of revenue in default that is title-based is 30% or so. Amount of revenue that falls in LFS that is from title is less than 50%. The majority of revenue in LFS is appraisal and title.
Q: What is a leverage profile on the high end that you are comfortable with.
A: Comfortable with levels of 3x where we were with the spin-off in 2008. Trying to make decision for the long-term.
A: Comfortable with corporate expenses of $100M for 2011, that includes review for regulatory. Hope that at some point it can be taken down once we operationalize the regulatory actions. Gets efficiencies down the road. In 2012 and beyond it's difficult to predict. Don't believe there will be any increase from 2011. One-time legal expenses may get flushed away. Went from $80 to $100M to account for possibility of permanent increase in regulatory corporate expense.
Q: What drove decision to underwrite so much more title from 2010?
A: Always had an underwriter and required to run a certain amount of business through that underwriter. With claims experience, especially on default side, made sense to cut layer of expense. This is a low-risk type of process. Decided to take onto own books. Has margin profile similar to regular business.
Q: If things do not turn out the way they are, what is downside if macro environment does not cooperate? Like foreclosures getting stuck behind the floodgates another 6 months? Your stock is not being properly valued anyway, so you might as well get the downside number out of the way. What is worst case for the year?
A: Worst case, the downside is slack similar to where we were in the first quarter. We look at the amount of inventory that has been bottled up and fully expect it has to pop soon. The inventory levels at the end of year would be so elevated if they did stay bottled by end of year, you're looking at even more guaranteed revenue streams in the out year. Tried to rely on customers for forecasts and have been wrong for a few quarters. We admit that. We also have missed on default margins as we have expected that flow to come in. Lost $80M in revenue in first quarter, $30M of that being default. Won't be relying on so much this flow coming through and managing cost-structure much more tightly.
Q: Are you seeing your servicers start to relight the burners? And get those properties into foreclosures? If there is a reluctance where is the inflection point?
A: Foreclosures are flowing just back to levels from a few years ago. Hesitation is just that servicers are trying to get in line with regulators. Consent orders have short time frames.
(Click chart to enlarge):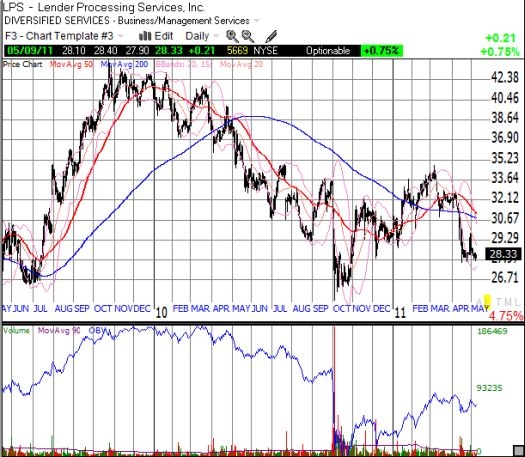 *Chart created using TeleChart
LPS recovered with the market in 2009 but it has been all downhill since. Breaking news in October of the foreclosure scandal may have finally marked a bottom.
Be careful out there!

Disclosure: I am long LPS and long XHB puts