A surprising sector is showing up among the top overall performers over the past four weeks: Guggenheim Airline (NYSEARCA:FAA). This fairly quietly trading (both in terms of volume and options) ETF is up almost 11% over the past four weeks, at the top of the ETF rankings, when you exclude Ultras and Bears.
FAA is fairly non-diversified, with 96% of its assets in its Top 10 holdings, and a great deal concentrated on three major U.S. carriers, Southwest (NYSE:LUV), United Continental (NYSE:UAL) and Delta (NYSE:DAL).
Taking a look below at the recent move, you can see airlines were in a steady downtrend over the past six months. The one major attempt to penetrate above Middle Bands and Exponential Moving Averages in this downtrend came at the beginning of 2011 … and failed at the Top Bollinger and Acceleration Bands.
The current move in FAA began before Crude Oil's (NYSEARCA:USO) sharp breakdown in the wake of Bin Laden's death and the sharp profit-taking in other commodities. However, the decline in Oil prices likely has helped FAA push above its Top Acceleration and Bollinger Bands in recent days — so in my analysis, a reversal in Oil is likely to cause this FAA rally to peter out, if one occurs. However, don't fight the trend as we often say, and this ETF is showing relative strength versus other sectors and the broad market, in addition to having a technical breakout recently.
FAA Daily Chart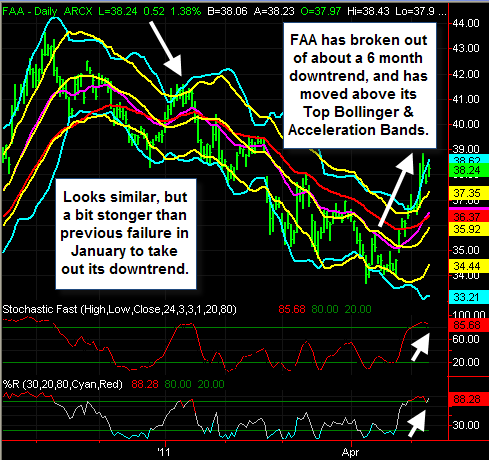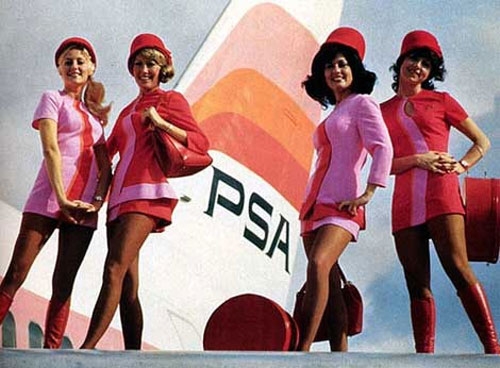 Bottom Line: In terms of long-term holdings, I've never been a big fan of U.S. airlines in general because of low profit margins in the business and other structural problems. But for a short-term play, assuming Oil prices are not going back higher, FAA looks attractive here, with 37 a low risk entry point.

Disclosure: I have no positions in any stocks mentioned, and no plans to initiate any positions within the next 72 hours.