By Sumit Roy
Precious metals had an ugly few days, as the sector was one of the worst hit amid last week's broad commodities plunge. But that's old news. On Monday, prices rebounded vigorously, regaining much of what was lost in prior sessions. So is this uptick just a dead-cat bounce? Or the start of a bottoming process?
To find our answers, we must first understand just what triggered this precipitous decline.
Let's take a look at silver. In many ways, silver is the perfect illustration of what happened in the overall precious metals sector, and even the general commodities market. The white metal began to crumble well before gold or any other commodity, which isn't actually all that surprising, considering its enormous run-up over the course of this year. At its peak, the metal was up a whopping 61% on the year, with prices briefly notching new record highs for the first time in 31 years.
Then came last Monday, when prices plunged almost 9%, followed by a 5% decline on Tuesday, another 5% decline on Wednesday, and finally a 12% plummet on Thursday. All told, silver fell by 33.5% peak-to-trough over just nine trading sessions.
Yet, there was no single driver of silver's decline. The same day silver began its plunge - coincidentally also the same day news of Osama bin Laden's death broke - Comex announced it would raise margin requirements on silver futures contracts, which helped push prices lower. But the metal had actually opened that session already strongly to the downside. Throughout the week, Comex continued to raise margin requirements a few more times, but again, it would be a stretch to attribute silver's drop solely to that.
Reports of selling by several prominent hedge funds, including that of renowned investor George Soros, further added to what had become panic liquidation. Perhaps silver would have declined regardless of any of these news items, given that prices had climbed so far so fast, but it's clear that some of these events - particularly the hike in margin requirements by Comex - helped accelerate the decline.
In turn, selling in silver spilled over into the gold market, as well as other commodity markets like crude oil, and investors locked in profits across the space. All told, over the past five sessions, silver shed 14.53%, gold declined by 2.38%, platinum fell 3.74% and palladium sagged by 5.53%:
Silver Daily Chart 1-Year: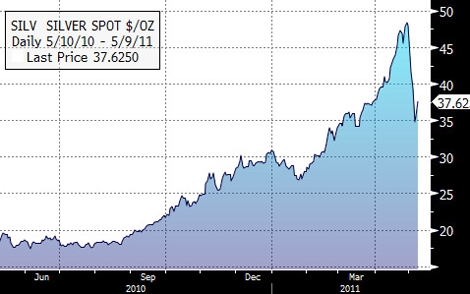 Gold Daily Chart 1-Year: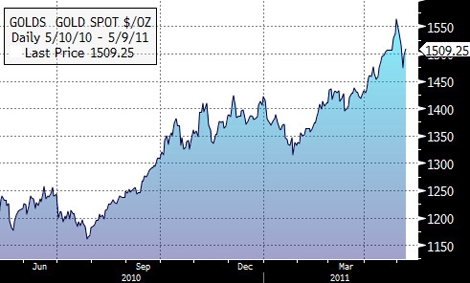 Platinum Daily Chart 1-Year: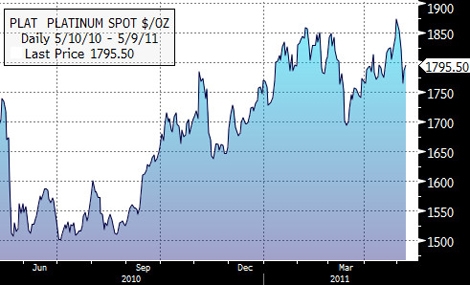 Palladium Daily Chart 1-Year: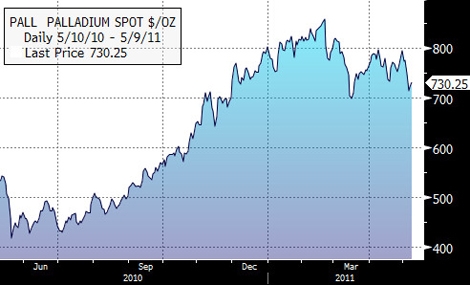 Whether precious metals can rebound from here depends on investor appetite - which still looks healthy. Certainly the underpinnings of the precious metals bull thesis - inflation and sovereign debt fears - have not gone away. Moreover, early last week, news broke that Mexico had purchased 93 tonnes of gold in February and March - one of the largest purchases of the last 10 years. Central bank buying adds a sense of legitimacy to the perception that precious metals - or at least gold - are a store of value. Investor appetite still looks keen, at least for now.
ETF Holdings
The aggressive precious metals liquidation by investors is very much evident in the latest ETF holdings data. Silver holdings saw the most action by far, plunging an enormous 32 million troy ounces, or 6.5%, to stand at their lowest levels since last November. To put that in perspective, that's equal to 4.3% of last year's total worldwide mine production.
Moreover, that figure does not account for any physical investment liquidation, which likely was also significant, given last week's panic.
While gold, platinum and palladium ETF holdings also declined, they did so by much less. Gold holdings fell 411,000 troy ounces, or 0.62%; platinum holdings fell by 2,663 troy ounces, or 0.19%; and palladium holdings fell by 46,000 ounces, or 2.07%.
Indeed, aside from silver, the drop in precious metals ETF holdings does not look significant at all, suggesting that investor interest remains relatively firm.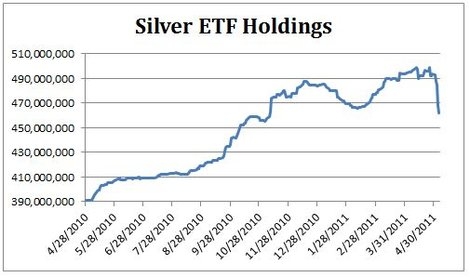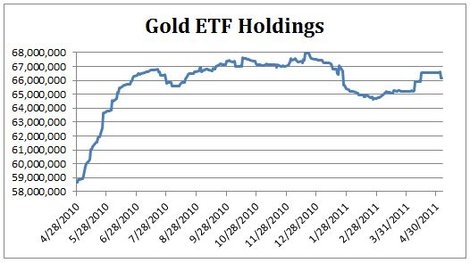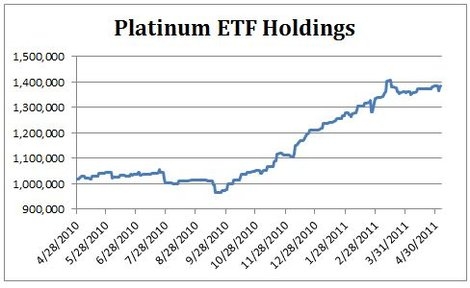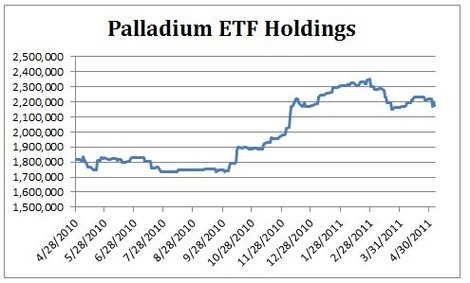 Key Ratios
Unsurprisingly, given silver's underperformance, we saw the gold/silver ratio spike over the course of the week from 32.6 to 40.2, the largest increase on a percentage basis since 1980.
Meanwhile, the gold/platinum ratio rose to a new two-year high at 0.842, while the gold/palladium ratio rose to 2.07. The platinum/palladium ratio moved up to 2.46.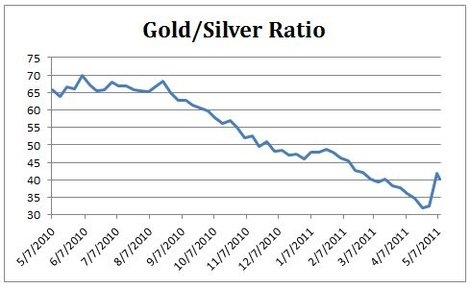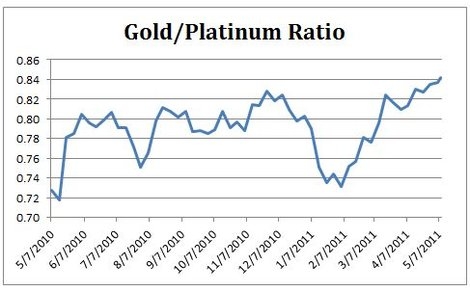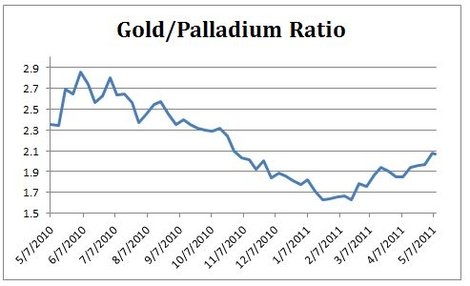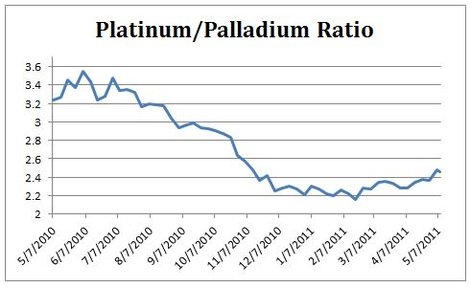 Currencies
Last week, the U.S. dollar rebounded off its three-year lows, but it's really a chicken-or-the-egg situation, as it's difficult to tell whether the commodity sell-off triggered the dollar's move or vice versa.
The trade-weighted U.S. dollar Index advanced from 72.95 to 74.91, or 2.68% , thanks to a 3.5% decline in the euro against the U.S. dollar. Other currencies, such the Australian dollar and Swiss franc, didn't decline nearly as much against the greenback, with losses of 1.73% and 1.04%, respectively.
The underperformance in the euro is likely due to the fact that the European central bank signaled that it would not raise interest rates at its next meeting in June, though it did suggest that more hikes could be in the cards later in the summer.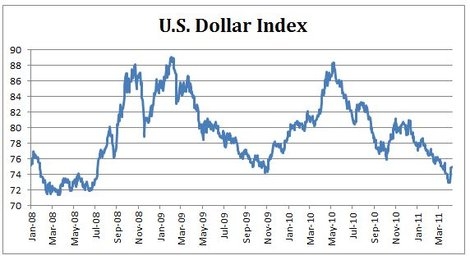 Sovereign Debt
Movements in the sovereign debt markets didn't have much impact on the precious metals trade over the last week, but these fundamentals remain supportive for the sector.
For starters, Portugal and Ireland saw their yield spreads vs. benchmark German 10-year bonds hit euro-era records of 6.57% and 7.54%, respectively. Those for Greece edged up to 12.61%, just shy of their record, while those for Italy and Spain also saw an uptick to 1.57% and 2.22%, respectively - both of which are at the highest levels since March.
Also worth noting is the fact that U.S. 10-Year Treasury bond yields fell to 3.14%, down from 3.28%, which puts them at their lowest levels of the year. Clearly, the market does not foresee aggressive monetary tightening by the Federal Reserve anytime soon.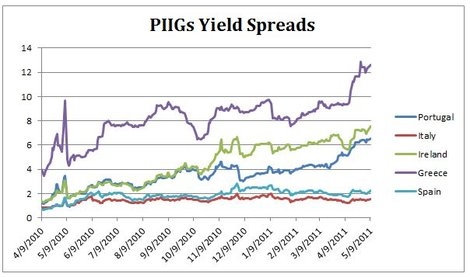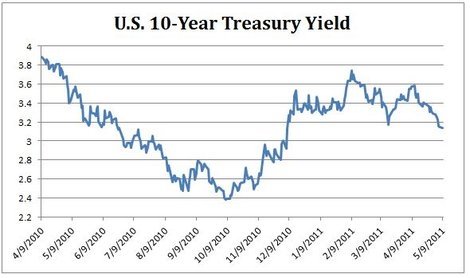 Geopolitics

Without question, the main geopolitical event of the past week was the much-discussed death of Osama bin Laden, the leader of Al-Qaeda. But while bin Laden's death is significant for many reasons, it likely had little impact on the precious metals markets, as traders in gold and silver are much more concerned about the risks of inflation. Therefore, the democracy movement in the Middle East and North Africa remains more relevant, given its effect on oil prices, which in turn influence gold prices.
Inflation
We saw no notable Consumer Price Index figures released last week, but a few Producer Price Index numbers were announced. The Eurozone PPI for March rose by 6.7% year-over-year, up from 6.6% in February. Meanwhile, the U.K. PPI for April grew by 5.3% year-over-year, less than the prior month's 5.6%.