Background
In the second part of the twentieth century, most countries in Western and Eastern Europe established national oil companies. On the communist side the idea was naturally the nationalization of public property, but even the governments of capitalist countries on the other side of the iron curtain saw the nationalization of their hydrocarbon assets as an important contribution to energy safety (and as possibility to have more influence in the industry). Those companies were always integrated oil companies and mostly confined their operations to their home countries. After the events in 1989, the political and environmental landscape in Europe changed dramatically. In the following years, many of the former NOCs (National Oil Companies) extended their operations and some took over smaller former NOCs (e.g. the Austrian OMV the Romanian Petrom). Most companies also became privatized. Nevertheless, governments made sure to keep their influence, either by holding a relevant stake or by holding golden shares. Additionally, one can be sure the company structure and culture also differs from companies that have been founded privately. Much has been written about the inefficiency of government to run companies. In this article I calculate oil production costs of 3 former NOCs: the Austrian OMV (OTCPK:OMVJF), the Hungarian MOL (NASDAQ:MOLG) and the Spanish Repsol (OTCQX:REPYF). I then compare their costs to costs of other companies I investigated in previous articles:
Cost model
Oil is hardly ever produced as pure liquid. Normally it comes as a mixture with natural gas and gas condensate. Although I only consider companies here, that mainly lift oil, they also produce significant amounts of gas. Hence, it does not make much sense to apply costs to the production of oil alone. To deal with this issue the concept of barrel oil equivalent - boe - has been perceived. 6000 cubic feet of gas at standard conditions are about one boe. All costs mentioned below refer to one boe, meaning that are the costs related to the production of 1 bbl of oil, 6000 scf of natural gas or a combination of both. Imagine, the price for 1 barrel of oil is around $100 (depending on the exact blend), the price for 1000 scf of gas is about $6. This means, oil companies will get more revenue for 1 boe of oil than for 1 boe of gas ($100 versus $36). As there are also fields, that only produce gas, this article tends to underestimate the costs of oil production.
Commonly, costs are divided in costs that can directly be related to production (cost of sales) and costs that cannot directly be related to output (overhead). However, many oil companies are also active in downstream and midstream or other economic sectors (e.g. ExxonMobil in chemical engineering). Hence, I have divided sales, general and administration expenses (SG&A) by total revenues and multiplied it with the revenue of the E&P division to get SG&A for E&P. I did the same for any similar type of cost (marketing expenses, R&D) and for financial expenses. Depreciation of assets, on the other hand, can be directly linked to oil production.
Costs of sales are divided into 3 sub-categories:
Exploration costs
Lifting costs
Non-income related taxes
Lifting costs are the costs associated with the operation of oil and gas wells to bring hydrocarbons to the surface after wells (facilities necessary for the production of oil) have been drilled. This figure includes labor costs, electricity costs and maintenance costs.
Exploration costs are costs related to all attempts to find hydrocarbons. This category includes cost for geological surveys and scientific studies as well as drilling costs.
Non-income related taxes: as production of hydrocarbons is such a lucrative business, governments also want to have their shares. There exists an abundance of different model how the state can profit from hydrocarbon production (profit sharing, royalties, etc.).
It might be, that different companies use different categories for the same type of expenses, but eventually the sum of all costs should be their total cost for producing 1 boe.
The following figure shows the pattern of the cost model: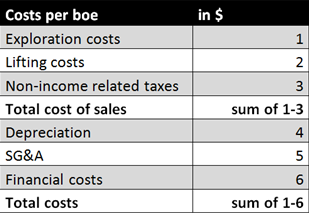 Application on 3 European E&P companies
As mentioned above, I have applied the cost model on 3 European upstream companies: OMV, MOL and Repsol. All of them started their activities as NOCs (Austria, Hungary and Spain), but expanded their zone of activity and are today active all over the world. OMV gets a big part of its production from Romania, where they hold the majority in Petrom. But the company is also active in Norway, Iraqi Kurdistan and Kazakhstan. MOL purchased a 25% stake in Croatia's INA and gets a significant part of its working interest production from that country, but also from Russia. Before the civil war it was active in Syria, too. Due to cultural links Repsol has significant assets in the Spanish speaking parts of Latin America. Today the three enterprises are public companies and listed on stock exchanges. Therefore, they have to comply with international accounting standards. Governments still hold a certain amount of the capital (both OMV and Repsol: about 30%, MOL about 25%) In this article I have used the numbers from their annual report for 2013. OMV, MOL and Repsol are all based in European countries with a currency different from the USD. Hence, a conversion was necessary, using the average rates for the whole year specified in their reports ($1 = €0.75 = HUF223.7).
The results can be found in the table below: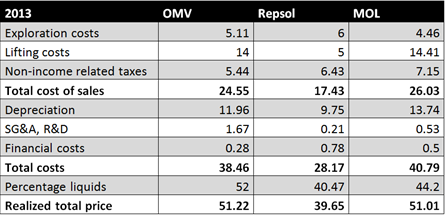 Liquids do not only refer to classical oil, but also to gas condensate and bitumen (produced from oil sands).
Different portfolios
As mentioned in previous articles, production costs depend strongly on the exact kinds of hydrocarbons the companies are producing. All of the companies have a rather small percentage of liquids produced in their portfolios and, therefore, can also realize prices in the low fifties or beyond. Especially striking is Repsol, that produced 40% liquids, but got an extremely low realization (only comparable to Kurdish oil producers). The reason for this low price lays mainly in the sales of natural gas in Latin America, where gas is even less expensive than in the USA. OMV' total cost profited from the relatively low non-income related taxes in Austria and Romania, where most of the company's production comes from. This issue and other factors led to lower production costs for OMV than for MOL, although the Hungarian company could realize less money per boe than the Austrian. Additionally, it should be mentioned that the whole MOL group was not profitable in 2013, mostly because of losses in its downstream segment.
Comparison to other companies
With a pre-tax margin a little less than 30% of revenue, Repsol did the best, followed by OMV with 25%. MOL was the least profitable company in 2013, as it only managed to accomplish a margin of 20%, which would be considered excellent in most business sectors, but is rather weak in the upstream business. For instance, OMV can be compared to Noble. Both companies produced about 100 million boe and realized a price of about $51 in 2013. Nevertheless, Noble had significantly lower costs, resulting in a pre-tax margin of 33% compared to OMV's 25%. Altogether, the upstream segments of the 3 former NOCs are profitable companies, but they cannot compete in terms of efficiency with the majors or even most North American independents.
Disclosure: The author is long OMVJF.
The author wrote this article themselves, and it expresses their own opinions. The author is not receiving compensation for it (other than from Seeking Alpha). The author has no business relationship with any company whose stock is mentioned in this article.
Editor's Note: This article discusses one or more securities that do not trade on a major U.S. exchange. Please be aware of the risks associated with these stocks.