There is a lot of excitement in the precious metals market as gold has quietly rallied back to some key levels. We now have talking heads going back on TV and discussing how bullish they are of gold even though only a week or two ago these same talking heads were discussing how owning gold in Yen and euro was the only way to play this market. We are not buyers of this bounce as we see too many headwinds for gold moving forward and we never want to best against the Fed.
The Northeast and portions of the Great Lake States are getting pummeled with snow today with Western New York reporting some of the heaviest snow fall. Winter is no longer coming, it is here and the natural gas traders have to be happy. We discussed the possibility of this happening and now it appears that the northeast will be driving natural gas demand with the latest winter storm.
Chart of the Day:
Looking at the SPDR Gold Trust (NYSEARCA:GLD) chart below, it is apparent that gold is approaching a key level where we could either see a breakout or breakdown. Physical gold is running into the same resistance at $1,200/ounce so this will be interesting to watch in the days ahead.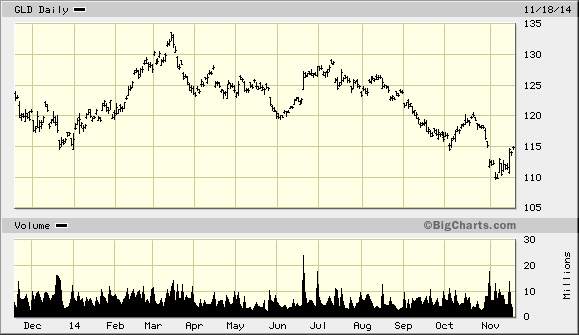 Source: BigCharts
Commodity prices are as follows (at time of submission):
Gold: $1,194.70/ounce, up by $11.20/ounce
Silver: $16.155/ounce, up by $0.098/ounce
Oil: $74.67/barrel, down by $0.97/barrel
RBOB Gas: $2.0343/gallon, up by $0.008/gallon
Natural Gas: $4.204/MMbtu, down by $0.137/MMbtu
Copper: $3.002/pound, down by $0.0375/pound
Platinum: $1,204.50/ounce, up by $3.20/ounce
Pipeline Vote Possible Soon
There is talk that the US Senate is set to vote on the Keystone XL Pipeline with Louisiana Senator Landrieu rumored to have secured the necessary votes to obtain the filibuster-proof majority of 60 senators. Current Senate Majority Leader Harry Reid is trying to save Landrieu's seat in the Senate, but it is not yet clear whether President Obama is prepared to sign off on this legislation when it appears such a long shot that Landrieu will win her run-off election.
Even though there are reports out there that the pipeline is uneconomical right now at current pricing, TransCanada (NYSE:TRP) will build the pipeline if given approval. This is a long-term project and short-term moves in prices do not change long-term trends and demand.
Solar Deal Announced
SunEdison (SUNE) and TerraForm Power (NASDAQ:TERP) announced that they will be teaming up to purchase First Wind for $2.4 billion, with $1.9 billion as an upfront payment and the remaining $500 million being paid as earn outs. SunEdison will pay $1 billion towards the upfront portion and the entire earn out amount. TerraForm will cover the remaining $900 million of the upfront payment in order to acquire the operating portfolio of First Wind.
TerraForm also announced that it believes its dividend will reach $1.30/share in 2015, increased from $0.90/share.
More Talk Of Oil M&A
Analysts are starting to hop on the bandwagon for oil M&A activity to heat up. We have been talking about the perfect storm for acquirers to emerge and it now seems that Halliburton (NYSE:HAL) has opened the doors for others to make big, bold purchases in this market. Investors Business Daily ran an article (see article here) which discussed ExxonMobil (NYSE:XOM), Chevron (NYSE:CVX) and BP (NYSE:BP) as companies which could be interested in purchasing high quality oil shale assets, specifically in the Bakken.
All three of those companies need new production for various reasons, but right now we think BP is in the most need to diversify away from Russia as that country continues to clash with the West over their support of the rebels and interference in Ukraine. With share prices having fallen so much, we would not be surprised to see someone like BP launch an all cash offer in order to not dilute current shareholders.
Disclosure: The author has no positions in any stocks mentioned, and no plans to initiate any positions within the next 72 hours.
The author wrote this article themselves, and it expresses their own opinions. The author is not receiving compensation for it (other than from Seeking Alpha). The author has no business relationship with any company whose stock is mentioned in this article.