The US has stopped asset purchases in light of improving economics, but countries such as Japan are increasing purchases and Europe sees asset purchases as the only viable options to spur growth in the region. This will result in most deflationary economies engaging in a stimulative process and countries, such as the US, in a position that the Fed feels inflation will grow on its own, sparking rate increases next year. Should these assumptions be correct, the global economy will see inflation pick up for the fist time in years (decades in the case of Japan). This will drive a renewed interest in real assets that have the ability to keep pace with inflation and benefit from money coming out of cash and being put back into the economy to generate real returns. This portion of the Case for real assets will focus on Gold.
While I feel it fitting to start with gold, known as the ultimate hedge against inflation, I feel most conflicted with this asset class. While a rise in inflation will prompt more interest in gold, increases in interest rates will make the opportunity costs of holding onto the metal higher as well. So while it is necessary to have it as part of the Real Asset portfolios for diversification, I would not look to have this as a significant portion of the portfolio (say 10%).
The objective of the portfolios is to generate income from a real asset portfolio so I will be looking at industries and individual names that provide yield as opposed to commodities themselves (though they can still be an option). The easy way is to purchase the Market Vectors Gold Miners ETF (NYSEARCA:GDX). Taking a more focused approach involves looking for a stable company that will provide good yields and another that will benefit most from a rise in the price of gold. Looking to take the best and worst approach, you can eliminate a lot of the middle market players that may provide additional risk at the cost of yield or upside. However, key player risk is more acute in this strategy. Below is an example that could best work in this situation.
Goldcorp Inc. (NYSE:GG) is a Canadian based company with their assets based in the Americas. They are the largest holding in the GDX and provide the majority of the yield in the ETF (almost $0.08 of the $0.19 issued last year) so changes in the dividend rate of Goldcorp will affect the ETF as well. The company sees its break even all-in costs at around $1,000 tr/oz. The location of many of the mines keep the costs lower while eliminating some of the operation risks that are seem in mines in places like Africa, should the price of gold stay low (below $1,200 according to the Goldcorp CEO) you could see closures and scale backs in higher costs mines, which could help to stabilize prices.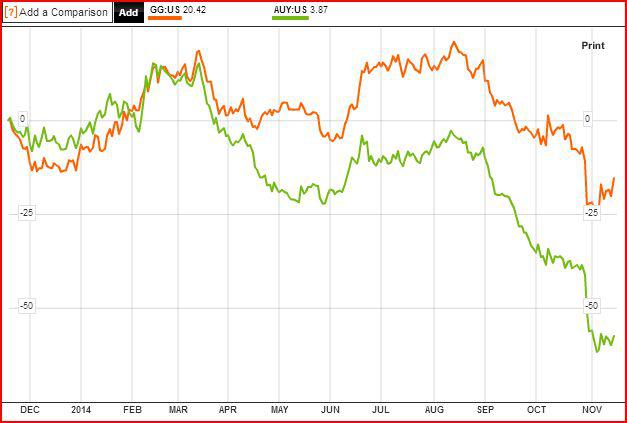 Source: Bloomberg
Yamana Gold inc. (NYSE:AUY) is another Canadian company with assets in the Americas but has a more leveraged and thus more risky of a play. While this stock also has a dividend (currently around a 1.5% yield) I do not think the financial conditions of the company will make it viable longer term. This stock is more of an option play that the market will recover from here and provide the income necessary to manage their debt load. Recently the company announced intentions to spin off some of its Brazilian assets to shareholders in order to raise more capital, this will provide more cash and buy more time for the company which makes it a good speculative bet for a longer time frame.
Overall I would look to have the majority of your gold position in Goldcorp which represents the core of the overall gold market (without as much geopolitical risk seen in other regions) and have a smaller position in Yamana for the upside potential. Depending on your risk profile I would look at having no more than 20% of your Goldcorp share amount in Yamana. Meaning for every 10 shares of Goldcorp you have 2 shares of Yamana, this will give you an extra boost to the upside should gold recover and if Yamana goes to zero you essentially forgone a years worth of Goldcorp dividends (at current dividend rates and stock prices).
Finally as I start the Real Asset series I stress again that the case for gold is one that I have less conviction on at the current time than other asset classes. So while I feel an investment in Gold is necessary due to the low correlation with the market and the push for inflation globally, patience on the purchasing front may provide better entry points in the beginning of next year.
Disclosure: The author has no positions in any stocks mentioned, and no plans to initiate any positions within the next 72 hours.
The author wrote this article themselves, and it expresses their own opinions. The author is not receiving compensation for it (other than from Seeking Alpha). The author has no business relationship with any company whose stock is mentioned in this article.