Confusion About Saudi Intentions
Oil markets are laser-focused on the upcoming Organization of Petroleum Exporting Countries (OPEC) meeting on November 27th, with much speculation that its divided members will have to cut oil production to reverse a 30% decline in price.
Saudi oil minister Ali al-Naimi has sent mixed messages in his first comments in months about the oil markets. OPEC delegates as well as observers across the globe have been wondering about Saudi Arabia's intentions to support calls for oil cuts at the OPEC meeting.
Naimi's cryptic comments that the Saudi policy of seeking stable markets has not changed left what they will do to interpretation. He offered no clarity about what the OPEC will do in the face of a continuing decline in the price of oil.
The more defining comment by Naimi was "We do not set the price of oil, the market sets the oil price." This led Dominic Haywood, products and crude analyst with Energy Aspects, to say that "it is clear only that OPEC is discussing production cuts but does not mean to act on them." The implication is that they are leaving it to market forces, being non-OPEC producers, to cut oil production. This interpretation was also stated by John Kilduff of Again Capital, who said, "It's clear now they're not going to be cutting production at the next meeting." Oil fell further on Friday, November 14th, as analysts at Commerzbank reported that more declines are likely.
Brent Broke $80.00
With continued concern about OPEC's intentions and the Saudis claiming they are not in a price war, Saudi Arabia's oil company, Aramco, cut prices. Brent crude broke $80.00 down to $77.92, and WTI fell to $74.21, leaving a gap between the two prices of $3.71, or 4.7%.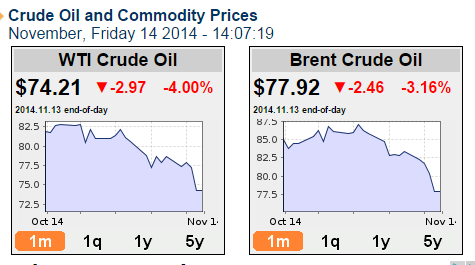 (Image courtesy of the author)
Saudis Unlikely To Go It Alone
By cutting production, Saudi Arabia as the world's largest exporter can have a major impact on oil prices. But if other oil producers do not also share production cuts, the Saudis face the prospect of losing market share. This is critical to their long-term interests as other producers look to produce more oil in the coming years. Simply stated, the Saudis can lower prices, but their ability to maintain higher prices by decreasing production has been severely limited by the geopolitical and macroeconomic needs of other producers to increase oil production. I have discussed the big picture in other articles, including motivations behind the continued oversupply.
U.S. Declaration of Oil Independence
The totally unexpected success of the shale revolution has changed the world's oil game after forty years. With no energy policy in place and a ban on fracking on public land, the U.S. has still propelled itself into a leadership position in global oil and natural gas production. There has been a dramatic decrease in U.S. oil dependency, as seen in the graphic below.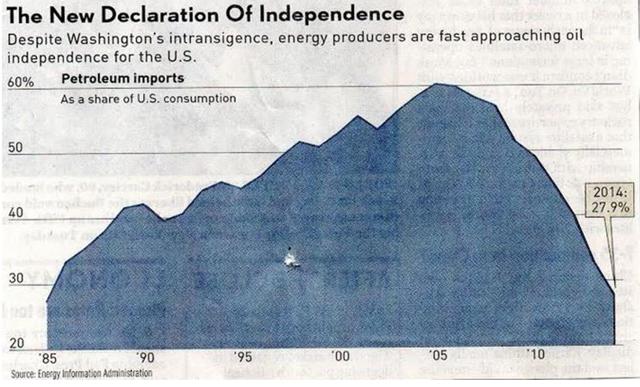 An EIA graphic above estimates that U.S. dependence on foreign oil has fallen from 60% in 2005 to a current low of 27.9% in 2014. That represents a 53% decline, in spite of increasing government intransigence and a series of onerous regulations designed to deter oil production.
As the world's major oil producer, Saudi Arabia is well aware that their long-standing role as the world's number one oil producer and the clout that gave them in maintaining high oil prices is at an end. Within two years, the U.S. is expected to be the world's largest oil producer, to say nothing of the trillions of cubic feet of natural gas being produced. U.S. dependency on Saudi oil was a major market for the Saudis that gave them considerable geopolitical power in the Middle East. They cannot stop U.S. ascendancy, and foresee future North American world energy dominance, with the U.S and Canada cooperating through the Keystone pipeline and joint ventures with Mexico after its recent denationalization of energy exploration and production.
The Saudi Response is Predictable
Oil will be cheaper, so...
Maintain your market share by selling cheaper oil and reap all the profit you can.
Cut out the small rogue producers who cannot compete at cheaper oil prices.
Expand your economy, becoming an emerging market player by opening up the Saudi stock market to the world in 2015.
Geopolitical and Economic Power
In my opinion, the Saudis are looking ahead and establishing an economic order that best supports their self interests as a nation. They realize that they can no longer use oil for total economic and geopolitical advantage as they have for the last forty years.
It is critical for the Saudis to maintain their oil markets at all costs, and to expand their economic base beyond oil alone. So, we see the move to open up other markets to foreign investments.
It is also to their advantage to check the rise of Iran as a nuclear state that can dominate the Middle East. Existing sanctions and low oil prices inflict economic pain on Iran, a country that needs $140.00 per barrel of oil produced to be profitable.
Saudi Price War
It is probable that Naimi's comments about prices make sense. That they are not engaging in an intentional price war was also the opinion of Kilduff.
One can wonder what advantage a price war would give the Saudis. The U.S. now produces 8.9 million barrels of oil per day, while the Saudis produce 9.6 million barrels per day. There is no advantage to the Saudis in a price war. The U.S. has come to realize the economic and geopolitical might of energy independence and the ability to sell oil and natural gas to the world marketplace. It is only a matter of time before this might is exercised in full force.
Oil Demand, Oil Supply and Strength of The U.S. Dollar
The crude oil price declines can be attributed to three simple reasons.
The weaker global growth outlook, particularly in Europe, China and Japan, has produced lower global demand for oil.
Against a background of weakening demand, the IEA reported oil supply in October increased, adding further downward pressure on oil prices, as global supply increased by 350,000 barrels per day.
Since oil is priced in U.S. dollars, the recent rally in dollar strength against other currencies also weighs on oil pricing.
Expectations for November 27th
In my opinion, the Saudis will do nothing at the November 27th OPEC meeting in Vienna. They will allow the market to dictate the price of oil, as they have already signaled.
Oil price are likely to decline further until equilibrium is created among the variables of demand, supply and U.S. dollar strength.
Implications for Investors
The global outlook that produced high oil prices since the 1970s is debunked. The world has not been running out of oil, and the supply of natural gas that can supplant oil is so great that we can expect revolutionary forms of cheaper energy like cold fusion being developed centuries before oil and natural gas can be depleted. Lockheed Martin (LMT) has recently acknowledged that it is working on a compact hot fusion device.
Energy will be cheaper, and profitability will depend on continued technological advances in exploration, extraction and production. The effects will be hugely beneficial to emerging nations.
There is compensation in everything. Cheaper energy is a huge tax cut for users, and that means money to spend on other things. Where will the money be spent, and what industries will benefit from it are investment questions seeking answers.