In 1981, when I first arrived in the Chinese city of Nanjing as a graduate student, the ancient and rather sleepy town had a population of four million and a GDP of RMB 4 billion. Today, the population has doubled to eight million, and GDP is two hundred times larger. Yes, you read that right. This year's GDP will exceed RMB 850bn.
Even by recent Chinese standards, that kind of growth rate for a major city is just about unheard of. Since 1981, Nanjing's GDP has grown almost twice as fast as China as a whole. It is now richer in per capita terms than Beijing, and its economy continues to expand more quickly than the capital, Shanghai, and just about every other major city in the country.
Unfortunately, American companies were left mainly standing idly on the station as the Nanjing bullet train passed by. Ford (NYSE:F) is one of the very few U.S. companies with a considerable presence in Nanjing, but even it is hamstrung by the fact it's only a 50% owner of its big plant there. The rest is owned by a Chinese state-owned company.
U.S. companies urgently need to shift their sights and their investment in China to where the growth and opportunities are. That is no longer in Shanghai, Beijing and Guangzhou. Nanjing is the gateway to where China's current and future growth are coming from.
I was back in Nanjing in the last week to visit friends and clients, as well as receive from the Nanjing city government an official appointment as an "investment promotion consultant".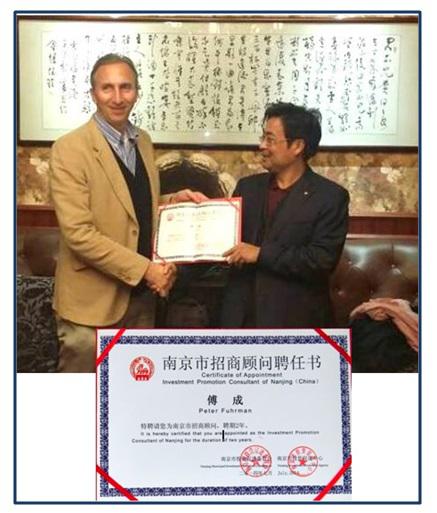 That's me in the photo above, celebrating with Mr. Kong Qiuyun, the cultured and charismatic director-general of Nanjing Municipal Investment Promotion Commission. It's an especially welcome honor, since I consider Nanjing, all these years later, my hometown in China, my "laojia". Every return is a homecoming.
With or without the official status, saying good things about Nanjing comes easily. It's a special kind of boomtown. Despite the steep economic ascent over the last 33 years, today's Nanjing is visibly woven from strands of its 2,500 year-old history as a city at the core of Chinese civilization. Old parks, streets and buildings stand. Though stained by tragedy - including the Nanjing Massacre in 1937 and bloody civil war at the end of the Taiping Rebellion civil war 73 years earlier - Nanjing is a city with a lightness of spirit and an intimate association with Chinese traditional culture of painting, calligraphy and poetry.
There is an ease, prosperity and comfort to life in Nanjing that is largely absent in Beijing. One is built upon the parched steppes below the Gobi Desert. Camel country. The other is set amid China's most fertile, well-irrigated patch of bottomland - a kind of Chinese Eden, saturated by rivers, lakes, ponds and paddies, where just about everything can be grown or reared in abundance. The city is a symbiosis of man and duck. In a typical year, the people of Nanjing will consume over one hundred million of them. Every time I fly home to the U.S., I pad my suitcase with two Osmanthus-scented salt-preserved ducks. My father, age 82, has somehow developed an appreciation for them.
Nanjing took a while to get its economic act together. During much of the 1980s, it was a backwater, trailing far behind the nearby cities of Shanghai and Suzhou, as well as the coastal cities of Guangdong and Fujian. Earlier, it had a reputation for being not very well managed. Today, the opposite is true.
Nanjing is the most ideally situated large city in China. It is at the backdoor of China's richest, most developed region, the Yangtze River Delta, stretching from Shanghai through Hangzhou, Suzhou, Wuxi and Changzhou. It is also now the front door for China's huge market of the future, the inland regions where growth is now strongest, particularly the provinces of Hubei, Sichuan, Chongqing and Anhui farther up the Yangtze.
Nanjing's is a large economy, but without especially large and dominant companies. Few even in China can name its largest domestic businesses or employers. This sets it apart from Beijing, Shanghai, Shenzhen, Hangzhou and Tianjin. Credit Nanjing government's hands-on farsighted economic management. It has made up for the lack of large businesses by encouraging the growth of smaller, mainly private sector entrepreneurial businesses, as well as bringing in investment from abroad. Sharp (OTCPK:SHCAY), BASF (OTCQX:BASFY), A.O. Smith and ThyssenKrupp (OTCPK:TYEKF) are among the larger foreign companies with significant investment in Nanjing.
Note the absence of the U.S. Fortune 500. This needs correcting. American business was the first major investor in Nanjing, beginning almost a century ago. Indeed, throughout the first half of the 20th century, Americans played a conspicuously positive role in Nanjing's development. U.S. academics and missionaries helped establish the city's two oldest universities, Nanjing University (where I studied) and Nanjing Normal University. They remain the rock-solid backbones of Nanjing's outstanding university system with over 25 institutions of higher learning.
An American team of architects and urban designers were responsible for creating the layout of much of the modern city of Nanjing, including the city's main shopping district of Xinjiekou. The city was designed to combine elements of Paris and Washington D.C., with wide boulevards, stately traffic roundabouts like the Place de l'Etoile and an elegant diplomatic quarter with large mansions spread along arching plane tree-shaded streets.
During the pre-1949 era, American companies were the most prominent and successful businesses in Nanjing. Two in particular - Socony (then the world's leading petroleum company, which later changed its name to Mobil Oil, and then merged in 1999 with a sister firm to form ExxonMobil (NYSE:XOM)) and British American Tobacco (NYSEMKT:BTI) - managed large operations in China from their headquarters in Nanjing. They were then among the largest companies in China of any kind. The Socony red flying horse logo was as recognizable then as Colonel Sanders is now across China. Both Socony and British American Tobacco left in 1949, never to return to Nanjing and their previous prominence.
Pearl Buck, the daughter of American missionaries, was a long-time resident of the city. While there, she wrote the most popular and influential book about China in English. It was then made into a successful film, which etched in the minds of many Westerners the enduring image of China's Confucian values and pre-revolution rural poverty.
To my thinking, America has an unfulfilled destiny in Nanjing. It's a smart place for smart capital to locate. In modernizing, it has kept its soul intact.
Disclosure: The author has no positions in any stocks mentioned, and no plans to initiate any positions within the next 72 hours.
The author wrote this article themselves, and it expresses their own opinions. The author is not receiving compensation for it. The author has no business relationship with any company whose stock is mentioned in this article.
Editor's Note: This article discusses one or more securities that do not trade on a major U.S. exchange. Please be aware of the risks associated with these stocks.