Since posting my initial article on Yellow Media (YLWPF.PK) in March, shareholders have endured even more pain as the stock price dropped significantly to $4.35 yesterday, reaching a new 52 week low (see chart below):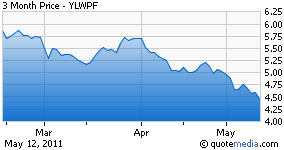 In order to gain some perspective, I looked into what, if anything, has changed that would cause such a nosedive. Here is a brief summary of my findings.
Divestiture of Trader Corporation
Only a few days after publishing my initial article, on March 25th, the company announced it had reached a definitive agreement to sell Trader Corporation to Apax Partners (a private equity group) for total cash proceeds of $745 million. The sale is expected to close sometime in June of this year, subject to regulatory approvals.
According to Marc Tellier, the company's CEO,
The divestiture is attractive for our shareholders and will allow us to deploy capital in our core business, accelerate our digital transformation while strengthening our capital structure.
Judging by the deal metrics, the sale is accretive to shareholders. Trader's LTM EBITDA for 2010, less the estimated business that stayed with the company was approximately $80 million. Therefore, the deal was valued at an estimated EV/LTM EBITDA multiple of about 9.3x, a significant premium to the current implied EV/EBITDA valuation for Yellow's shares (see Valuation section below).
Although the company recognized a loss of $112 million on the sale, (based on the latest fair value estimate), it's hard to see this deal as a negative going forward. Basically, the company will receive in June an amount of cash equal to more than 9 years of Trader's EBITDA, which it will then be used to pay off debt this year and fund other capital initiatives. A big reason why Trader was sold at a decent multiple was because Yellow Media was able to shift a majority of its business to digital.
In total, when considering the proceeds of the Trader sale and available excess cash flow, management indicated in its quarterly earnings webcast that the company will have approximately $1.0 billion in cash available for value enhancing capital initiatives. The cash will be used to pay down debt, share repurchases (both common and preferred) and to fund the company's digital transformation. With respect to the share buy-back, the company announced it intends to purchase for cancellation up to 10% of its common stock outstanding, or roughly 52 million shares.
As I write this article, the company has announced it has received approval from the TSX on its notice of intention to make a normal course issuer bid for the above referenced common shares and each of its outstanding preferred series 1, series 2, series 3 and series 5 shares.
This is significant and makes financial sense for a few reasons. First, the repurchase will help support the value of the stock by reducing the total float and increasing the percentage of the company owned by existing shareholders. Additionally, it will no doubt make short sellers think twice. Secondly, when completed, the company will save $.65 per share or about $32 million in cash dividend payments which, based on the current share price, equates to a nice return on investment. Additionally, the preferred share repurchase should knock out an additional $5 million in dividends annually.
The bottom line is, after the sale of Trader, the company will show improved credit metrics, even after considering the loss of cash flow from the business. This is because the loss of cash flow is more than offset by the amount of debt payoff. Additionally, with the common stock repurchase, the share price should be supported and significant dividend payments will be saved. So far, this is a net plus in my book.
First Quarter 2011 Results
On May 5, 2011, the company released its first quarter financials, delivering results that were essentially in line with expectations. Total revenues from continuing operations were $349 million versus $339.7 million in the same quarter in 2010, for a modest growth of 2.9%. EBITDA came in at $190 million versus $198.5 million last year. The decrease in EBITDA was primarily the result of higher costs associated with Mediative and Canpages businesses. Online revenues were $83.2 million or 25% of total revenues compared to 18% at the end of the same quarter last year. Overall, the results were consistent with management's expectations and consistent with its goal of transformation from a declining print business to a more stable digital platform. These results appear to be on target with the management's plan.
Yellow Pages Market Forecast 2011
With such a steep decline in stock price, I truly wondered if something dramatic had occurred in the industry that I wasn't aware of. In general, most people are intuitively aware of the decline in Yellow Pages print directory business. In fact, many believe the whole Yellow Pages business model will be extinct in a few years. So, rather than speculate, I decided to see what one of the market experts had to say.
According to data presented on the Simba Information website (extracted from the Yellow Pages Market Forecast 2011), after shrinking over 25% since 2003, the industry is projected to stabilize in 2013 recording a 2.5% gain, reaching $12.1 billion.
According to David Goddard, senior analyst for Simba's Yellow Pages Group,
The online component makes up 17.2% of the market and is growing at double-digit rates. The industry is performing the same task, just on a different platform.
According to the report, total usage of Yellow Pages has remained unchanged since 2006 at 16.7 billion; the only difference is that the internet holds a 30% share as of 2010, gaining 10% in four years.
Mr. Goddard further states that Yellow Pages is one of the few segments of advertising media that is not suffering market share declines, holding the same share of 7.6% in 2011 as it had in 2000.
From this information, it appears that although the market has shrunk significantly in years past, the market is expected to stabilize due to increased online usage and the continued effectiveness of Yellow Pages advertising. Also, those companies that have plans in place to take advantage of the digital shift are better positioned for success. In my opinion, Yellow Media is reasonably well positioned to take advantage of this trend.
Valuation
Since publishing my initial article, some have asked what I think will happen to the share price of Yellow Media, Inc. My answer is, given all the short selling, I have no idea. If anyone tells you otherwise they are just guessing.
However, as a business valuation professional, I do feel comfortable stating that, in my opinion, the current share price does not reflect the true underlying value of the business assets. In fact, the management team stated as much in its latest quarterly report.
More significantly, according to Canadian Insiders, the entire executive management team took meaningful positions in the company, buying in primarily at a price of $5.99 per share.
In my experience, business owners and officers rarely invest their personal funds without thinking long and hard.
As discussed earlier, shares of Yellow Media were trading yesterday at $4.35, a 52 week low. This implies an enterprise value (EV) of approximately $5.21 billion calculated as follows: ($4.35 per share * 525.4 million shares outstanding plus net debt of $2.14 billion and exchangeable and preferred securities of $782 million). However, assuming the Trader sale closes next month as planned, the company should have an additional $745 million in cash.
On top of this, about $250 million in excess cash will be set aside for capital initiatives from built up cash flow. Excess cash is typically excluded from the calculation of the EV. Therefore, in order to determine the implied EV of the business operations post Trader, I subtracted $1.0 billion from the EV calculated above. After subtracting this amount, the adjusted EV for the business amounts to $4.21 billion, or about 5.2x FY2011 EBITDA (post Trader) of $810 million.
In the real world, you couldn't buy a decent small sized marketing company at this pricing multiple, let alone a leading national media company that has been around since 1903.
On the whole, after looking at the facts, the company's prospects appear to have improved since my last article rather than deteriorate. Clearly, whether deserved or not, the investment community has reached max pessimism regarding the prospects of Yellow Media. This likely relates to overblown fears relating to the business model, recent bankruptcy filings of other Yellow Pages companies and significant short selling activity. With respect to the bankruptcy filings, it is clear that, unlike Yellow Media, these companies were significantly over leveraged.
As for the impact of the short selling, I realize that the continual sinking of share price can have real consequences, especially if you are forced to sell for some reason. However, if you are a value investor, you should be thanking these traders for giving us a bargain entry price. The reality is, if Yellow Media were a private company that I was valuing, I would have trouble explaining to the board of directors why the value per share decreased so much when $1.0 billion in additional cash will soon be in the bank. They would likely hire a different appraiser.
In the end, the company's future share performance will be linked to its ability to successfully transform its print business to digital and continue to produce stable cash flows.There is no doubt there is a risk that this process may take longer than anticipated. Fair enough. However, at this point, the plan appears achievable and the company is on track.
As a small retail value and income investor, the stock appears attractive at these levels. At some point, hopefully, other more sophisticated investors may think so as well.
Disclosure: I am long YLWPF.PK.