Silver failed at its 50-day moving average (DMA) resistance in spectacular fashion. Silver dropped 9% and gave up almost its entire gain from the previous three-day relief rally (click to enlarge images):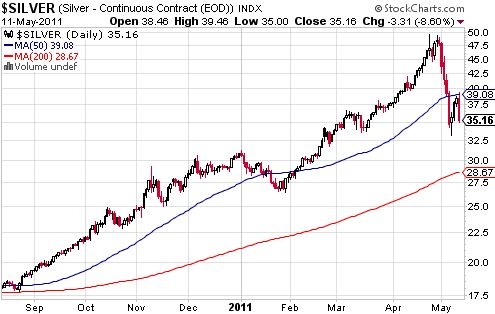 Silver fails critical test of resistance at the the 50DMA
Source: StockCharts.com
As I mentioned in my previous post on silver, I think the price adjustment in silver will be on-going as several relationships revert to their means (gold and silver miners in particular). However, in the meantime, I still consider silver a buy here as long as it is accumulated in phases or stages.
Commodities in general are getting crushed as it appears some major (leveraged?) players are getting squeezed out the market and forced to liquidate in the face of numerous hikes in margin requirements. As I suggested earlier, these squeezes could have ripple effects into other asset classes, especially those bought with a lot of leverage.
The dollar index's sharp rally back to its 50DMA resistance also makes the current correction look like a stampede out of short dollar positions – dollars that may have been borrowed to buy numerous classes of commodities. The dollar index never retested its multi-decade lows from 2008. I still think it will (and eventually fail that support), so I am inclined to think the rally ends here. If the dollar index manages to push further upward, it will be time once again to consider an extended dollar relief rally.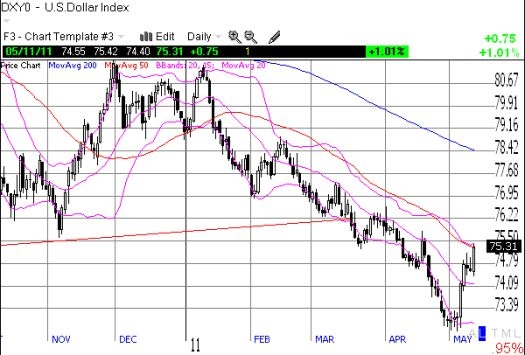 The U.S. dollar gets its turn at 50DMA resistance
However, all eyes should now watch copper. Yes, copper supposedly has a Ph.D. in economics because it has traditionally been used as a barometer of economic conditions. It can also provide some viciously false signals, like the bearish signals in 2006 which proceeded another two-year run before the onset of recession brought copper crashing to earth. I made this same warning last year as I examined the potential double-top in copper.
My eyes are on copper right now because it has struggled with its 50DMA for most of the year, and the metal is now struggling to hold on to support at the 200DMA. A break here could signal a significant follow-through in selling in the rest of the commodity space. I am not prepared to guess at the implications for the economy. For all I know, cheaper prices for commodities may be enough of a net booster for American corporate profits and consumer spending power to outweigh the drag on commodity-producing economies. On the other hand, it could signal that China, the noisy elephant in the trading room, has started quieting down and pulling back on its voracious consumption. Time should soon tell.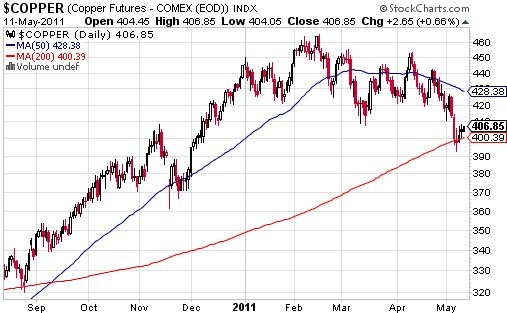 Copper tests critical support at its 200DMA
Source: stockcharts.com
Be careful out there!