Usually, it's glamour stocks with rocketing PE ratios and soaring momentum that get the bulk of investor attention. But deep value stocks can have exciting price swings also. This article will try to pick a few stocks trading at lower valuations that are on the upwards march.
Keep in mind as you consider the stocks that investors have pushed the value down for a reason. Perhaps they have a record of low growth, experienced sliding margins, or some other caveat. The goal is not to trade the safest and lowest-risk stocks for average gains, but to find some potentially higher-risk value stock with upwards momentum.
Creating the Value Scan
The price to earnings ratio will be 12 and under. This low PE ratio does raise our risk of distressed firms.
The price to book ratio will need to be under 2.
We want very low debt levels in relation to equity. (This article outlines how capital structure - debt or equity financing - leads to excess gain)
The return on assets and return on equity will need to above 10%. This is especially helpful since our companies will have a large portion of their share price in net assets.
Finally, there needs to be some positive momentum.

Value Stocks on the Rise

AVX – AVX Corp.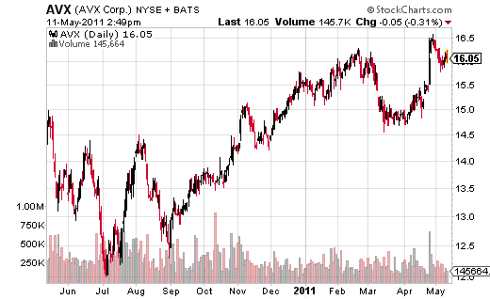 The fundamentals show that this is trading at lower valuations than its peers. With a PE ratio just over 11 compared to an industry average of 14. Book value is $11.99 with share prices trading around $16. There is no short or long term debt on the table. The last few quarters sales have went up overall and net income has popped.

The earnings have been upwards revised in the past 30 days, and this has been linked to positive price drifting. The share price is making an interesting cup and handle formation as it is hopefully pulling back for its next leg up. I'm watching this one closely for a potential breakout.

WDC – Western Digital Corp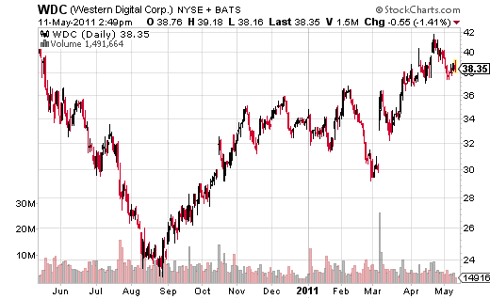 This has been one on my radar for some time. I wrote about it last July when it was trading around $27 and I still like it over $38. A sub-11 PE ratio, price to sales under 1, with share price trading 1.7 times the net asset value.

Analysts don't know what to think of this one as the long-term growth rate has a range of negative 17 to plus 10. You can look at average sales growth at any time frame over 1, 3, 5, or 7 years and the answer is always over 20% growth. True, margins have choked the past few quarters, but I see a lot of promise yet. The price is nicely trading above $36 support. A pullback to this level would make a nice entry.


SEAC – SeaChange International Inc.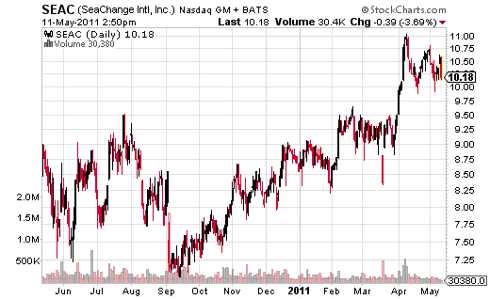 Is this VOD company simply a dried up company from the tech-boom? If you look back a number of years and notice that prices were 7x higher for a brief spell, you might think so. But SeaChange strives to be relevant with innovation such as streaming to multiple screens at once including iPad (NASDAQ:AAPL), TV, and smartphone.

A PE of 11, and a PEG ratio of 0.32? To be fair, only 1 analyst is covering their long-term growth rate and they guess it at 46%. This seems a bit excessive, but it could also mean this is undervalued based on growth in addition to current earnings and asset value. They have missed earnings on a couple quarters though, so be careful. They also have no short term or long term debt on the books. I find the valuations fair at the moment, but if they can deliver the goods I fully expect the relative valuations to go way up from the deep value status it is today. A nice support is in at $10, and another just below at $9.50, then again at $9. This one has promise.

SEB – Seaboard Corporation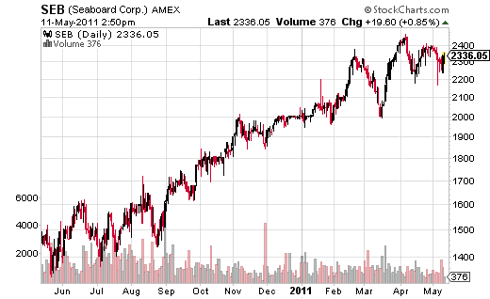 Trailing PE of 10.14, price to sales at 0.64, and price to book at 1.59. While sales growth has averaged 10% over the past 3 – 5 years, it has doubled that in the past 1 year. EPS is through the roof with 210% growth over one year, although the total earnings per share are similar to the years 2005 and 2006. Their margins have slid over the past 5 or 6 years, although they have improved over the past year or two. Still, the return on assets and net profit margins still need to climb another 50% to be equal to 2005. Prices are creeping towards a 2007 high. Its making a small pullback since the beginning of April and could be coiling for its next ascent.
Trading stocks with low valuations can be risky as investors have priced them that way for a reason. As the momentum increases, these can be timely buys – and especially so if they receive wide coverage from positive trading patterns such as making new 52 week highs thus giving them increased visibility. (If you like the 'shock and awe' followed by positive price movement, check out the article on Post Earnings Announcement Drift)

Do you have a take on these deep value stocks with rising momentum?


Disclosure: I have no positions in any stocks mentioned, and no plans to initiate any positions within the next 72 hours.