We've seen a very sharp pullback in many commodities in May. This commodity selloff actually had a minor precursor in March, but basically this is the most severe profit-taking seen during the very strong rally of about a year.
Agricultural products actually topped in March and have been underperformers since that time. For example, see the liquid-trading PowerShares DB Agriculture ETF (NYSE:DBA) which holds many agricultural commodities such as coffee, cocoa, cattle, corn, wheat, soybeans and sugar.
Normally agriculture commodities aren't considered a leading indicator for metals & energy commodities such as oil (NYSEARCA:USO) and gold (NYSEARCA:GLD), but in this case the continuing weakness in DBA since March did precede the sharper correction in other commodities seen this month.
The bad news for long-side speculators who were riding the commodity trends higher (we've profited on the long side with gold, silver, oil, etc. with our systemized ETF options trading, but were clearly aware of the parabolic nature of the rally and the probability of a strong correction) may turn out to be good short-term news for both American consumers (in terms of lower prices and lessened inflation worries) and also for sectors like Food/Beverage/Restaurants.
The PowerShares Dynamic Food & Beverage ETF (NYSE:PBJ) has been a clear beneficiary of this decline in ag prices. PBJ doesn't have options available for trading currently. This ETF (and the index it's based on) holds 30 positions total with a fairly average weighting, with holdings that cover the food/beverage industry all the way from the silos (Archer Daniels Midland (NYSE:ADM)) to manufacturers (General Mills (NYSE:GIS)) to grocery stores (Kroger (NYSE:KR)) to restaurants (McDonald's (NYSE:MCD)) to candy bars, coffee, and beer (Hershey (NYSE:HSY), Starbucks (NASDAQ:SBUX) and Molson Coors (NYSE:TAP)).
Take a look at the relative performance of these two ETFs since March, below. There's been a fairly clear correlation in DBA's decline/PBJ's rally, and a 15% difference in performance in this time frame just for the underlying securities (we utilize options to leverage these kind of moves for bigger gains).
[Click to enlarge]
DBA & PBJ Relative Performance Chart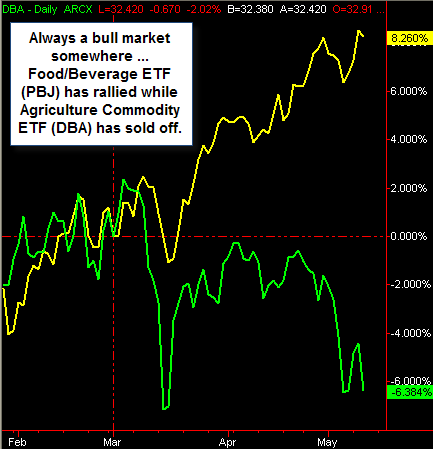 Bottom line: Should the commodity correction continue, sectors such as Food/Beverage will likely continue to be a beneficiary. However, keep an eye on these various commodities that are now approaching 50% retracement of their gains, as this is a likely area for them to stabilize and possibly bounce back.

Disclosure: I have no positions in any stocks mentioned, and no plans to initiate any positions within the next 72 hours.