Did Silver just hit a historic double top?
I am not a technical analyst, but I am fascinated by how the last leg of the silver rally looks so similar to the 1980 silver moves on a chart. This could be a historic double top in the making.


Let's first look at some reasons given as rationale for silver's explosive rally.
Scarcity of Physical Silver
GFMS (a consultancy specializing in precious metals research) estimates 2010 total fabrication demand was 878.8 Moz and total supply of silver was at 1056.8 Moz. This implies a surplus of 178 Moz if investment demand is not included. The entire surplus was taken up by investment demand from ETFs and various trusts.
If investment demand is lower than last year, there should be a surplus of physical silver in the market. We are already in the 5th month of the year and my estimate is investment demand year-to-date has been negative. Outstanding shares of the biggest physical silver ETF (NYSEARCA:
SLV
) has been down from where we started the year. SLV had just under 0.36 million shares in January, which is down to 0.347 million shares currently. This is true for all other physical ETFs and trusts as well. Below is a chart of SLV's outstanding shares.

More miners also are going to be hedging supply in 2011. We already saw Carlos Slim selling silver futures to hedge his mine before the crash. Above $40 there is bound to be more supply.
Fears of Inflation and debasement of paper currency
This is a genuine concern. Though personally I believe money supply (M2) is a better indicator of inflation, participants have been pointing to expansion in the monetary base as a reason for the precious metals rally. Even if we agree precious metals should track expansion in monetary base, the magnitude of the silver rally doesn't make sense. While gold returns have been tracking expansion in the monetary base, silver has gone through the roof.
Since the announcement of QE1 in October 2008, both gold and monetary base have gone up 100%. Silver's return was over 400% at the top and just below 300% even after the recent crash. The graph below shows returns for silver and gold along with the increase in monetary base from start of QE1.



Silver's average price for October 2008, was 10.50. If silver were to track expansion in monetary base just like gold, it would trade around 21 - not at 35 (
see my detailed article on this
).

JP Morgan has been shorting silver naked, depressing prices
This is the most ridiculous reason I have heard. There is no way to clarify this, but let's go through JP Morgan's trading record for 2010. As seen below JP Morgan had only 8 days where it lost money in 2010. What is more astonishing is its Value at Risk (VAR) measure of just USD 70 million. It means with a risk of loosing USD 70 million per day, JP Morgan made USD 76 million revenue per day on average.

If JP Morgan was naked short on a large amount of silver to keep the market price low its VAR cannot be so low. Also if it was actually short a large amount of silver, how come it lost money only 8 days in 2010, when silver had such an explosive rally?



Bank hedge OTC derivative in exchanges and market seems to have got the wrong message.
Exchanges do not have enough silver inventory to cover outstanding contracts
This is true for every commodity and every asset class today. Derivative markets (paper market) are bigger than physical/real markets in every asset class and exchanges/banks cannot hold inventory to cover the entire open interest of futures. This is not a silver specific issue. For example, in credit markets outstanding Credit Default Swaps notional are many multiples of total debt outstanding of a specific company.
Inflation adjusted price for silver's 1980 peak is over $100
The first 1980 top of around $50 was a result of the Hunt brothers' unsuccessful attempt to corner the world silver market. This ended in the brothers filing bankruptcy. I don't think the market should consider this top as a genuine price action when it was clearly an aberration. After hitting a top of around $50 in January 1980, Silver fell to $10 by May 1980.
While the whole Hunt brothers episode was an aberration, how can the $50 price be used as a reference? Silver's average price for 1979-1980 is only $16. Any reference to the $50 level of 1980 is meaningless.
Below is the silver price chart for 1979-1980.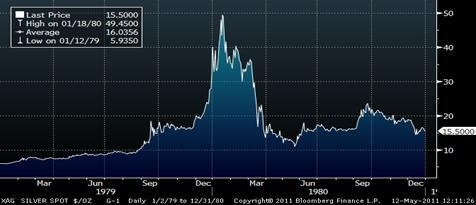 As I have explained above, this has been a rally built on many misconception and misunderstanding. Out of the five rationales discussed for the silver rally, only the physical silver shortage and paper current debasement makes some sense.
Out of these 2 rationales, a silver shortage will not be an issue in 2011 as demand from the investment sector is actually negative year to date. The concern about paper currency debasement is real, but then silver should be trading in the 20s and not the 30s as discussed earlier.
This is could turn out to be a historic double top.
Disclosure: I am long ZSL.