The National Bank of Poland increased its reference rate by 25 basis points to 4.25% (and increased its other interest rates by 25bps: lombard rate 5.75%, deposit rate 2.75%, and rediscount rate 4.50%). The move marks the Bank's 3rd interest rate increase this year as the emerging East European economy faces rising inflation pressures. The Bank also made comments that hint monetary policy tightening may continue:
"The risk of persistently heightened inflation also stems from increased inflation expectations combined with fast growth in commodity prices in the world markets. In order to curb the risk of inflation running above the inflation target in the medium term, the Council decided to increase the NBP's interest rates, continuing the cycle of monetary policy tightening."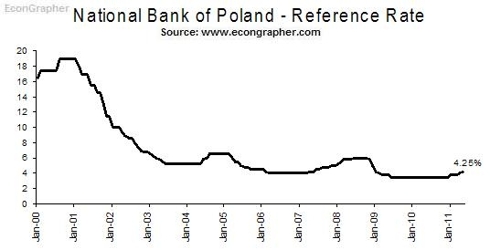 (Click charts to expand)
In terms of its economic vital stats, Poland reported annual GDP growth of 3.9% in Q4 2010, down from 4.6% in Q3 2010. Meanwhile, as noted by the Bank, annual inflation was 4.3% in March this year, higher than the Bank's official inflation target of 2.5% +/- 1%. On GDP the bank said that Q1 result this year will likely be "close to the one observed in the previous quarter".

On inflation the Bank commented on the passing through of a surge in food and energy prices into broader inflation. "Faster price growth, though stemming mainly from the further increase in food and energy prices, was also observed in most other categories of goods and services," it said. Poland's economic recovery is benefiting from relatively loose monetary policy, a relatively stable Zloty, and strong economic performance in Germany (its largest trading partner).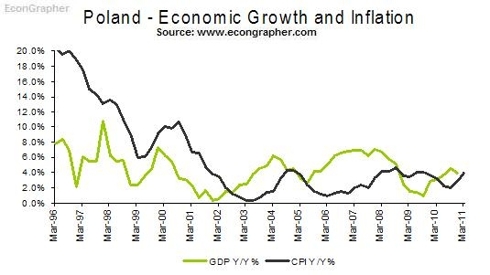 The parting comment in the Bank's statement centered on the eventual adoption of the Euro currency:
"An important factor affecting the monetary policy is the situation of public finances. In order to maintain macroeconomic stability, and comply with the euro adoption criteria, decisive measures need to be implemented, aimed at a lasting reduction of the deficit of the general government sector and at curbing the increase of public debt."
The Bank also noted that its Monetary Policy Council holds a view that Poland should join the ERM II and euro area as soon as possible.

Poland is an interesting and sometimes overlooked emerging market. It saw strong stock market performance earlier in the past decade, which peaked in late 2007, followed by a market crash, which accelerated with the global financial crisis. Since then its stock market has more or less been steadily upward trending, but still has some way to go before reaching pre-crisis levels. Poland exposure can be gained through two key ETFs: Market Vectors Poland ETF (NYSEARCA:PLND), and iShares MSCI Poland Investable Market Index ETF (NYSEARCA:EPOL).

Sources: National Bank of Poland, OECD Statistics

Disclosure: I have no positions in any stocks mentioned, and no plans to initiate any positions within the next 72 hours.