After getting smacked around during the recent reappearance of volatility, junk bonds are once again getting some love, okay relative love, from investment pros. You've no doubt heard the pitch: hey, the crappy yield premium widened when they sold off, so you're now getting paid a bit better for taking on junk's volatility. True, but let's not mistake that for a screaming value. The spread is just off its mid-year low: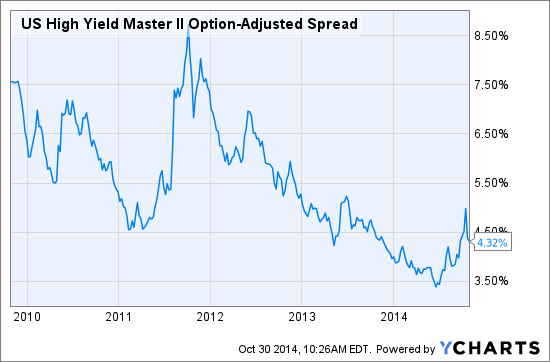 US High Yield Master II Option-Adjusted Spread data by YCharts
Given the inherent stock-like risk of junk bonds, comparing its yield solely to the 10-year Treasury or, say, the iShares Core U.S. Total Bond ETF (NYSEARCA:AGG) seems a bit beside the point. Turning the comparison to yield-focused stock portfolios gets interesting. As this chart shows, the trailing yield for the SPDR Barclays High Yield ETF (NYSEARCA:JNK) is indeed well above the payout for U.S. dividend portfolios such as the Vanguard High Yield Dividend ETF (NYSEARCA:VYM) and Schwab U.S. Dividend Equity (NYSEARCA:SCHD).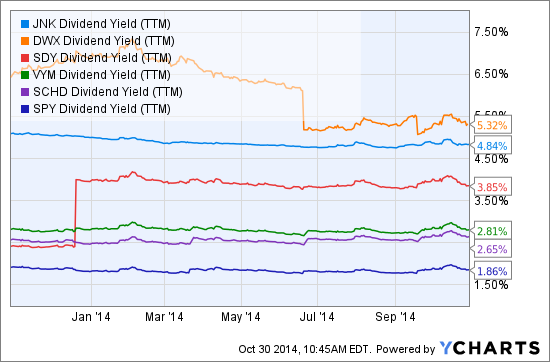 JNK Dividend Yield (TTM) data by YCharts
But those portfolios yield significantly more than the sub-2% dividend yield for the straight-up SPDR S&P 500 ETF (NYSEARCA:SPY). And both the Vanguard and Schwab portfolios are the antithesis of junk: both portfolios are firmly focused on the highest-quality stocks. The SPDR S&P Dividend ETF (NYSEARCA:SDY) also has an embedded quality screen in that only stocks that have raised their dividends for at least 20 consecutive years are considered. Again, the yield is definitely lower than what you can get from the high-yield bond ETF, but that's a mighty narrow spread:
JNK Dividend Yield (TTM) data by YCharts
And if you're really determined to generate some income in the coming year, battered international dividend stocks may be worth some further financial research. The SPDR S&P International Dividend ETF (NYSEARCA:DWX) has a trailing 12-month yield above 5%. But given the recent pounding of international markets amid economic slowdown concerns, the forecasted dividend yield is nearly 7%.
That's a lot of income for a portfolio with a forward PE ratio below 14. Among the top holdings is Royal Dutch Shell (NYSE:RDS.B); the ETF owns the A shares, but for direct investment the B shares are more USA-friendly. Yes, it's taken a big hit as global oil prices have plummeted, but for a 5%+ yield you get a dividend that has not been cut in 10 tumultuous years and a payout ratio that suggests it can weather the latest economic downturn without any dividend pressure.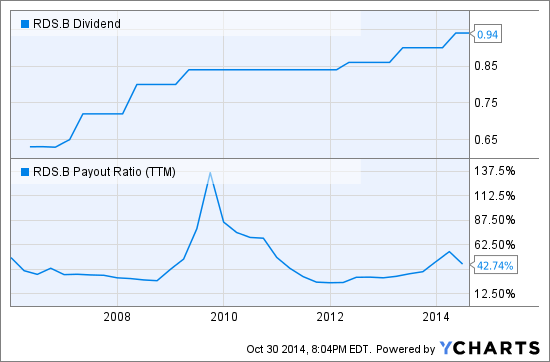 RDS.B Dividend data by YCharts
Carla Fried, a senior contributing editor at ycharts.com, has covered investing for more than 25 years. Her work appears in The New York Times, Bloomberg.com and Money Magazine.
Disclosure: None