U.S. gold turned and fell on Wednesday. Gold dropped $14.80, or 0.98%, to close at $1,501.00 an ounce. Gold prices hit an intraday low of $1,495.90 and a high of $1526.20 an ounce. Gold prices are right at Bollinger band's middle band. Relative strength indicator is sitting at 52.38.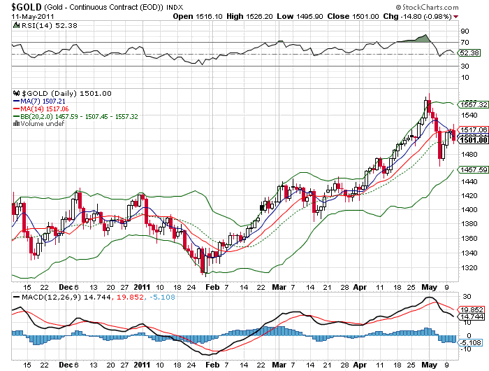 (Click to enlarge)
Silver futures prices for July delivery, now the most active contrast, dropped a whopping $3.31, or 8.60%, to close at $35.16 per ounce on the Comex in New York. Silver prices hit an intraday low of $35.00 and a high of $39.46. The relative strength indicator sits at 37.13.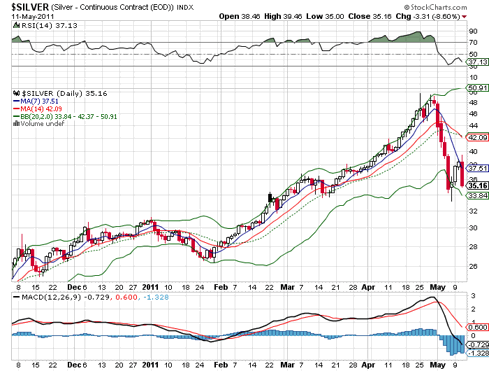 (Click to enlarge)
For every stock that rose, there were three stocks that declined. Total volume of shares that traded on New York Stock Exchange was north of 980 million. The correction in commodities last week is the first shaking of the tree that should not be ignored. In my opinion it was an early indication of short term top being put in both commodity markets and equity markets. I think, the recent turbulence in equities and especially in commodities market is not transitory. These head winds are here to stay in the short to medium term.
On the currency front, the euro fell more than 1% against the U.S. dollar, because Standard & Poor's thinks that Portuguese banks may need additional government support. China's CPI (consumer-price index) climbed 5.3% in April year-over-year, while wholesale inflation climbed 6.8%, year-over-year. Analysts' expectations were 5.2% for the CPI and 7.3% for wholesale inflation. In my opinion, when some traders cite China inflation numbers behind Wednesday's commodities sell-off, that's just not true. These numbers were mixed at best, with CPI above expectation but wholesale inflation well below expectation.
Wednesday's sell-off triggered a brief and unusual halt in petroleum products' futures trading. This prompted the CME Group, that operates the New York Mercantile Exchange and electronic trading platform CME Globex to expand daily trading range allowed by the exchange. Intuitively, expanding daily trading range would allow for higher volatility and larger price swings, but the thesis behind expanding the trading range is to allow traders with long exposure to commodities futures to exit their positions safely.
For the long term investor, both gold and silver are undoubtedly heading higher. But for a swing trader, silver will pose an excellent buying opportunity to get long at lower prices in coming day or two. I think silver and gold, both will settle the week lower. For the faint heart, staying away from precious metal for next couple of trading sessions might be a good idea. For aggressive traders, best risk reward is presented by getting short exposure to silver.
If you believe in the gold and silver story, you can take advantage of the drop in gold prices by getting short exposure to GLD (iShares Gold Trust) or UGL (ProShares Ultra Gold). You can also benefit by getting long exposure to GLL (ProShares UltraShort Gold). You can take advantage of the drop in silver prices by getting short exposure to SLV (iShares Silver Trust) or AGQ (ProShares Ultra Silver). You can also benefit by getting long exposure to ZSL (ProShares UltraShort Silver).
Disclosure: I am long ZSL.