By Carla Fried
A research note out of Goldman Sachs (NYSE:GS) makes the case for the S&P 500 to end the year about 5% higher than where it recently traded, and to hit 2150 in 2015 (hat tip ValueWalk). And a big part of the still-bullish outlook is a pickup in buybacks, especially heading into year-end.
The basic investment thesis is that buybacks have slowed the past few weeks because companies can't make repurchases in the five weeks heading into their earnings releases. Now that we're getting pesky third quarter earnings season out of the way, let the financial engineering re-commence. And Goldman Sachs points out that since 2007 a quarter of annual buybacks occur in the last two months of the year. Perhaps something to do with goosing per-share performance for the year, which conveniently might impact the C-Suite's compensation?
ValueWalk helpfully reprinted a few tables of Goldman's top repurchase constituents. ADT (NYSE:ADT) and FedEx (NYSE:FDX) have been among the most aggressive repurchasers over the past 12 months, as measured by buyback yield.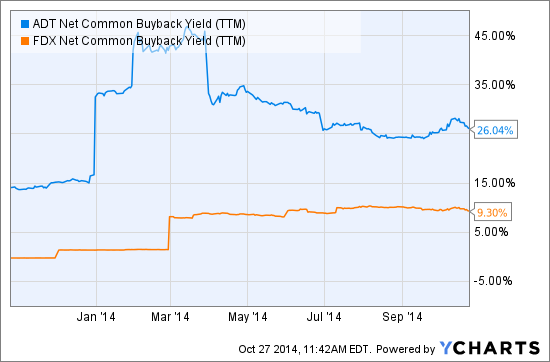 ADT Net Common Buyback Yield (TTM) data by YCharts
ADT managed to do the bulk of its repurchasing when its valuation and stock price were at their 12-month highs. Not exactly what you want to see as a shareholder.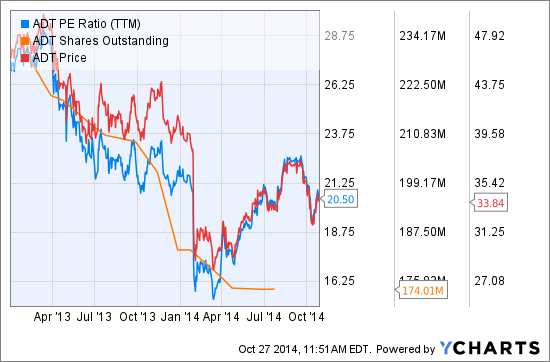 ADT P/E Ratio (TTM) data by YCharts
And that was in part financed by a strong appetite for more debt: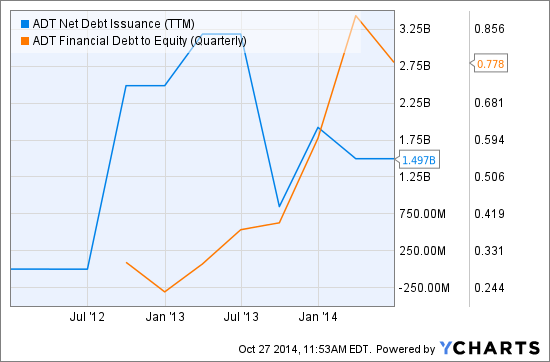 ADT Net Debt Issuance (TTM) data by YCharts
CF Industries (NYSE:CF), a producer of nitrogen fertilizer, has also been on a buyback tear, with a buyback yield above 15% for the past 12 months. Clearly, since the beginning of 2013, buybacks have played an outsize role in managing eps: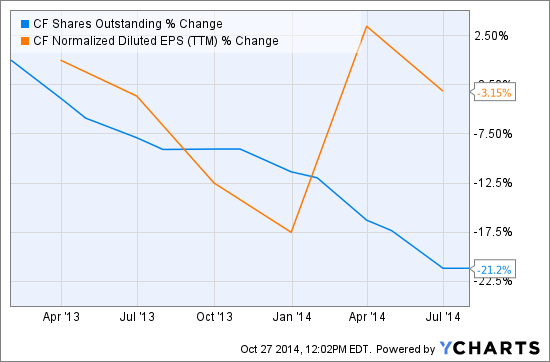 CF Shares Outstanding data by YCharts
It's also interesting that some of the most aggressive in terms of share buybacks don't offer any dividend. Cameron International (NYSE:CAM), Direct TV (NYSE:DTV), Express Scripts (NASDAQ:ESRX) and VeriSign (NASDAQ:VRSN) all have high buyback yields, but in terms of lasting shareholder returns -- dividends -- nada.
The market is beginning to cool on the buyback theme. In 2013 the PowerShares Buyback Achievers ETF (NASDAQ:PKW) gained more than 40%, while the SPDR S&P 500 ETF (NYSEARCA:SPY) had a price of more than 26%. The buyback momentum has clearly stalled out this year: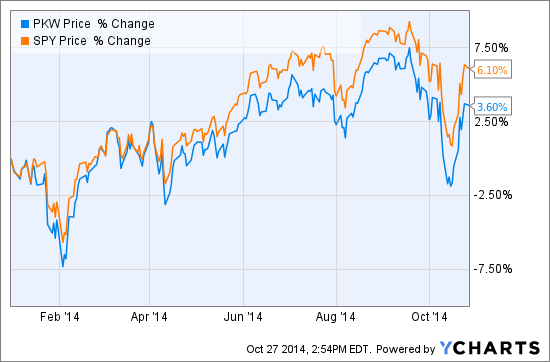 PKW data by YCharts
Taking a look at the PowerShares Buyback Achievers top five holdings might explain things a bit. Let's just say revenue growth, a more classic driver of earnings growth potential, hasn't exactly been on fire for Home Depot (NYSE:HD), Pfizer (NYSE:PFE), AT&T (NYSE:T), Oracle (NYSE:ORCL) and Lowe's (NYSE:LOW):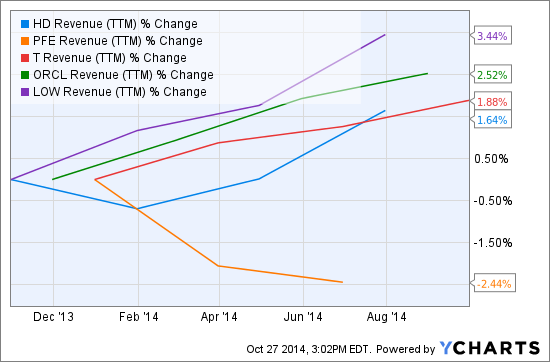 HD Revenue (TTM) data by YCharts
This far into a significant bull run, and with valuations pushed up to fair value, it seems prudent to look for more substantial drivers than a cash-rich company (or one taking on more low-cost debt) that is financially engineering its way to decent earnings.
Disclosure: None