After several iterations of quantative easing (QE) programs in developed markets, passing the credit creation baton from central banks to commercial banks is the next step required for sustainable recovery. The key question is simple: Are central banks ready for the handover to commercial banks? But the answer is less so. A closer look at the design of QE programs in the U.S., eurozone and Japan offers insight into their varying degrees of readiness - or unreadiness - to pass the baton.
U.S.: A qualified yes
Is a transition from the Fed's QE asset purchases to commercial banks now feasible? Yes, with this caveat: Bank lending must remain firm. If not, inadequate growth of bank balance sheets could result, leading to a slowdown in the U.S. economy. As shown below, bank lending - represented by the red line - picked up in 2014 under QE3, but cash assets - represented by the light blue line - are now diminishing and will fall toward zero without QE. Whether bank lending stays strong will be a critical question over the next few months.
Transfer From Fed Asset Purchases to Commercial Banks Is Feasible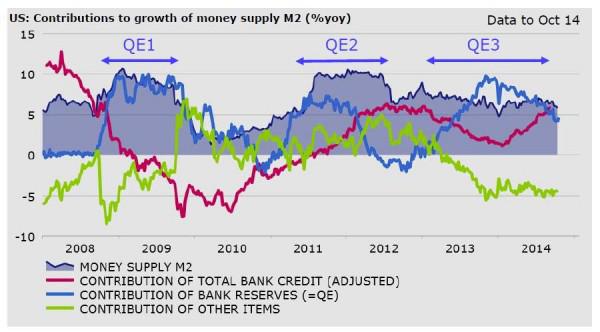 Source: Thomson Reuters Datastream, as of Oct. 17, 2014
Because the Fed's QE program focused on buying assets held by non-banks, those purchases increased liquidity by injecting new money directly into the system. Growth of money now depends on commercial bank credit creation rather than QE. In my view, credit creation by banks probably will revive in the U.S. because balance sheet repair is far enough along. But the eurozone is a different story.
Eurozone: An emphatic no
The credit creation baton won't transfer to commercial eurozone banks in the foreseeable future, in my view. The euro area banking system doesn't have anywhere near the capacity of the U.S. banking system to expand lending or credit.
When European Central Bank (ECB) President Mario Draghi came into office in 2011, long-term refinancing operations (LTROs) took the ECB's balance sheet from two to three trillion euros, as the chart below shows, but lending by commercial banks decreased. So on this superficial level, LTROs didn't work.
Transfer from ECB to Commercial Banks Isn't Feasible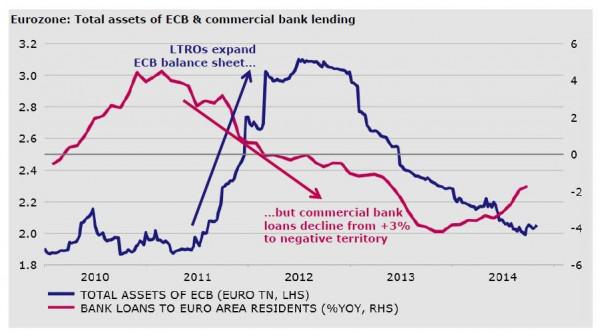 Source: Thomson Reuters Datastream, as of Oct. 17, 2014. ECB assets in trillions of euros.
Unlike the Fed's asset purchases from non-banks, LTROs are basically an asset swap - the ECB makes loans in exchange for collateral from banks. This asset swap QE also differs from that used by the Bank of England (BOE), which bought medium- and long-dated gilts, a type of government bond, with mostly 10- and 15-year maturities. In Britain, banks don't hold these gilts because the capital risk is too great. The BoE was injecting money into non-banks, and therefore into the system, thereby creating more rapid money growth in the U.K. - just as the Fed did in the U.S..
In contrast, the ECB's latest QE programs target purchase of LTROs, covered bonds or asset-backed securities mainly from banks. Because these transactions are also predominantly asset swaps with banks, there's no guarantee of money growth or credit creation from commercial banks. In fact, there's a significant risk that banks won't run with the baton, despite expanding their balance sheets. Instead, banks may view these infusions as merely a cheaper source of funds, as they did before.
Japan: Not yet
When the Bank of Japan (BoJ) conducted QE operations in from 2001 through 2006, there were two problems:
First, its purchases of Japanese government bonds (JGBS) during QE1- represented by the red line below - were more than offset by banks reducing their lending - represented by the black line. As a result, overall bank credit - represented by the blue line - did not increase.
Second, almost half of the BoJ's purchases were in the form of short-term financing bills held entirely by the banks. The result? As with the ECB's LTROs, these transactions were basically asset swaps that didn't lead to expansion of broad money in the Japanese economy.
QQE: No Increase in Commercial Bank Credit Yet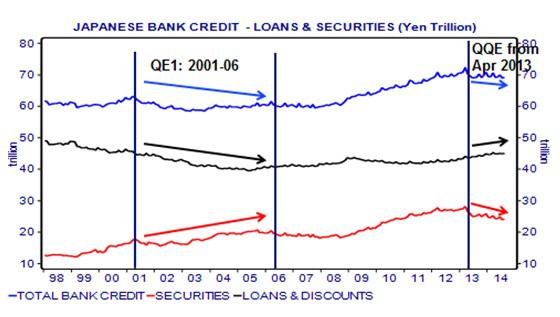 Source: Macrobond, Nov.18, 2014
With the appointment of Governor Haruhiko Kuroda in early 2013, the BoJ began a vigorous program of JGB purchases and much more rapid expansion of the BoJ balance sheet, but this program is once again not exclusively dedicated to purchasing non-bank-held assets. Surprisingly, bank credit - or bank lending plus holdings of securities - has actually contracted so far, despite a big increase in the BoJ's balance sheet. Whether that changes with the BoJ's latest quantitative and qualitative easing (QQE) program announced on Oct. 31 remains to be seen.
QE design is key
In my view, QE design is crucial to the successful transfer of the credit creation baton from central banks to commercial banks. By injecting new funds into the system, asset purchases from non-banks in the US and the U.K. prepared both systems much better for the shift to self-sustaining credit growth and hence economic expansion. By contrast, the QE asset swaps in both the eurozone and Japan have so far failed to enable that take-off.
Important Information
Issuers of foreign government debt or the governmental authorities that control repayment may be unable or unwilling to repay principal or interest when due, and the Fund may have limited recourse in the event of default. Without debt holder approval, some governmental debtors may be able to reschedule or restructure their debt payments or declare moratoria on payments.
The risks of investing in securities of foreign issuers, including emerging market issuers, can include fluctuations in foreign currencies, political and economic instability, and foreign taxation issues.
The information provided is for educational purposes only and does not constitute a recommendation of the suitability of any investment strategy for a particular investor. Invesco does not provide tax advice. The tax information contained herein is general and is not exhaustive by nature. Federal and state tax laws are complex and constantly changing. Investors should always consult their own legal or tax professional for information concerning their individual situation. The opinions expressed are those of the authors, are based on current market conditions and are subject to change without notice. These opinions may differ from those of other Invesco investment professionals.
| | | |
| --- | --- | --- |
| NOT FDIC INSURED | MAY LOSE VALUE | NO BANK GUARANTEE |
All data provided by Invesco unless otherwise noted.
Invesco Distributors, Inc. is the U.S. distributor for Invesco Ltd.'s retail products and collective trust funds. Invesco Advisers, Inc. and other affiliated investment advisers mentioned provide investment advisory services and do not sell securities. Invesco Unit Investment Trusts are distributed by the sponsor, Invesco Capital Markets, Inc., and broker-dealers including Invesco Distributors, Inc. PowerShares® is a registered trademark of Invesco PowerShares Capital Management LLC (Invesco PowerShares). Each entity is an indirect, wholly owned subsidiary of Invesco Ltd.
©2014 Invesco Ltd. All rights reserved.