Spurred on by a late Easter, shoppers continued to spend in April as retail sales rose for the 10th consecutive month. However, the gain was the smallest since last July, and most segments other than gas stations and grocery stores saw business fall from March levels.
The U.S. Department of Commerce reported that Advance Estimates of U.S. Retail and Food Services sales for April rose an adjusted 0.5% from the prior month to $389.4 billion, while sales increased 7.8% (unadjusted) compared to the year-ago period. The rise was slightly less than the 0.6% analysts were expecting, but March's gain was revised upward to a 0.9% increase from a previously reported 0.4% rise. This was the 10th straight monthly increase and 18th straight year-over-year gain after 15 consecutive months of declines, which was the longest such streak on record.
Click to enlarge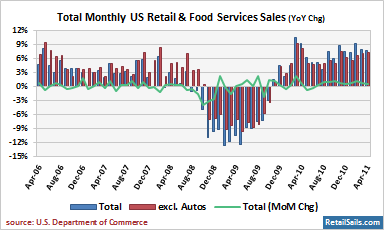 Total sales excluding autos were up 7.3% in April from the year-ago period and 0.6% from March, while total sales less autos and gas stations showed a 5.2% year-on-year increase and 0.2% month-on-month gain. Nominal sales have finally returned to peak levels – for the fifth straight month total adjusted sales reached record levels, though unadjusted sales were just 5.4% above April 2008.
Click to enlarge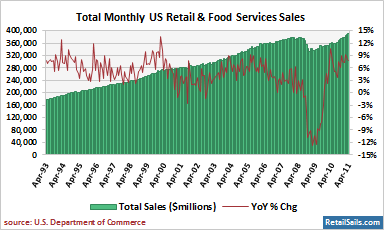 For the month, the strongest gainer was once again gas stations (+16.7% YoY / +2.6% MoM), as prices at the pump rose nearly 8% in April and were nearly 37% higher than a year ago. Food and beverage stores (+8.0% YoY / +1.2% MoM) continue to benefit from higher prices, and were led by gains at grocery stores, which saw sales rise 8.7% from last year and 1.5% from March. Auto dealers also posted steady gains for the month (+10.2% YoY / +0.2% MoM) as the recovery continues from record low sales levels.
Click here for more detailed results of April retail sales by line of business.
Online retailers enjoyed another month of strong growth as sales rose 12.2% from last April and 1.0% over March, and have been one of the major beneficiaries of rising gas prices as consumers look for convenience. comScore reported yesterday that e-commerce sales increased 12% in the first quarter, which represented the sixth consecutive quarter of positive year-over-year growth and second consecutive quarter of double-digit growth rates.
Most other segments were not as robust in April, and discretionary categories such as furniture and home furnishing stores (+1.0% YoY / -1.1% MoM) and electronics and appliance stores (+1.0% YoY / -2.2% YoY) have barely seen any growth over 2010. Meanwhile, department stores (flat YoY / -0.2% MoM) are down 2.1% from last year through the first four months of 2010, and have only posted two year-on-year sales gains in the last 55 months.
Target (NYSE:TGT) CEO Gregg Steinhafel said last week that consumers "continued to be very cautious in their spending leading up to Easter," and "they face increasing pressure on their household budgets due to higher energy costs and increasing prices of food, apparel and home merchandise."
Some retailers have yet to be affected by a consumer pullback though, such as Macy's (NYSE:M), which reported a more than five-fold jump in first quarter earnings and raised full-year guidance. The company has taken advantage of an increased share of private and exclusive brands which command higher margins, as well as a focus on catering to local tastes with regionally focused products through its My Macy's initiative.
This morning we got several reminders why a consumer pullback come the second half of the year wouldn't be surprising. Unemployment claims fell last week after a sharp jump in the prior period, but the four-week moving average rose to the highest since November and claims have been above 400k for five straight weeks.
Also, the Bloomberg Consumer Comfort Index fell to a six-week low as higher gas prices soured Americans' perceptions of their finances. "Consumers will likely need to observe a steady descent in the cost of fuel before sentiment will see a sustainable increase," said Joseph Brusuelas, a senior economist at Bloomberg LP in New York. Higher energy bills are a "reminder for beleaguered consumers day to day of what has been a difficult economic recovery."
It appears rising food and gas prices might finally be holding shoppers back from spending as freely after showing resiliency following a strong holiday season, which doesn't bode well considering consumers will be facing price hikes in many other merchandise categories come summer. While one month doesn't make a trend, it's worth taking note of the relative weakness in the report as it could be a sign of decelerating consumer spending as we head toward back-to-school season.
Disclosure: I have no positions in any stocks mentioned, and no plans to initiate any positions within the next 72 hours.