In previous articles I've discussed how MLPs are often subject to mini-flash crashes and how they are much more linked to commodity prices than most investors appreciate. Both these dynamics have come into play in the past week. The confluence of ex-dividend dates, drastically lower oil prices, and fear about pass-through taxation changes has driven MLPs precipitously lower. The broader sector, measured by the Alerian Index, is off its recent highs by 8%, with a few of the large-cap names like Energy Transfer Partners (NYSE:ETP) off well over 10%.
The move can't all be attributed to commodity price moves: some of the large-cap MLPs most insulated from commodity prices--Boardwalk Partners (NYSE:BWP) and Energy Transfer Partners (ETP) for example--have suffered the biggest declines. So what's really going on in the sector? The intraday charts (click on each to enlarge) tell an interesting story. One of the biggest intraday decliners was ETP, down over 4% on 4 times the normal volume.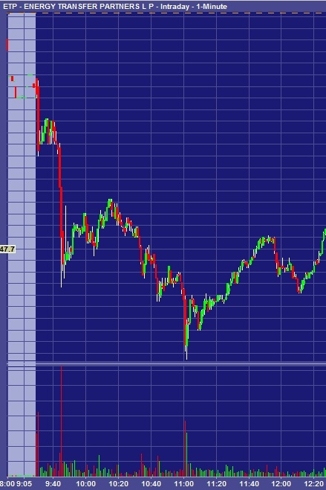 The first big plunge happened at 9:45, with a whopping 180,000 shares (about 20% of a normal day's volume) selling in less than 60 seconds. Let's look at another big-cap MLP: Kinder Morgan Partners (NYSE:KMP). Again, we see a plunge in price and a big spike in volume at precisely 9:45.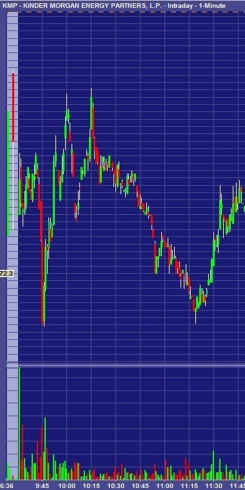 Don't see a pattern yet? Take a look at Nustar (NYSE:NS).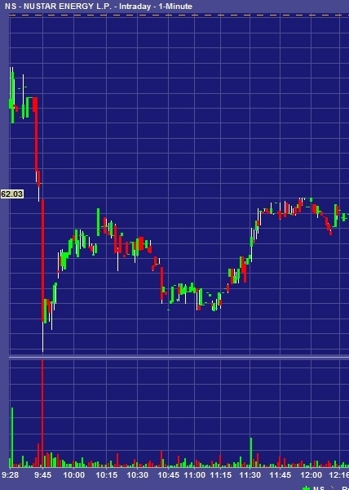 That's 25% of a day's volume in 60 seconds (at the usual, appointed time, of course). I don't want to bore you with charts, so take my word--a bunch of others look just the same. A number of these MLPs had been downgraded by Morgan Stanley yesterday morning. But this price action wasn't limited to those names. Magellan Midstream Partners (NYSE:MMP) and Targa Resources (NYSE:NGLS), which were upgraded by Morgan Stanley also had 9:45 plunges.
In short, this doesn't look like long-term investors growing dis-enchanted with MLPs. It looks like big, institutional fast-money traders getting out quick. The takeaway for the individual investor is that you need to look carefully at each MLP's fundamentals--its distribution coverage, growth rate, and commodity exposure. If it's a good buy, it's a good buy. Don't panic because hedge funds and overleveraged carry-traders are forced to liquidate; embrace it as an opportunity. For my part, I see a few MLPs that are now getting closer to attractive levels. I'm putting in my "stink bids" every morning; maybe the next liquidation will drive prices low enough to fill them.