After Star Scientific's (CIGX) share price came down to earth early last month on what many considered to be a healthy pullback, the stock is back on the move, seeing a brief run-up on speculation heading into its recent earnings release and then another sell-off after its earnings "disappointment."
CIGX YTD Daily Chart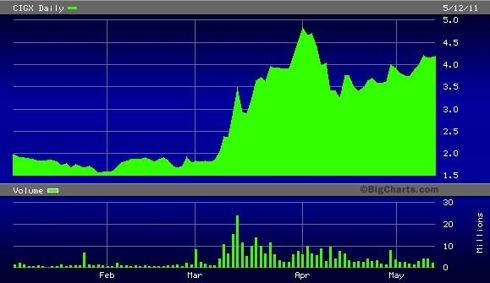 [Click to enlarge]
The company's Q1 2011 net loss increased by approximately $1.3M from the same quarter in 2010, primarily due to non-cash options expenses. Perhaps the toughest piece of information for investors to digest was the unimpressive 4.7% net sales increase from the same time period last year. Star did report, however, that sales of its CigRx product have seen a lift as the result of an expanded national test market that began earlier this year.
The most important tidbit to come of its recent earnings report is detailed in a related press release:
Star Scientific indicated that the Roskamp Institute is in the process of revising the planned Alzheimer's study using RCP-006, which the Institute announced in an October 7, 2010 release. This revision will significantly increase the size of the subject pool.
Yes, the company said Alzheimer's (again). This leads to the big question: Will Star Scientific eventually become a big enough thorn in the side of big pharma or big tobacco to make it an acquisition target?
Any answer to the above question would be pure speculation at this point, but the company's stock and its investors have certainly been on a wild ride since Robert Roskamp took an active financial interest in Star and his renowned Roskamp Institute took a clinical interest in the company's RCP-006 compound last year.
RCP-006 contains a purified single isomer of Anatabine, which is a naturally occurring minor alkaloid found in tobacco plants (among others) that has a natural anti-inflammatory effect. This has led many to believe that RCP-006 may be of some benefit in the treatment of a variety of conditions including, but not limited to, Alzheimer's disease.
Of note: Anatabine can be found in the company's above-mentioned CigRx product, which is a smoking alternative dietary supplement that requires no prescription and can be purchased online.
Rock Creek Pharmaceuticals, a subsidiary of Star Scientific, recently announced that its Roskamp Institute-supported multi-site clinical trial dubbed "The Flint Study" has begun. The study's aim is to measure the RCP-006 compound's effect on peripheral markers of inflammation in individuals with elevated levels of C-reactive protein.
In addition to its pharmaceutical prospects, the company is also engaged in the development of low-tobacco smokeless products as well as the development, implementation and licensing of its technology for the curing of tobacco so as to prevent the formation of carcinogenic toxins.
On March 11, Star's legal representation received notices from the United States Patent & Trademark Office (PTO) confirming the validity of the claims involved in the reexamination of the '649 and '401 patents, marking a triumph over RJ Reynolds Tobacco Company (RAI), which filed the requests for re-examination of the patents "ex parte" and should not be allowed to appeal the PTO's determination.
On March 23, it was announced that the company's Ariva and Stonewall smokeless tobacco products will not be subject to regulation because they do not fall under the jurisdiction of the 2009 Family Smoking Prevention and Tobacco Control Act.
It may be a bit early to tell if Star will become a big enough nuisance to, or develop strong enough prospects for, big tobacco or big pharma to consider it worthy of a bid, as there is much yet to be determined with regard to the company's IP, let alone the safety and efficacy profiles of RCP-006. But one thing we can all be certain of is that a great many will be watching this company's developments very closely for months, if not years, to come.
Disclosure: I am long CIGX.