Slowing economic growth and the fast-approaching end of QE2 are just a few of the concerns facing market participants. A recent Bloomberg poll highlights the divergent views on where stocks and bonds are headed after QE2. While the results show opinions favoring lower stock prices and lower bond prices, they were far from widely-held views. Forty-three percent see stocks moving lower, which means 57% see something else happening. Fifty-four percent see bonds heading lower after the Fed pulls back on its purchases, and 46% do not share the view that bond prices will fall.
Another concern that we outlined on May 6 is that commodities often lead stocks lower. On May 11, we mentioned that 1,354 was a key short-term level. The S&P 500 (NYSEARCA:SPY) is having trouble remaining above 1,354.
Just as the poll respondents were lacking conviction in their outlook for stocks and bonds, the markets themselves are painting a similar "lack of conviction" look at the moment. We have a position in Simon Property Group (NYSE:SPG), a real estate investment trust (REIT). The weekly chart of the REIT Index EFT (NYSEARCA:IYR) can be viewed with a bullish bias or a bearish bias. The proper way to analyze any market is with an open mind.
A bull on REITs might say, "Be patient, a breakout above 61.59 and 62.19 could lead to further gains." A bear's view might sound like, "The chart has a rising wedge which tends to be a bearish set up (point B below). Major resistance sits near the top of the wedge in the form of the highs made in 2008 (point A)."
Click to enlarge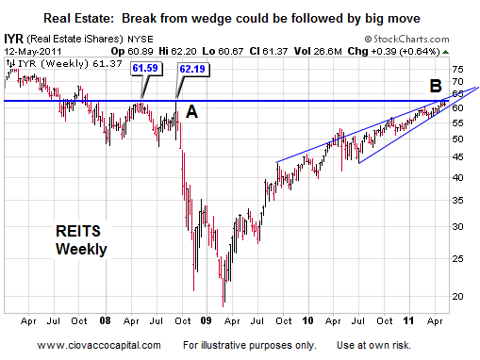 We do not know where REITs are headed in the short-to-intermediate-term, but we do know a break from a rising wedge formation, either up or down, tends to be followed by a bigger than average move (either up or down).
How can this help us manage our existing position in REITs? We see enough bearish evidence to have some lines drawn in the sand in the form of "mental stops." If these levels are exceeded on the downside, then we will consider selling all or a portion of our position. We have a nice gain in Simon Property Group – a gain we want to protect. If the mental stops are not exceeded on a closing basis, then we are happy to hold SPG and IYR. Using a similar strategy, we recently had our last silver stops (NYSEARCA:SLV) execute on the exchange.
The rising wedge above is significant because it is present on a weekly chart. The rising wedges below are less significant since they appear on daily charts. Nonetheless, rising wedges tend to be bearish formations. It is important to include "tend to" in the sentence above, meaning rising wedges can be resolved in a bullish manner.
You can think of people coming and going to a party to paint a picture of why a rising wedge tends to be bearish. Assume you are having a party that starts at 7 p.m. The guests (buyers) arrive at a steady rate between 7:00 p.m. and 8:00 p.m. (price rising at steady rate). Since they are having a good time (making money), the people arriving at the party tend to stay for a few hours. There is no reason to leave (sell) because this is the place to be. As the night wears on, guests arrive (buyers) at a slower rate. Eventually, the room starts to get crowed (near the top of the wedge). At some point during the night the last guest (buyer) has arrived at the party, making the room even more crowded. The crowded room makes some guests uncomfortable (we are uncomfortable with SPG) and they eventually begin to leave (sell). Since there are no more arriving guests (buyers), the number of guests leaving the party (selling) dominates the activity at the door.
The party looks to be getting crowded in Mid-Caps (NYSEARCA:IWR). We sold a potion of our mid-cap position this week (NYSEARCA:IWP).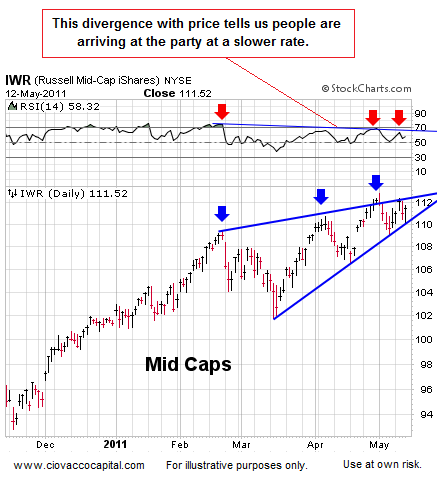 The party may end soon, so we have mental stops for all our major positions. If the stops are not exceeded on a closing basis, we are happy to stay at the party for a while longer.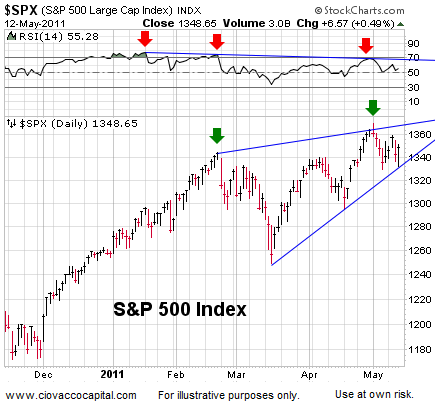 Small-caps (NYSEARCA:IWM) have a similar concerning look.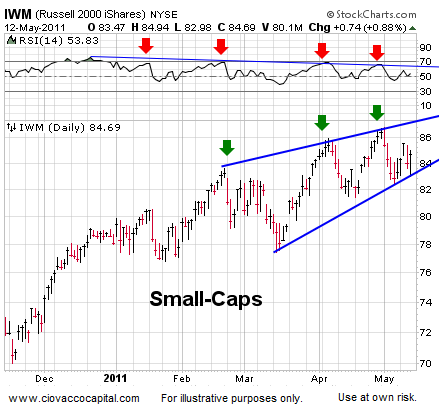 Disclosure: I am long IYR, IWP, SPG.
Additional disclosure: Chris Ciovacco is the president of Ciovacco Capital Management, LLC (CCM), a Registered Investment Adviser with the SEC. Chris Ciovacco and CCM and/or its clients may hold positions in the ETFs, mutual funds, and/or any investment asset mentioned above. This commentary does not constitute individualized investment advice. We have no way of knowing reader's goals, risk tolerance, or financial situation. The opinions offered herein are not personalized recommendations to buy, sell or hold securities.