Stock investors have been getting defensive in recent weeks with the end of QE2 looming around the corner at the end of June. The three main defensive sectors in the stock market – consumer staples, health care and utilities – have all exploded to the upside in recent weeks to assume market leadership from the fading cyclical and commodities sectors. As a result, for those investors seeking to tack on a defensive name to their portfolios, attractive entry points may be hard to come by. Molson Coors (NYSE:TAP) is one of the few names in these defensive sectors that offer a compelling opportunity at present, particularly following the recent dip.
At first glance, the fundamental thesis for Molson Coors might raise some flags. First, the company is a relatively small number three brewer behind Anheuser-Busch InBev (OTCPK:AHBIF)(OTC:ANHVF) and SAB Miller (OTCPK:SBMRY) in what is a fiercely competitive global beer industry. As a result, they lack some of the size and scale advantages enjoyed by their competitors. The company also generates nearly all of its sales from three mature markets in Canada, the United States and the United Kingdom where growth is becoming limited. In addition, the company is dealing with rising input costs in an environment of declining volume growth. All of these factors make for a difficult operating environment.
Despite these challenges, a closer look at Molson Coors reveals what appears to be an attractive investment opportunity for several reasons.
First, Molson Coors operates in a highly defensive industry. Regardless of how the economy is performing, people are going to continue to drink beer. Some might even argue that people might consume a bit more beer than usual during a recession given the extra time and the desire for a distraction from not having a job. And with the end of QE2 arriving at the end of June, the sustainability of the current economic recovery remains in doubt. This helps explain why defensive sectors in general have been outperforming in recent weeks.
Second, the company is financially healthy. It is a strong cash generator with free cash flows totaling roughly 20% of revenues annually. In addition, the company has a debt to equity ratio of just 25%, which is relatively low given the defensive industry in which it operates. As a comparison, Anheuser-Busch's debt-to-equity ratio was roughly 40% prior to their merger with InBev and is currently near 150%.
In addition, Molson Coors has built an impressive record of cost and operational efficiency. Since the merger of Molson and Coors in 2005, the company has transformed itself from muddling through to highly profitable. For example, gross margins previously ran in the mid 30% range, while operating margins and profit margins were both in the mid single digits. Today, gross margins are now in the mid 40% range, operating margins are north of 25% and profit margins are in excess of 20%. The company has achieved these gains through synergies realized through the merger as well as extensive cost cutting.
Molson Coors is also likely acquisition target at some point. The global brewing industry has been rapidly consolidating in recent years, and this is likely to continue given the growth challenges that continue to confront the industry. The most logical acquirer of Molson Coors would be SAB Miller. The companies are already actively engaged in a MillerCoors joint venture in the United States, so the connection is already in place. Moreover, the addition of Molson Coors would increase SAB Miller<'s annual production volume relative to Anheuser-Busch InBev from 55% to 68%. And any such deal between SAB Miller and Molson Coors would likely face little antitrust scrutiny. While it might take years if ever for a deal to actually happen, the mere potential of a deal could present a pop to the upside for Molson Coors if investors were to turn their focus to possible M&A opportunities in the months ahead.
Lastly, the valuation for Molson Coors is compelling. In the current market environment that could be characterized by overvaluation for many stocks due to the inflating effects of QE2, Molson Coors is one of the few names that remains deeply discounted. This is particularly true since the company gapped lower following a disappointing earnings announcement on May 3. At 12.1x earnings, the company trades at a near 30% discount to its historical average valuation near 17x earnings. If nothing else, Molson Coors at its current multiple is likely more than pricing in the operational challenges it currently faces. This discounted valuation also adds some additional spark to the idea of a possible takeover. Molson Coors also pays a 2.4% dividend yield, which is a considerable premium to the historical yield on a dividend that the company has increased each of the last five years and nearly doubled since 2007.
From a technical standpoint, while Molson Coors is a bit chaotic, it has some notably interesting characteristics. Overall, the company does respond to its moving averages, but whether its finding support or resistance at its 20-day, 50-day or 200-day moving average can change with the weather. But what does stand out technically is that Molson Coors faces major resistance at $50 per share. The stock has made a run at $50 four separate times since the outbreak of the financial crisis in late 2008. And each time the stock failed and corrected lower. Several factors are notable in this trend, however. First, the magnitude of the dips on each subsequent pullback from $50 have become less and less. Second, the company<'s earnings have nearly doubled over this time period while the valuation has fallen from nearly 23x earnings to 12.1x earnings. Thus, pressure is building for Molson Coors to finally break out above $50, and the subsequent upside momentum could be meaningful.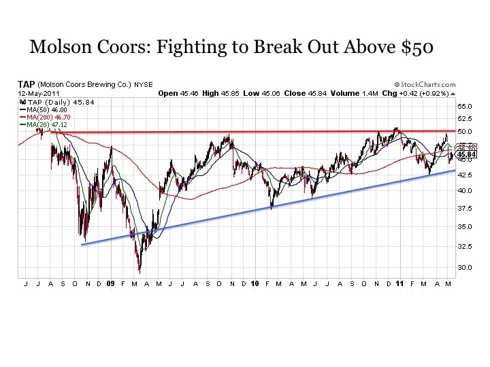 (Click to enlarge)
Bottom Line: Molson Coors represents an attractive investment opportunity at present. Despite its competitive challenges, several key factors make Molson Coors appealing including its defensive business operations, solid financial health, strong performance in generating operational efficiencies, potential as a takeover target and deeply discounted valuation. The building pressure to finally break above $50 per share also makes Molson Coors interesting from a technical standpoint.
This post is for information purposes only. There are risks involved with investing including loss of principal. Gerring Wealth Management makes no explicit or implicit guarantee with respect to performance or the outcome of any investment or projections made by GWM. There is no guarantee that the goals of the strategies discussed by GWM will be met.
Disclosure: I am long TAP, XLP, XLU.