Graph's of The Day: We checked our money supply and velocity graphs from Connecting the Dots 3 on 09/06/2014 and noticed something missing.
Through the three camel humps of QE SOMA (system open market account holding) the Fed's ledger ballooned from $850 billion to over $4 trillion.
As a YOY percentage change in MB (purple line)...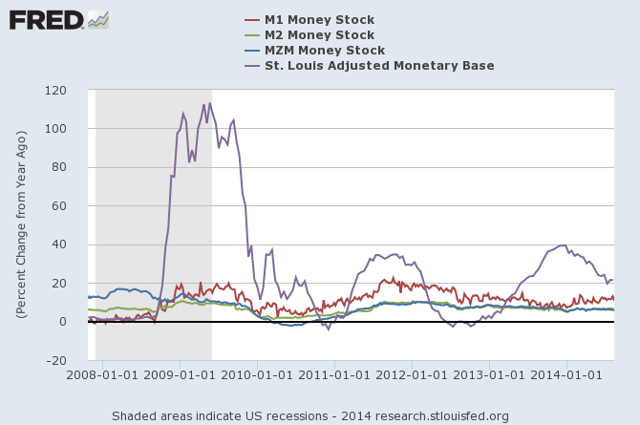 As YOY change to MB in total dollars (red line)...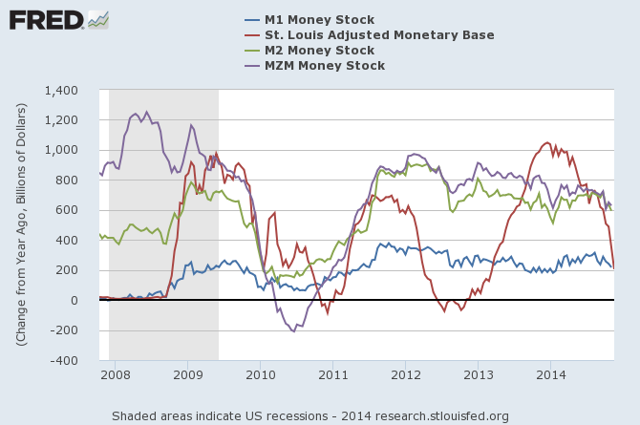 Here's the tail end of that third QE hump, note MB YOY total change (red line) dropping off a cliff since Dec 2013.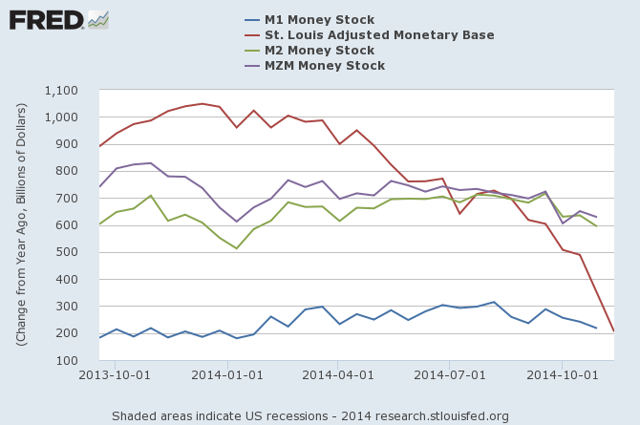 Now that's what I call tapering off. To be clear, by definition:
M1 = cash and checking in circulation
M2 = M1 + savings
MZM = M2 + money market
MB = St Louis Adjusted Monetary Base = M1;currency in circulation outside Federal Reserve Banks and the Treasury + deposits of domestic depository institutions at Federal Reserve Banks; and float-pricing related as-of adjustments.
From the charts above, since December 2013, M1, M2 & MZM are constant (sideways), so we removed them and changed the graph to the total dollar amount held. Here's what happened...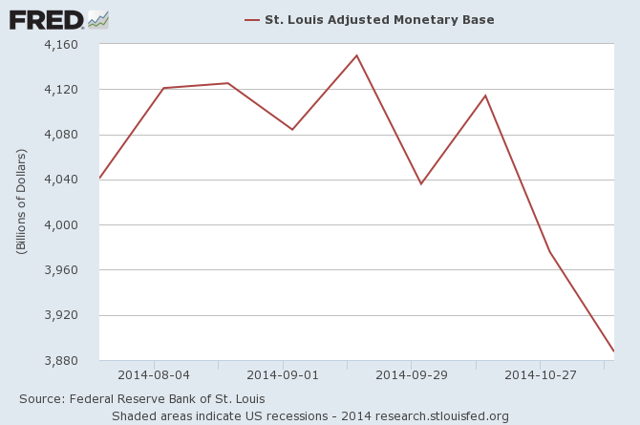 Since hitting a peak of $4.149 trillion on 09/17/2014, total MB has declined -6.3% to $3.890 trillion as of 11/12/2014. This might seem insignificant and although not the largest % swing by any means, this would be the largest negative decline since the violent swings (turbulence) of 2009.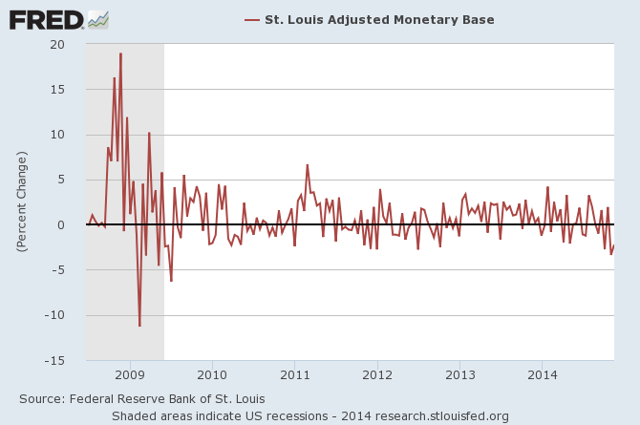 In less than 60 days a "withdrawal" of $259 billion from deposits of domestic depository institutions at Federal Reserve Banks. Interesting indeed, where's the money?
I think it's down there, let me have another look... if the negative declines persist we may be looking at the harbinger of systemic liquidity issues.
Disclosure: The author has no positions in any stocks mentioned, and no plans to initiate any positions within the next 72 hours.
The author wrote this article themselves, and it expresses their own opinions. The author is not receiving compensation for it (other than from Seeking Alpha). The author has no business relationship with any company whose stock is mentioned in this article.