* All data are as of the close of Tuesday, November 18, 2014. Emphasis is on company fundamentals and financial data rather than commentary.
The Diversified Communication Services industry is your all-purpose communications house that touches on multiple areas of communications. In the simplest of definitions:
Diversified communication service companies provide communication technologies that span beyond the walls of just telecom (the most popular communication stocks). These firms can focus on the consumer segment, the business segment, or both. Though there are a few high dividend-payers, the majority of the stocks in this category tend to pay below average yields.
The three largest U.S. companies within the space are not only diversified within themselves but also diversified across themselves, each specializing in a slightly different array of services:
Crown Castle International Corp. (NYSE: CCI), based in Houston, Texas, owns, operates, and leases shared wireless infrastructure, including towers, rooftop and distributed antenna systems, and networks of small communications cells. It also offers network services and installations of wireless infrastructure, in addition to granting use of its equipment and infrastructure through long-term leasing contracts.
Level 3 Communications, Inc. (NYSE: LVLT), based in Broomfield, Colorado, provides a range of integrated communications services including core network services, transport services comprising wavelengths, private lines, transoceanic services, and dark fiber, as well as colocation and data center services including cloud, hosting, and application management. It also offers Internet protocol and data services comprising high speed IP, Internet access, virtual private network, content delivery network, media delivery, Vyvx broadcast, converged business network, security services, voice over IP enhanced local service, SIP trunking, local inbound, primary rate interface, long distance, and toll free services.
Cogent Communications Holdings, Inc. (NASDAQ: CCOI), based in Washington D.C., provides high-speed Internet access and Internet protocol communications services primarily to small and medium-sized businesses, communications service providers, and other bandwidth-intensive organizations such as universities, other Internet service providers, telephone companies, cable television companies, Web hosting companies, content delivery network companies, commercial content and application providers, law firms, financial services firms, advertising and marketing firms, and other professional services businesses.
Because companies in the Diversified Communication Services industry are so diverse, they will at times perform somewhat differently from one another, as noted in the graph below.
During the last major market correction from mid 2007 to early 2009, where the broader market S&P 500 index fell 55% and the SPDR Technology Sector ETF (NYSE: XLK) [blue] fell 48%, Crown [beige] managed to market-perform with a loss of 55%, while Cogent and Level 3 lost considerably more, falling 80% and 89% respectively.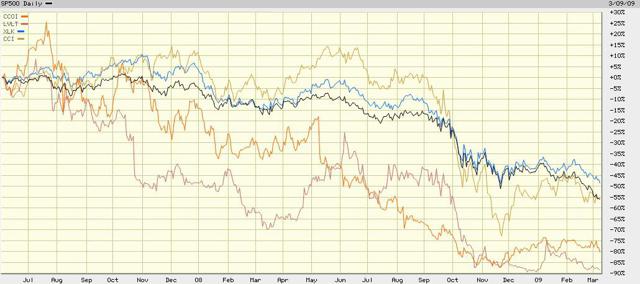 Source: BigCharts.com
In a rising market, the industry seems to gain extra momentum given its position as a supplier to other sectors, enjoying even greater demand than normal as other industries prosper as graphed below.
During the economic recovery since early 2009, where the S&P index has grown some 200% and the XLK has risen 210%, Crown and Level 3 have both risen 380%, while Cogent has soared 555%.
On an annualized basis, where the S&P has averaged 35.29% and XLK has averaged 37.06%, Crown and Level 3 have averaged 67.06% each, while Cogent has averaged 97.94% per year!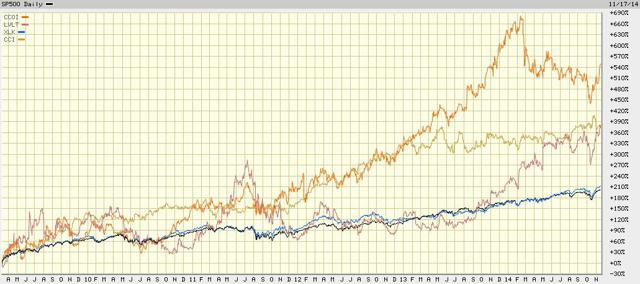 Source: BigCharts.com
Future growth for the Diversified Communication Services industry looks set to continue outpacing the broader market as tabled below, where green indicates outperformance while yellow denotes underperformance.
Where the industry's earnings are expected to outgrow the market average at some 1.4 times its growth rate over the near term, they are seen slipping below par for 2015 before once again outgrowing the market at a modest rate of 1.19 times.

Zooming-in a little closer, the three largest U.S. companies in the industry are expected to grow at varying rates given each company's slightly different node of operation.
Where Level 3 is seen outperforming over the immediate term, Cogent seems set to shine in 2015, while all three look to outgrow the broader market over the next five years at some 1.01 to 4.10 times the rate.

Yet there is more than earnings growth to consider when sizing up a company as a potential investment. How do the three compare against one another in other metrics, and which makes the best investment?
Let's answer that by comparing their company fundamentals using the following format: a) financial comparisons, b) estimates and analyst recommendations, and c) rankings with accompanying data table. As we compare each metric, the best performing company will be shaded green while the worst performing will be shaded yellow, which will later be tallied for the final ranking.
A) Financial Comparisons
Market Capitalization: While company size does not necessarily imply an advantage and is thus not ranked, it is important as a denominator against which other financial data will be compared for ranking.

Growth: Since revenues and expenses can vary greatly from one season to another, growth is measured on a year-over-year quarterly basis, where Q1 of this year is compared to Q1 of the previous year, for example.
In the most recently reported quarter, Cogent posted the greatest revenue growth year-over-year while Level 3 posted the least.
Since Level 3's and Cogent's earnings growth are not available, the metric will not factor into the comparison. Yet it is worth noting Crown's impressive earnings growth rate.

Profitability: A company's margins are important in determining how much profit the company generates from its sales. Operating margin indicates the percentage earned after operating costs, such as labor, materials, and overhead. Profit margin indicates the profit left over after operating costs plus all other costs, including debt, interest, taxes and depreciation.
Of our three contestants, Cogent operated with the widest profit margin while Crown operated with the widest operating margin. Meanwhile, Level 3 and Cogent contended with the narrowest.

Management Effectiveness: Shareholders are keenly interested in management's ability to do more with what has been given to it. Management's effectiveness is measured by the returns generated from the assets under its control, and from the equity invested into the company by shareholders.
For their managerial performance, where Level 3's management team delivered the greatest returns on assets, Cogent's team delivered the greatest returns on equity. Crown's team, however, delivered the least returns in both.

Earnings Per Share: Of all the metrics measuring a company's income, earnings per share is probably the most meaningful to shareholders, as this represents the value that the company is adding to each share outstanding. Since the number of shares outstanding varies from company to company, I prefer to convert EPS into a percentage of the current stock price to better determine where an investment could gain the most value.
Of the three companies here compared, Cogent provides common stock holders with the greatest diluted earnings per share gain as a percentage of its current share price, while Crown's DEPS over current stock price is lowest.

Share Price Value: Even if a company outperforms its peers on all the above metrics, however, investors may still shy away from its stock if its price is already trading too high. This is where the stock price relative to forward earnings and company book value come under scrutiny, as well as the stock price relative to earnings relative to earnings growth, known as the PEG ratio. Lower ratios indicate the stock price is currently trading at a cheaper price than its peers, and might thus be a bargain.
Among our three combatants, Crown's stock is the cheapest relative to forward earnings and company book value, while Level 3's stock is cheapest relative to 5-year PEG. At the overpriced end of the spectrum, Cogent's stock is the most overvalued in all three ratios.
B) Estimates and Analyst Recommendations
Of course, no matter how skilled we perceive ourselves to be at gauging a stock's prospects as an investment, we'd be wise to at least consider what professional analysts and the companies themselves are projecting - including estimated future earnings per share and the growth rate of those earnings, stock price targets, and buy/sell recommendations.
Earnings Estimates: To properly compare estimated future earnings per share across multiple companies, we would need to convert them into a percentage of their stocks' current prices.
Of our three specimens, Crown offers the highest percentages of earnings for all time periods, while Cogent offers the lowest percentages for all periods.

Earnings Growth: For long-term investors this metric is one of the most important to consider, as it denotes the percentage by which earnings are expected to grow or shrink as compared to earnings from corresponding periods a year prior.
For earnings growth, Level 3 offers the greatest growth over all. At the slow end of the scale, Cogent offers the slowest growth with some shrinkage near term and the greatest growth in 2015, while Crown offers the slowest growth farther out.
Since Cogent's next quarter EPS growth is not available, the metric will not factor into the comparison.

Price Targets: Like earnings estimates above, a company's stock price targets must also be converted into a percentage of its current price to properly compare multiple companies.
For their high, mean and low price targets over the coming 12 months, analysts believe Cogent's stock offers the greatest upside potential and greatest downside risk, while Level 3's stock offers the least upside and Crown's offers the least downside.

Buy/Sell Recommendations: After all is said and done, perhaps the one gauge that sums it all up are analyst recommendations. These have been converted into the percentage of analysts recommending each level. However, I factor only the strong buy and buy recommendations into the ranking. Hold, underperform and sell recommendations are not ranked since they are determined after determining the winners of the strong buy and buy categories, and would only be negating those winners of their duly earned titles.
Of our three contenders, Cogent is best recommended with 7 strong buys and 5 buys representing a combined 75% of its 16 analysts, followed by Crown with 5 strong buy and 6 buy recommendations representing 57.90% of its 19 analysts, and lastly by Level 3 with 4 strong buy and 4 buy ratings representing 50% of its 16 analysts.

C) Rankings
Having crunched all the numbers and compared all the projections, the time has come to tally up the wins and losses and rank our three competitors against one another.
In the table below you will find all of the data considered above plus a few others not reviewed. Here is where using a company's market cap as a denominator comes into play, as much of the data in the table has been converted into a percentage of market cap for a fair comparison.
The first and last placed companies are shaded. We then add together each company's finishes to determine its overall ranking, with first place finishes counting as merits while last place finishes count as demerits.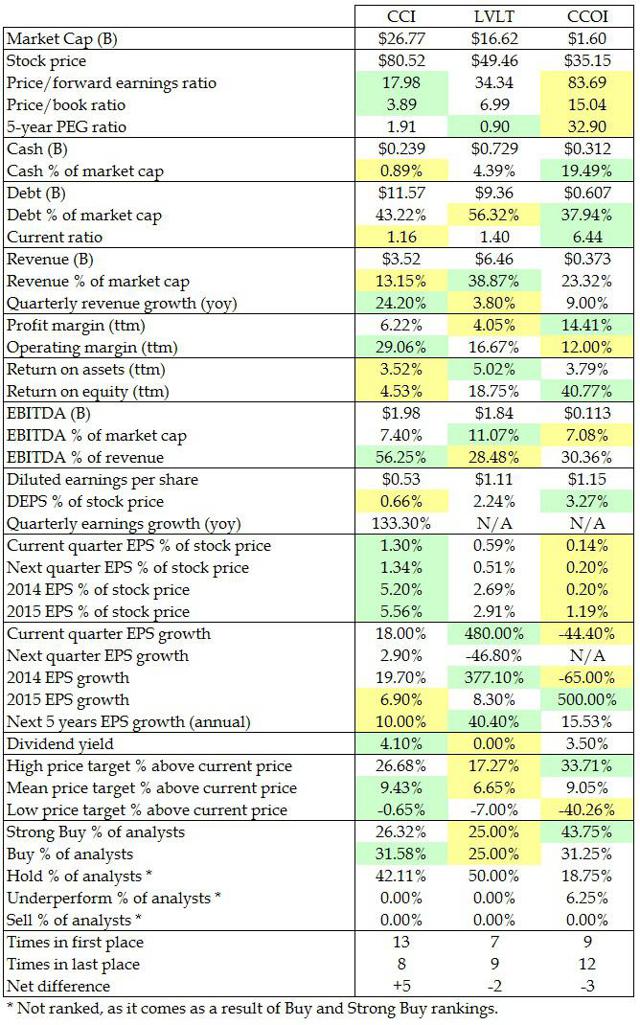 And the winner is… Crown as it communicates the best investment value, outperforming in 13 metrics and underperforming in 8 for a net score of +5, followed far behind by Level 3 at level two, outperforming in 7 metrics and underperforming in 9 for a net score of -2, with Cogent close behind at level three, outperforming in 9 metrics and underperforming in 12 for a net score of -3.
Where the Diversified Communication Services industry is expected to outperform the S&P broader market significantly this and next quarters, underperform slightly in 2015, and outperform modestly beyond, the three largest U.S. companies in the space are expected to split perform, with Cogent running from shrinkage to outperform, Level 3 running back and forth across the par line, and Crown remaining fairly close to par most of the way through.
Yet after taking all company fundamentals into account, Crown Castle International Corp. transmits the better investment value given its lowest stock price to forward earnings and company book, highest trailing revenue growth, widest operating margins, highest EBITDA over revenue, highest future earnings over current stock price for all periods, highest dividend, best mean and low price targets, and most analyst buy recommendations - handily winning the Diversified Communication Services industry competition.
Recent Technology articles you might also enjoy:
• Comparing America's 2 Largest Multimedia And Graphics Software Companies
• Comparing America's 3 Largest Healthcare Information Services Companies
• Comparing America's 3 Largest Computer Peripherals Companies