It has been an interesting week for Marine Harvest ASA (OTCPK:MNHVF) (MNHVY.PK). The company announced its first quarter results on Wednesday, May 11. The stock has also declined 24.6% in the past few weeks. This is a substantial decline and one that bears investigating. In this first part of a two article series, I will analyze the company's first quarter results; I will then discuss the reasons for the stock's recent decline in the second part.
I will begin this analysis by looking at the company's first quarter presentation and results. Here are the highlights from this report:
Operational EBIT increased 58% year over year.
ROACE (Return on Average Capital Employed) of 21.7% in the quarter.
High contract share and declining feed prices should support strong cash flow for the rest of the year.
Dividend of NOK 0.80 ($0.144) per share was approved at the Annual Meeting and will be distributed on May 20. The company went ex-dividend on May 10, 2011.
A semi-annual dividend is expected to be announced sometime in the second half of the year.
Marine Harvest had operational revenues of NOK 3,942 million ($709 million) in the first quarter. This is up substantially from the first quarter of 2010, when the company earned NOK 3,454 million ($621.525 million) in operational revenues. This also represents higher revenues than any quarter of the last year except for Q4. Marine Harvest had Q4 2010 revenues of NOK 4,612 million ($829.899 million) versus NOK 3,942 million in the first quarter of 2011. Marine Harvest had operational EBIT (earnings before interest and taxes) of NOK 963 million ($173.286 million) in Q1.
As with the revenues, this increase in EBIT was a fairly substantial increase from the Q1 2010 EBIT of NOK 608 million ($109.4 million). The Q1 2011 EBIT was also higher than the EBIT of any quarter last year except the fourth. Marine Harvest had Q4 2010 EBIT of NOK 1,032 million ($185.7 million) versus Q1 2011 EBIT of NOK 963 million.
images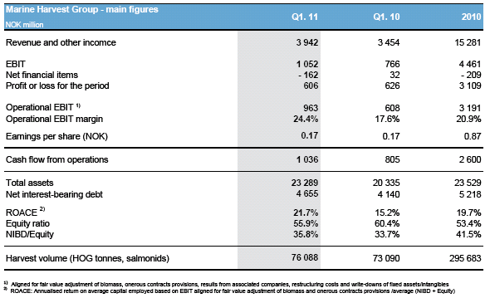 Source: Marine Harvest Q1 2011 Earnings Report
Marine Harvest operates production facilities in Norway, Scotland, the Faroe Islands, Ireland, Canada, and Chile. On May 11, 2011, Marine Harvest announced that its two largest fish farming units, Marine Harvest Norway and Marine Harvest Scotland, achieved record results in the first quarter of 2011. The company's CEO, Alf-Hedge Aarskog, was not pleased with the achieved prices in Norway despite the record quarter. He was also not pleased with the margins from Marine Harvest Canada and Marine Harvest VAP Europe.
As the table above shows, the Marine Harvest Group had EBIT margins that surpassed the first quarter of last year by an order of magnitude. The EBIT margin was 24.4% in Q1 2011. This compares to an EBIT margin of 17.6% during the first quarter of 2010. This tells us that Marine Harvest is doing a better job at converting revenues into profits for investors than it was at the same time last year.
Marine Harvest had operating cash flows of NOK 1,035.6 million ($186.349 million) in the first quarter. This is not only an increase of NOK 230.2 million ($41.423 million) from the first quarter of 2010 but also is 40% of the operating cash flows from the entire year 2010. If Marine Harvest can maintain similar performance throughout the full 2011 fiscal year, then the company should deliver superior results to what it had in 2010.
It is unrealistic to expect every quarter to have the same results, but to put this in perspective, if Marine Harvest were to return the same operating cash flow for every quarter this year then the company would have NOK 4,142.4 million ($745.398 million) in OCF for 2011. That would be an increase of 59.3% from 2010's results. When we consider that Marine Harvest's first quarter EBIT showed 58% growth from the first quarter of 2010, this growth rate in OCF does not seem to be impossible to achieve but I am hesitant to predict a growth rate that high. The company does appear to be on course to deliver better profits than it did in 2010 though.
The earnings announcement was not all positive, however. Here are a few areas of concern that the company needs to improve upon in future quarters:
Harvest volume in Marine Harvest Canada declined 14.7% to 25,600 HOG tonnes year over year
Marine Harvest Norway had its best first quarter ever, but the average sales price of its production was a disappointing NOK 36.88 ($6.62) per kilogram. The weighted average spot price was NOK 39.67 ($7.14).
Fish growth in Canada was significantly lower than in other areas. This was primarily caused by lower water temperatures and lower oxygen content in the water. The company has set a key target of improving fish growth rates in Canada in 2011.
Marine Harvest VAP Europe achieved only an EBIT margin of 0.6% in the first quarter. This is down significantly from the 4.4% margin achieved in the first quarter of 2010. This is caused by increased costs for raw materials and resilient end product costs for smoked fish.
Marine Harvest Norway lost 13,000 fish from one site in April. This comes following four years of consistently low numbers of escaped fish. Management warns that this may lead to a penalty for Marine Harvest.
Marine Harvest had first quarter earnings of NOK 0.17 ($0.03) per share in Q1 2011. This is identical to the results achieved in Q1 2010. Annualized, this would be full year EPS of NOK 0.68 ($0.1224), down 21.8% from the NOK 0.87 ($0.1566) earned for the full year 2010. This assumption would assume that the company repeats its results identically for each of the four quarters of the 2011 fiscal year. This also assumes no change in the number of shares outstanding.
Neither of these are good assumptions to make. Marine Harvest closed at NOK 5.60 per share on the Oslo Bors exchange on May 14, 2011. Marine Harvest has TTM earnings of NOK 0.87 per share, giving the stock a trailing P/E ratio of 6.44. Assuming a 10% growth rate in 2011 would give the stock a PEG ratio of 0.64. Assuming that the company does indeed return EPS of NOK 0.68 in 2011 would give it a forward P/E ratio of 8.235 in 2011. The stock appears to be undervalued at its current levels considering the strong economic tailwinds that it has.
Marine Harvest has good prospects going forward. Marine Harvest Norway has already entered into forward contracts to sell 50% of their 2011 at prices just above what was achieved in the first quarter. The higher selling prices should generate higher revenue in the next few quarters unless spot prices collapse significantly since that would force the company to sell the 50% of its harvest that is not under contract at lower prices.
The global market for salmon has been growing at double-digit growth rates over the past few years. Management expects to increase production from Marine Harvest Chile and to sell it into the growing world market for salmon. Marine Harvest expects to increase its harvest in 2011 to 341,000 HOG tonnes. This would be an increase of 15.3% from 2010 levels. The company is also investigating new markets to sell into. Management specifically mentioned emerging markets such as Russia as being "very promising." It is possible that demand could stall and this would lower prices through the increase in supply and static demand. It seems more likely though that the global salmon market will continue to grow and Marine Harvest will be growing for the next few years.
Disclosure: I am long OTCPK:MNHVF.