As predicted on February 16, 2011, the FDA did end up approving Spectrum Pharmaceuticals' (NASDAQ:SPPI) colorectal cancer treatment, Fusilev, late on Friday, April 29, 2011. Post approval, shares of SPPI have dropped nearly 30%.
On Thursday May 12, 2011, SPPI dipped slightly below its 100-day MA (click to enlarge images) and likely marked a near-term bottom for shares.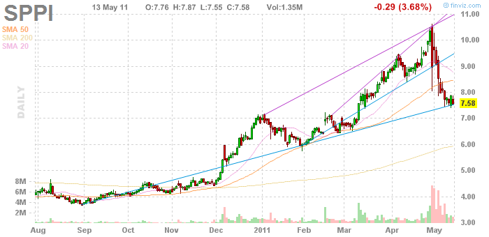 #1 FUSILEV APPROVED
Late on Friday April 29, 2011, SPPI's supplemental new drug application (sNDA) for Fusilev was finally approved by the FDA.
On Friday, shares hit a high of $10.77 around 8:00 AM ET, but sold off on report of a possible Fusilev bubble. Those who regularly follow my StockTalks here at Seeking Alpha were warned about the possible sell-off on Thursday, April 28. Those who got out were able to protect their profits.
During the pre-market session on Monday, May 2, 2011, SPPI reached a high of $11.50 at 7:00 AM ET. Unfortunately, the excitement was short lived. That Monday, shares did end closing up on the day to $9.67, but the stock had clearly flat-lined. At that time, this action told me SPPI was likely to fall.
#2 Q1 2011 RESULTS
On March 25, 2011, I first reported at Rx Investors that Fusilev sales had skyrocketed during Q1 2011. Early May 4, 2011, SPPI released their Q1 results to the public; and as expected, sales of Fusilev surged to $35 million during the quarter and beat analyst estimates again. That's impressive.
Zevalin sales, however, came in at $6 million. As I have held high expectations for Zevalin, the Zevalin results were a bit disappointing. So I wasn't all that surprised to see shares close down on the Q1 report.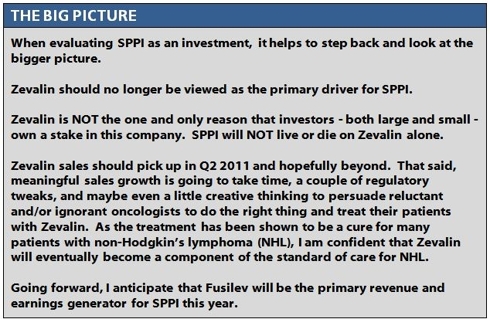 #3 GAME CHANGER
In a May 12 interview with Nick Taylor at in-Pharma Technologist, Teva Pharmaceuticals (NYSE:TEVA) indicated that they will only be shipping two drugs from their Irvine, CA plant. Guess what? Leucovorin missed the cut.
Manufacturing quality control concerns restricted production at Teva plants in Irvine, California and Jerusalem, Israel and knocked $100m off first quarter revenues. Teva has worked to correct the problems and the Irvine plant is due to begin shipping products in the coming days.

"It's product by product working hand in hand with the agency. We are shipping what the agency drug shortage is asking us to ship first and that's why we are bringing up the lines the way we are," said Bill Marth, CEO of Teva Americas, in a conference call with investors.

Vincasar (vincristine) will be the first product shipped, followed shortly by Zanosar (streptozotocin). Bringing all products back online is expected to take the rest of the year.
I'd say this development pops the "Fusilev bubble" argument for now.
BOTTOM LINE
I like SPPI at or near its 100-day MA and expect shares to rebound near-term.
Disclosure: I am long SPPI.