Netflix, Inc. (NASDAQ:NFLX) has been on a tremendous run lately posting a 52 week return of over 130%. Furthermore, its recent earnings exceeded expectations but cautioned about slower growth in the upcoming quarter. The stock closed at $251.67 on April 25 before the earnings announcement and call and closed at $228.91 - a decline of almost 10%. However, since that time the shares have almost completely recovered, closing at $246.52 this past May 13th. Some of the initial decline was attributed to a disappointing subscriber growth prospects for the upcoming quarter. At the end of Q1 2011, NFLX had 22.8 million domestic subscribers. However this net increase of just 3.3 million required a gross addition of 6.3 million subscribers. Over the past several years, NFLX has consistently lost almost 70% of its subscriber base in any given year.
Subscriber growth is critically important to NFLX not just because it is growth stock with a P/E around 70, but also because it is entering into more future content commitments to support the streaming aspects of its business. NFLX initially started business by purchasing DVDs and renting these to customers through a monthly subscription plan. DVDs were purchased upfront and amortized over the life of the DVD. At the simplest level, as NFLX added more customers, more DVDs could be purchased. However, with streaming content, NFLX is entering into contractual commitments for access to this content. If sufficient subscriber growth does not materialize, NFLX with have increasing content costs per subscriber, possibly jeopardizing its strong track record of earnings growth. However, in order to understand this, it is important to understand more detail around NFLX cost of subscription. NFLX has conveniently become less transparent over time with the details of their cost structure.
NFLX cost of revenue is divided into two categories: cost of subscription and cost of fulfillment. The cost of fulfillment includes credit card fees, costs of running the facilities that handle and process DVD mailings and other customer service costs. Cost of subscription includes the content costs (DVD amortization and streaming content) and content delivery costs (postage for DVDs and streaming costs). The following table shows the high level cost of revenue breakdown.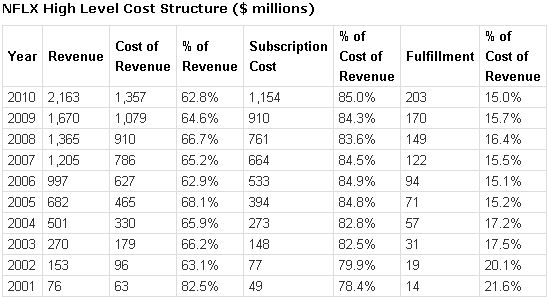 Source: NFLX 10-K filings and S-1 filings
One of the argued benefits of streaming content is to reduce overall costs to serve. While the recent trend is declining cost of revenue, the cost of revenue in 2006, prior to introduction of streaming, was 62.9% which is fractionally higher than the most recent year at 62.8%. This most recent quarter did show a more substantial reduction to 61.0% of revenue. These savings should primarily manifest in reduced content delivery costs and content fulfillment costs. It can be seen that fulfillment costs have shown a stronger reduction trend as facilities more efficiently handle DVDs but also as subscribers use more streaming content. Credit card fees, a key component and typically the primary driver of increased fulfillment costs, would not reduce with the adoption of streaming content. In Q1 2011, subscription costs represented 86.0% of the cost of revenue.
As noted before, NFLX does not show much of its cost structure; however, in its early years it did reveal more details. By starting in 2001 and working forward it is possible to construct an approximation of NFLX cost of subscription detail. The following table shows my estimates of their Cost of Subscription. NFLX provided direct numbers in the early years so the figures from 2001 through 2006 should be quite accurate. For 2007 to 2010, it is much more challenging due to the use of streaming content. Enough information is provided to get the Total Content cost and Total Content Delivery cost, but the allocation to streaming versus DVD requires some estimating.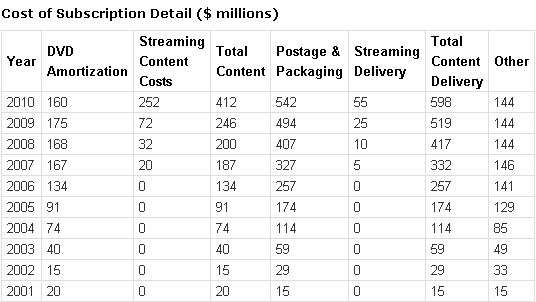 Source: Constructed from NFLX SEC Filings and Author Estimates. Streaming delivery costs for 2007 and 2008 and streaming content costs for 2007 and 2008 are pretty much guesses, but assumed to be relatively small portions of the overall cost structure. *Numbers may not add due to rounding.
The following list provides more detail in the construction of this cost structure:
DVD Amortization - Actual DVD amortization costs were calculated for 2001. NFLX subsequently provided either percent increase or dollar increase from the previous year for each year through 2006. Post 2006, total content cost figures could be calculated as NFLX would provide dollar increase figures. In most cases, I attributed increased content costs to streaming except for 2007, when streaming was just beginning. The 2010 NFLX 10-K noted that DVD amortization decreased from the following year. Hence I used $160 million. DVD amortization under the income statement will be less than the cash flow DVD library amortization since DVD library amortization associated with nonpaying subscribers is counted as marketing expense. DVD amortization should also be aligned with previous years DVD acquisitions which are approximately $1.2 billion through 2010 as noted below:

Source: NFLX 10-K filings and author estimates.
Streaming Content - Figures for 2007 and 2008 are guesses. However, since DVD amortization is flattening out and now decreasing more than 100% of future content costs will be attributed to streaming content. Even assuming higher figures in 2007 and 2008 would have little impact on the over trend of rapidly increasing streaming content costs.
Postage & Packaging - These figures can be directly calculated from NFLX SEC filings for 2001-2006. Afterwards, I scaled up the Postage and Packaging figures based upon percent increase in DVD shipments. I also adjusted postage upwards taking 65% of increase for each year since postage occurred approximately at the middle of the year, but there are more subscribers in later quarters than early quarters. This adjust was applied to 75% of the cost since these costs include the cost of mailers and other items and are not exclusively postage.

Source: Wikipedia
Streaming Delivery - The results for 2007 and 2008 are estimates, but should be relatively small. NFLX provided dollar increase in content delivery costs for 2009 and 2010 relative to the previous years. In combination with the Postage & Packaging costs, the streaming delivery cost can be back calculated. Should my estimate for 2007 and 2008 be low, the difference would be added to the 2009 and 2010 result as well. Increases in streaming content costs for 2008 and 2009 represent about 90% of the increase in total content costs.
Other - These costs include revenue sharing agreement cost, amortization of intangibles, and other costs. Figures for 2001 to 2006 could be directly calculated. For 2006, I estimated revenue sharing at about $138 million. NFLX noted that 2007 revenue sharing was flat relative to 2006. NFLX noted that 2008 DVD revenue sharing increased. Revenue sharing typically represented 90+% of this other cost.
Conclusion
The use of the this analysis is to further understand NFLX's cost structure and what the overall implications are for streaming content. A couple key observations:
Postage and packaging for DVDs continues to increase and represent a large portion of the overall cost structure. Streaming delivery costs appear to be much smaller, but probably still represent a smaller portion of the content viewed.
The current estimate of streaming content costs and review of projected contractual content commitments suggest that there will be a rapid increase in these costs.
DVD amortization costs should continue to decline as NFLX purchases fewer and fewer DVDs. In Q1 2011, NFLX still acquired $22.1 million of DVDs for an annual run rate of approximately $90 million, a level not seen since 2004.
Part 2 will look review costs on a per subscriber basis and look to identify trends in historical DVD shipments to answer the question of how much streaming has reduced the use of DVDs. Based on slowing DVD shipment rates and increasing subscriber base, the likely answer is yes. Part 3 will look forward in an attempt to project subscription costs and possible scenarios for cost to serve subscribers.
Sources: Stock prices were from Yahoo!Finance. Subscriber data is from Netflix published financial data.
Disclosure: I have no positions in any stocks mentioned, and no plans to initiate any positions within the next 72 hours.
Disclaimer: This article is for informational and educational purposes only and shall not be construed to constitute investment advice. Nothing contained herein shall constitute a solicitation, recommendation or endorsement to buy or sell any security.