It's always nice when the stars align. Today's buy recommendation for China Finance Online (NASDAQ:JRJC), currently trading at $5.05, is one such example. From a fundamental standpoint, we're seeing a stock under-priced by about 50% according to my valuation. JRJC stalled its 3-digit revenue growth in 2009, but was up 11% in 2010. They also beat earnings estimates for the first 3 quarters of 2010, and only missed Q4 by a cent.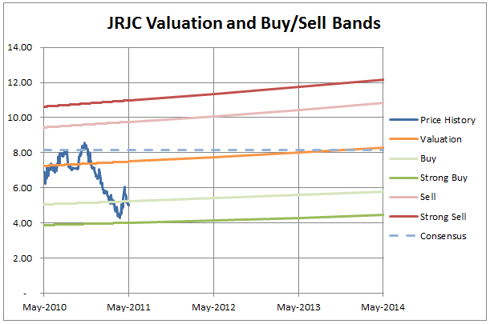 Cash. JRJC is sitting on $107 million in cash/equivalents. Backing out $6 million in debt, that's $4.61/share. So, if you believe that management will continue to make a profit, this is certainly a low-risk entry point with a solid foundation. Which leads us to the next question...
Will JRJC make a profit in the future? JRJC's investor information business model will likely see considerable growth after China recently opened up limited access to US mutual funds. This would lead to Chinese investment firms requiring better information to remain competitive in the face of these new market entrants, and retail investors using JRJC services more to evaluate the new opportunities. And that's where we could realistically see considerable sales growth, if only because JRJC happens to be opportunely perched in an expanding industry.
But, is now the right time to buy from a technical standpoint? See for yourself.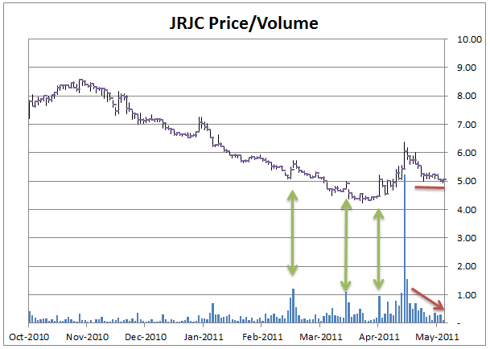 The decline over the last 3 weeks is on strongly decreasing, correlated volume. In fact, the slope of the 12-day volume linear regression line (the one I watch for Trend Exhaustion) is -7.7% (per day) with a R-squared of 0.63, which is one of the best-looking downward trends (tightest correlation and steepest slope combinations) that I usually see. Couple that with a tiring negative price movement, and you have a prime candidate for a short-term price reversal.
Additionally, over the past few months, the large volume spikes have been on up-days which can mean that larger players are buying, or that just in general, demand for the stock has gone up.
Suggested Stop Loss: If JRJC crosses its recent low of $4.30 on higher-than-average volume, it's a good signal that more downward pressure is to come. But, you might actually just consider buying more instead, since the company would be trading for less than liquidation value at that point.
Disclosure: I have no positions in any stocks mentioned, and no plans to initiate any positions within the next 72 hours.