I've always been reluctant to recommend individual emerging-market stocks. With the exception of Turkcell (NYSE:TKC), I've preferred to go the indirect route, buying American and European firms with a significant percentage of their revenues in emerging markets — Emerging Markets Lite, if you will.
With valuations on many of these global blue chips at generational lows, this seemed like a nearly-riskless way to get exposure to the emerging market consumer. But after two years of almost uninterrupted bull market, it's getting harder and harder to find real bargains out there.
I consider the American market to be fairly priced — neither exceptionally cheap nor expensive. On balance, most emerging markets are a little on the expensive side. Not at "bubble" levels in most cases, but not anywhere close to prices I like to see. The bargains simply aren't there like they were two years ago.
Imagine my surprise when I looked into China Mobile (NYSE:CHL). I first stumbled upon China Mobile when I was doing the research for Sprint (NYSE:S) last month. As the leading provider of mobile telecommunications and related services in China, China Mobile serves over half a billion customers, and that number grows daily. The company grew its subscriber base by 12% in 2010.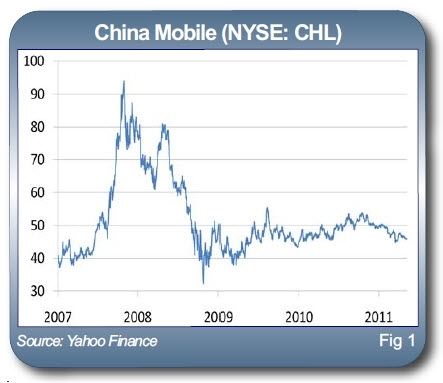 That's more than 60 million new subscribers last year — larger than the entire population of the United Kingdom — and the company is expecting similar increases in 2011 and beyond.
China Mobile may be the most compelling bargain available today to investors. As you can see in the chart above, this company was formerly the darling of Westerners wanting to buy a piece of China during the "go-go" years of the mid-2000s. China Mobile more than doubled in price in 2007 before crashing to the ground during the global financial crisis. But while many other emerging market stocks have rallied over the past two years and surpassed their old highs, China Mobile did not participate in the global "re-flation" bull market. The stock has treaded water for the past two years and remains down more than 50% from its old all-time high.
China Mobile has been hit by what you might call a "perfect storm." Investors have been lukewarm at best towards the global telecom sector over the past two years, and China Mobile has to an extent been dragged down with its peers. Furthermore, starting in late 2010, investor sentiment soured towards emerging markets in general and China in particular due to fears of rising inflation. Finally, investors have been gripped by fears that competition from smaller, nimbler upstarts would whittle away at China Mobile's margins.
All of these forces have conspired to knock China Mobile off of its pedestal, which is fine by me. China Mobile has no net debt and $45 billion in cash. That equates to $11 of cash per share, or roughly a quarter of the stock price. The shares currently trade for just 10 times trailing earnings and pay a respectable 3.6% dividend yield.
My only reservation on China Mobile is that it has been in almost continuous decline since the third quarter of last year. I like what I see here, but I'm not particularly interested in trying to catch a falling knife. Rather than buy today, put China Mobile on your watch list. Wait for it to break its current downtrend, and then back up the truck to load up.
The the nice thing about a value play like China Mobile is that at current prices, you can afford to be a little early. If any new uptrend turns out to be a false start, that's ok. At these prices, we don't have to time things perfectly. This is one of the few large-cap stocks anywhere in the world that I can see doubling or tripling in the years ahead.
Disclosure: I am long CHL, TKC, S. All stocks mentioned are open recommendations of the Sizemore Investment Letter.