In a 13F filing on May 16, Berkshire Hathaway (BRK.A, BRK.B) declared owning 216,000 shares of MasterCard (NYSE:MA). This represents a $54 million investment -- relatively small for Buffett. However, this is significant since it is the first time Buffett has owned shares of the company.
Large institutional investors such as Buffett report holdings to the SEC each quarter under Form 13F. Buffett has special permission from the SEC to withhold some purchases due to the effects on the stock price when it is reported that he is buying. Many investors follow these filings and attempt to invest where the "pros" are investing.
We do not know the price that Buffett paid for these shares. I don't particularly recommend buying a stock simply because Buffett or anyone else does. (In that case, it would be much more simple just to buy shares of Berkshire Hathaway.) However, this interesting purchase got me thinking about whether MasterCard would be a good investment.
Despite certain headwinds, MasterCard is up almost 30% in the last year. Since going public in 2006, shares are up a more than respectable 521%.
[Click to enlarge]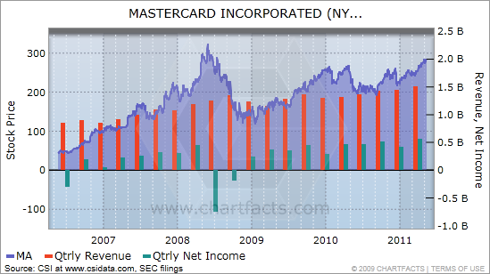 MasterCard weathered the financial crisis remarkably well, considering its depth and severity. MasterCard has had relatively steady rising revenue and net income for the five years since it began trading. Shareholders have benefited, considering the S&P 500 is up only 5% over the same time frame.
MasterCard is making strides to continue its growth trajectory. The company is investing in the areas of prepaid cards and mobile payments. MasterCard recently entered into agreements with Airtel Africa and the Standard Chartered Banks to link subscribers accounts to a virtual MasterCard number. In the most recent quarter, 60% of net revenue was generated outside the United States. Non-U.S. growth continues to outpace growth within the U.S.
MasterCard isn't over-valued. It trades at a forward P/E of 16.42. This isn't bad, considering MasterCard has grown earnings at an annualized pace of 48% over the last five years. Cash flow has grown at an annualized rate of 40% and revenue, almost 14%. In fact, MasterCard seems to be fairly valued. As Buffett says, he would rather buy a good company at a fair price than a fair company at a good price.
Value Analysis
| | |
| --- | --- |
| Metric | MA |
| Market Cap | $33.7 B |
| Recent Price | $279.15 |
| Forward PE | 16.42 |
| Dividend Yield | 0.21% |
| 5 Year Div. Growth Rate | 0.00% |
| Payout Ratio | 4.00% |
| Price/Book | 9.04 |
| Price/Cash Flow | 18.39 |
| Price/Earnings Growth | 0.96 |
| Price/Owner Earnings | 21.76 |
| Return on Equity | 48.02% |
| Debt/Equity | 0.4 |
| Revenue TTM | $5.73 B |
| Operating Cash Flow FYE | $1.7 B |
| Capex FYE | $151 M |
| Capex/Cash Flow FYE | 0.09 |
| 5 Year Rev. Growth Rate | 13.50% |
| 5 Year Cash Flow Growth Rate | 39.60% |
| 5 Year Earnings Growth Rate | 48.00% |
| Net Profit Margin | 33.33% |
| Total Cash | $3.94 B |
| Return on Assets | 20.89% |
| Total Debt | $21 M |
When you think about it, MasterCard does seem to be a typical Buffett stock. The company isn't capital-intensive when you compare it to the large amount of cash generated. A measure I look at often is the Capex/Cashflow ratio; for MasterCard, it is only 0.09.
In addition, new entrants into the credit card sector aren't likely. The sector is virtually controlled by MasterCard, Visa (NYSE:V), and American Express (NYSE:AXP), another Buffett stock. In other words, MasterCard has a wide moat.
MasterCard faces headwinds, particularly an odd provision of the financial reform bill. The Durbin amendment, named for Senator Dick Durbin, will essentially cap all debit card interchange fees at about 12 cents. These are the fees that the card companies charge each time a debit card is swiped. Visa and MasterCard argue that this cap is below their costs for conducting transactions. If enacted, the card companies will likely raise or initiate fees in other areas to offset the revenue loss. This would be terrible for consumers and Congress is beginning to realize this. Changing or repealing the Durbin amendment may be one of the few bipartisan acts we see coming out of this Congress.
With its growing international revenue, MasterCard seems to offer a unique growth opportunity for investors. If there are significant changes to the Durbin amendment, MasterCard likely has a long growth runway ahead of it. In addition, a pick up in job growth here at home would be a huge benefit to MasterCard. Buffett made a small investment in MasterCard and investors with his time horizon might benefit from following the Oracle on this one.
Disclosure: I have no positions in any stocks mentioned, and no plans to initiate any positions within the next 72 hours.