India imported a stunning 1,243 tonnes of silver in October. Silver imports were already relatively high, but the drop below $18 per ounce in September ignited opportunistic buying.
Opportunistic buying is not a new phenomenon in India, as the all-time high monthly import volume occurred during the plunge from $49.82 to $32.30 in 2011. After a burst of import activity in May 2011, however, imports quickly quieted down.
Silver imports remained subdued in early 2012 through the first half of 2013, when a number of measures were introduced to stem the purchase of gold in India. The government of India raised the gold import duty from 4% in January 2013 to 10% in August 2013. In July, The Reserve Bank of India introduced restrictions that tied imports to guaranteed export volumes.
During this time, silver imports surged- and this time the gains were more durable than previous spikes. The trend is evident from this graph from analyst Koos Jansen, who posts research at Bullionstar.com: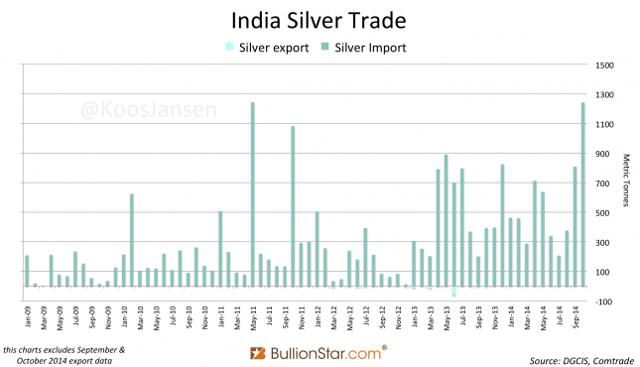 Silver imports into India set a record of 5,819 tonnes in 2013.
What you can see from the following chart is the dramatic effect that the measures had on the gold market. Once again, this chart is available at BullionStar.com, from analyst Koos Jansen: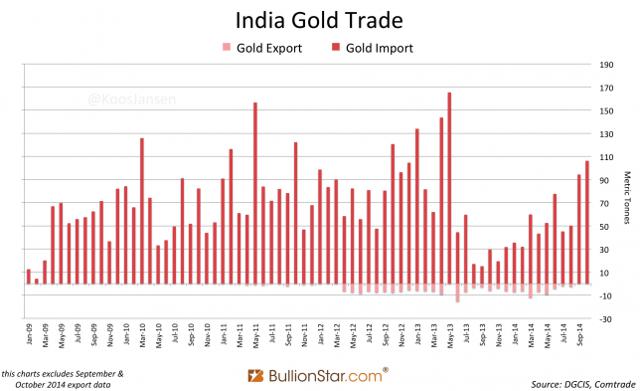 While official (legal) gold imports fell in 2013, silver imports into India remained elevated.
2014 ushered in an improvement in the balance of trade, rising business confidence, and strong election results from the pro-business Bharatiya Janata Party. There was an expectation that gold import restrictions would be relaxed. The first announcement came in March of 2014:
(Reuters) - India has allowed five domestic private sector banks to import gold, in what industry officials say could be a significant step towards easing of tough curbs on the metal imposed last year to cut the country's trade deficit.
As a result, gold imports rose significantly in March while silver imports slowed. Despite the renewed (legal) gold imports, silver imports remained elevated In April and May. This was the test for the silver market in India- would silver demand remain strong once gold became available at a reasonable premium?
Despite the falling gold premium in India, silver imports remained strong with the singular exception of July. In fact, the latest decline in silver prices led to an eruption of silver purchases.
Some explanation as to the stronger buying tendency of silver is offered by a recent article in the Business-Standard. From the article:
Investors have looked at silver as a surrogate for gold, especially when the gold trade faces restrictions.
Monal Thakkar of Amrapali Group said, "Silver jewellery is becoming trendy among the young population, who are not curious about yellow ((gold)) jewellery. Silver gift articles are also regaining preference."
If it is true that silver is becoming trendy among the young population of India, then the trend has a lot of room to run, as India is home to the largest population of youths in the world. There are 356 million Indian youths between the ages of 10 and 24, according to a recent U.N. report.
Indian jewelry purchases among the young and surrogate investing are two very important trends. One thing is for sure, silver imports into India are already massive. October imports of 1,243 tonnes represent more 60% of projected global mine production for that same month.
An easing of gold import rules has once again led to huge gold imports, and the Indian government is reportedly preparing new measures to slow the import of gold. More from Reuters:
(Reuters) - India is likely to announce new measures to curb gold imports as early as Tuesday, a senior finance ministry source said, and they could include restrictions on a group of private trading firms that have been allowed to bring in the precious metal.
Officials from the finance ministry and Reserve Bank of India (RBI) were considering whether to reimpose import restrictions on "star trading houses" that were eased earlier this year, the source said.
Nov 19, 2014 (Reuters) - India's largest gems and jewellery federation has proposed its members curb sales of gold coins and bars in an effort to prevent the government from imposing import restrictions on gold after an increase in inbound shipments.
Restrictions that were put in place to reduce gold demand in India have led to incremental buying in silver. It is time to consider what may result from further restrictions, where surging demand for silver has now led to consecutive record years of silver imports. The following graph is only updated through the middle of September, and therefore, emphasizes the price-sensitive demand explosion: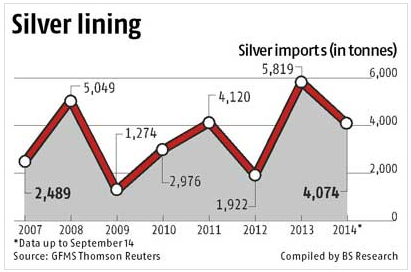 Business Standard, November 10, 2014. Imports have surged by 1,461 tonnes since this data through September 14, 2014.
Data through October shows total imports are now at 5,535 tonnes. With two months remaining, it seems certain that 2014 will mark a second consecutive year of record Indian silver imports.
Thomson Reuters GFMS now expects total physical demand for silver to decline 6.7% to 31,243.44 tonnes in 2014. However, GFMS admits that ultimately, demand for coins, bars, and ETFs plays a more important role in overall demand than industrial fabrication because investment demand is much more price sensitive. Total physical supply of silver is expected to rise 2.9% to 32,063 tonnes in 2014. One more month of opportunistic buying by India would tip the scale markedly.
In coming weeks, I will be watching two key developments: 1) What further gold restrictions are placed on gold importation into India, and 2) Will India import massive quantities of silver again, in November?
Disclosure: The author is long SLV.
The author wrote this article themselves, and it expresses their own opinions. The author is not receiving compensation for it (other than from Seeking Alpha). The author has no business relationship with any company whose stock is mentioned in this article.