Today comes the latest in a long list of euphemisms for a Greek debt default, this one courtesy of Eurogroup head and Luxembourg PM Jean-Claude Juncker:

"If all these conditions are fulfilled, we can discuss the question of reprofiling," Juncker told reporters late yesterday after chairing a meeting of euro-area finance chiefs in Brussels. "It's not reprofiling or nothing. It's measures, measures and measures, and then maybe reprofiling."
While it's unclear how many of Europe's leaders are in agreement with Juncker, at least some of the euro zone's grownups have begun to publicly acknowledge what the market has been communicating for awhile, which is that maintaining the current Greek debt program is hopeless. John Mauldin spells out the inescapable arithmetic:

(Greek) GDP at -4.5% in 2010 and still likely to be -3.0% in 2011. If your economy slows down by 10%, then your debt-to-GDP ratio rises by 11% without any new debt. And Greece is being asked to further reduce its deficit by what is in effect 15% of GDP, while taking on no more debt. Within two years Greece will have a debt-to-GDP ratio of 160%.

No country save Britain ... has ever recovered from a debt-to-GDP ratio of over 150% without a default. None.

And the reason is simple arithmetic. Even a nominal interest rate of 6% means that it takes 10% of your national income just to pay the interest. Not 10% of tax revenues, mind you; 10% of your total domestic production. That is a huge burden on any country. It sucks up half your tax revenues (or more), leaving not enough to pay for ordinary government services like police, defense, education, pensions, health care, etc.

Greece runs a massive trade deficit with the rest of Europe, which just makes the problems worse. Unemployment in Greece is now 15% and rising.
The details of Greece's default (a.k.a. "reprofiling") appear to involve some type of maturity extension in exchange for an acceleration of Greek government cuts and €50 billion of privatization, which translates into selling about a fifth of the property that the Greek state owns.

The question now becomes: How much appetite is there in Greece for any additional cuts and the selling off of state assets to pay back the foreign banks (primarily French and German) which lent Greece money? And are the Greeks really willing to put up "collateral" (e.g., Mykonos?) in exchange for any additional financial assistance from Germany?

Are Greeks Hedging a Return to the Drachma?

[Click all to enlarge]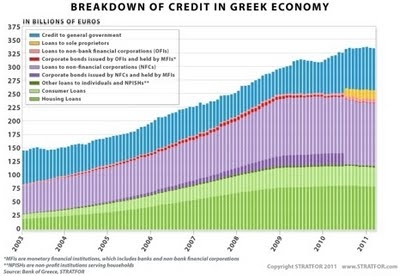 As can be seen in the above chart, private debt levels have continued to rise in Greece. This may indicate that Greek consumers and businesses are ratcheting up spending in anticipation of a return to the drachma. It would make sense to buy foreign goods now rather than wait to buy later with the drachma, which if relaunched is estimated to be worth less than half the value of the euro.

With Germany shouldering the largest portion of the Greek bailout (see below chart), one has to wonder: How much longer will the German taxpayer stand for this?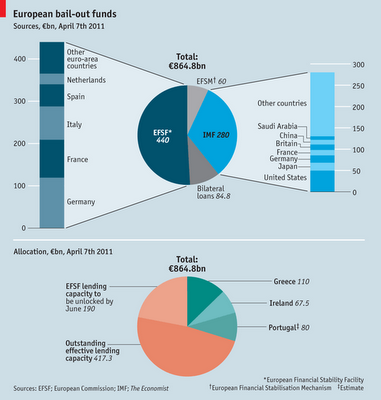 While a recent report that Greece was considering withdrawing from the euro zone was squelched, a worrying sign for the zone is a recent poll which found that 25% of Greeks now favor replacing the euro with the drachma. While not a majority, this is a major shift in opinion for Greeks who had been considered some of the biggest European supporters of the common currency.

Investment Implications

The European Central Bank, which is arguably the one institution that has the full inside view on the European debt crisis, has characterized any contemplation of Greek restructuring as "suicide".

The big hit from any restructuring of Greek debt is going to be felt by the banks in Europe's core countries, like Germany and France. Aggressive players in the derivatives market, such as Société Générale (OTCPK:SCGLY), may be particularly vulnerable as they are likely sitting on a highly combustible pile of Greek credit default swaps. Investors can short European banks on an individual basis or take a more diversified approach with an ETF like iShares MSCI Europe Financials Sector Index ETF (NASDAQ:EUFN).

While Seeking Alpha author Axel Merck and others have argued recently that shorting the euro is no longer a viable proxy for playing the European debt crisis, I disagree. Europe's debt crisis has led to a slow motion run on the banking systems in Europe's periphery (Ireland, Portugal, and Greece). The latest concerns of default and/or leaving the euro have mounted further pressure on the common currency as depositors and investors shift assets out of the periphery into large European countries, Swiss and British banks, and U.S. dollar-denominated assets.

Also, additional bailouts for the banks by European governments are politically unpalatable. This leaves the ECB as the last line of defense in the effort to save Europe's banks. Any additional bank stimulus the ECB is forced to provide will only serve to further weaken the currency.

The above underlying weakness in the euro will also be compounded by investors who still see shorting the euro as the most convenient way to play Europe's default endgame. And this is precisely what we've seen with the euro's recent sharp fall from close to $1.50 to $1.41 as the debt crisis reignited. While we may not see as big a swing in the euro as we saw last year down to $1.18, there is still plenty of of room to fall between the euro's 52-week low and today's still lofty level.

Last, sovereign debt uncertainty will continue to keep investors nervous, which in turn should result in a spike in overall mareket volatility. Even euro bull Merk concedes that Ireland is likely to default, and given the posture taken by the Irish during the crisis we can expect them to time their default to achieve maximum negotiating leverage. There is no precedent for the current sovereign debt crisis, and investors will likely want to take out insurance against the unknown. To take advantage of an upswing in volatility, iPath has both VIX short-term (NYSEARCA:VXX) and medium-term (NYSEARCA:VXZ) ETNs.

Disclosure: I have no positions in any stocks mentioned, and no plans to initiate any positions within the next 72 hours.