The market continues to trade in a range bound fashion.
The S&P 500 (NYSEARCA:SPY) pushed back down to strong support at the $133.00 level – a level that was created by the 4/20 gap. My guess is that we close the gap over the next 5-7 trading days. With so many ETFs in an oversold state it would not surpise me to see a short-term bounce followed by the plunge that takes the S&P 500 (SPY) down to the $131.35 level to close the gap from 4/20. In an ideal world it would happen immediately following options expiration as the day following options expiration is historically bearish.
As for the High-Probability, Mean-Reversion strategy there are two ETFs that have moved onto my radar – South Korea (NYSEARCA:EWY) and India (NYSEARCA:EPI). Both have hit a short-term "very oversold" state so I would expect to see a short-term bounce over the next 1-5 days. That being said, I want to remind subscribers to my newsletter service to be on the lookout for a potential alert over the coming days through email, twitter, etc..
We have been waiting patiently over the last few weeks and I think our patience could pay off here. With a win ratio over 90% and a return of 37.5% since the inception of the strategy back in November, patience has proved to be a valuable virtue. Check out the performance results here.
I also wanted to thank everyone for the kind words regarding my daughter's latest illness. It is great to know that I have built such a loyal and thoughtful crew of readers over the past five years. Thank you!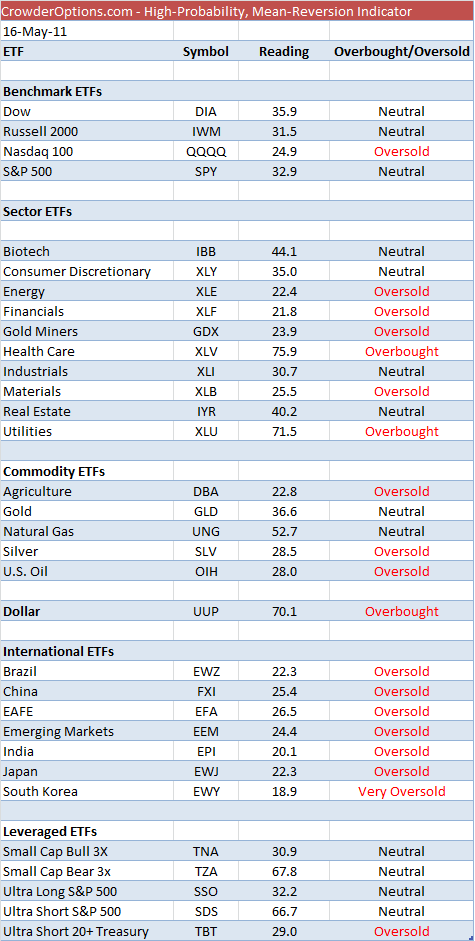 Disclosure: I have no positions in any stocks mentioned, but may initiate a long position in EPI, EWY over the next 72 hours.