I like to take shots at Yahoo! (YHOO). It's easy, but warranted, as the second fiddle in search deserves criticism. There's disorder in the house. By all accounts -- ranging from bad news story after bad news story to reports of low morale to employees leaving for other companies -- CEO Carol Bartz's performance appears to rank somewhere below average, to put it kindly.
Bartz not only asks for the benefit of the doubt, she pretty much demands it.
Because I have been thinking about Yahoo's woes a lot lately, I decided to take a look under the hood, anecdotally, fundamentally, and technically. Investors often select stocks on the basis of the legendary Peter Lynch's philosophy of buy what you use and love and see others using and loving. If I adhered to this principle vis-a-vis Yahoo!, I could probably orchestrate a hostile takeover.
When I wake up in the morning I fire up my computers and monitors. I hit and run at most websites, only spending quick bursts of time on them to get what I need. There are several staples, however, I spend quality time with.
In no particular order, I spend hours a day at Seeking Alpha and Google's (NASDAQ:GOOG) Gmail. I have several sites running pretty much constantly in the background, including Briefing.com and Sirius/XM's (NASDAQ:SIRI) online streaming platform. As I thought about this, I found it interesting that I could readily attach names to these sites. That speaks not only to the fact that they are a large part of my life, but to effective branding.
Oddly, when considering my online routines, Yahoo! never even came to mind. I use the Yahoo! homepage to get a glimpse of what's going on in the world several times an hour. To get quotes and find news on the market and individual stocks, I go to Yahoo! Finance first, even though I have several sophisticated trading platforms right in front of me. For searches, I use Google most, but Yahoo! probably gets about 40 to 50 percent of my search "business" on most days. And I am constantly in Yahoo! mail. I bet I habitually use other direct or Yahoo!-touched services without even recognizing it.
As it turns out, I spend more time with the Yahoo! sites I can readily recall than all others combined, with the exception of Seeking Alpha. It's funny, though, unless I make myself do it, I do not attach the name Yahoo! to any of the above-mentioned services. They're just news, mail, quotes, and search to me. In the other cases, its Seeking Alpha or Briefing, Gmail, and I don't merely conduct a search at Google like I do at Yahoo!, I Google. Both companies attempted to turn their names into verbs. Google succeeded, Yahoo! failed.
Yahoo! has done a miserable job of letting the world know exactly what it is. And that's a shame given the fact that some of its recent tweaks and, in a few cases, overhauls did not turn out half bad. Take the beta version of Yahoo! Mail as an example.
Yahoo! has created a slick interface here. Lots of nice features. You don't lose drafts or have to reopen emails anymore thanks to the tabs. The quick "Reply to" feature rocks. One thing it looks as if Yahoo! might be trying to do as its webmail program evolves is fuel, using mail as a platform, its strategy to be a digital content provider.
Investors who cite Yahoo!'s search results as a reason to be bearish likely missed something Bartz said a while back. Search Engine Land summed things up nicely almost two years ago now:
Of course, Bartz's obvious deficiency here is that her plan appears to be taking longer to come to fruition than Jim Balsillie's to bring hockey to Southern Ontario. That said, I think Bartz wants Yahoo! to be a content provider along the lines of Demand Media (DMD), but with the added features of more topical content, email, finance, and such alongside a mobile presence and, lastly, search. Last year's acquisition of Associated Content by Yahoo! provides obvious support. And a look around the site these days shows the evolution -- which is still, painfully, in progress.
It feels strange saying this, but I think the company with the $1 billion-or-so market cap, Demand, will fare better than the one with the $21 billion-or-so market cap, Yahoo!. In terms of building out their respective strategies, Demand has a much stronger handle on its course, while it seems Yahoo! is floundering. In some respects, it's not that much of a surprise. As a recent IPO, Demand has tunnel vision. The company forges ahead with an obsessive focus on its well-thought out and long-cemented strategy. In the midst of a forced turnaround, Yahoo! lacks conviction; it does not know which way is up.
The most recent numbers do and will continue to bear this out. For two main reasons, comparing Yahoo! and Demand's revenue numbers, with respect to sales generated by content, is not a perfect science. First, they break their businesses down and report them differently. And second, in terms of growth, Demand can report much more impressive percentage gains because of the level it's working from as a newly-public company. That said, the exercise proves instructive.
From Yahoo!'s most recent quarterly report:
From Demand Media's most recent quarterly report:
While it takes a minute, I think you do yourself a service by reading, at the very least, the entire content of both excerpts. Ultimately, especially if you will consider making an investment, you should read several months' worth, at least, of each company's filings as part of your due diligence.
In any case, it's no revelation that Yahoo! expects search-related revenue to continue to decline. One would think, however, that the Microsoft (NASDAQ:MSFT) partnership is not the only reason for the decrease. Or one would at least hope that with less revenue from search, an increased investment in content and such would, someday, start translating into stronger display revenue. Thus far, things have not panned out. The smallish uptick in display revenue hardly offsets the decreases experienced by the rest of Yahoo!'s aimless businesses.
With all else equal, I would argue that YHOO and DMD go in the same direction as their company's respective business plans. But all else is not equal. It never is.
I lump Yahoo! in with smartphone and tablet imitator Research in Motion (RIMM). Both companies find themselves mired in disarray and incompetence, but luckily for shareholders, each firm's operation still contains value. Just as RIMM looks more and more like a takeover target, the same holds true for Yahoo!. Seeking Alpha contributor Marc Courtenay made that case nicely on Tuesday.
Given the prospects that somebody will overpay to take Yahoo! out of its misery and make use out of the good the company actually has going, I think stuffing some long-dated calls in your back pocket makes sense. If you're short the stock, which I would not be, it makes even more sense to hedge with a long call. We can call it a "protective call." Plus, YHOO sports one ugly chart. It's likely due for several dead cat bounces before it gets taken out or withers away into obscurity.
(Charts courtesy of FreeStockCharts.com)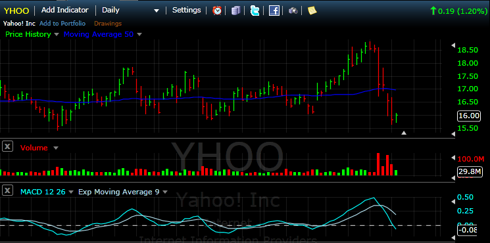 (Click both images to enlarge)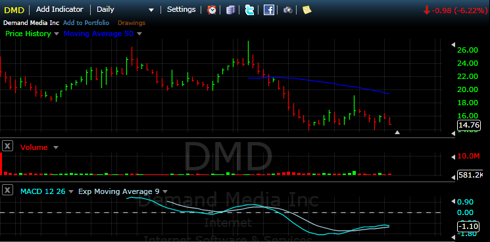 Yahoo! still rakes in ten times more revenue from "display advertising" than Demand does from its "content and media" business. While I fully understand the imperfect comparison, I think for now that this is an adequate way to compare the two businesses.
A toggle between past full-year results and Demand's recent 2011 guidance reveals that the company remains confident it can continue on the torrid pace of growth it has established thus far.
(Click both images to enlarge)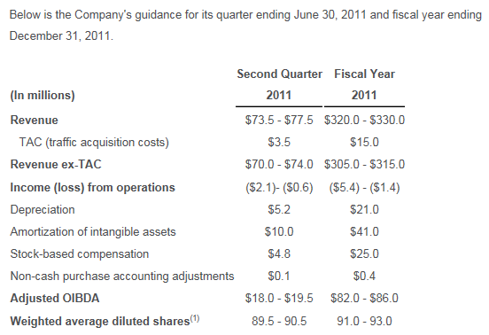 A perfect hit to the upper-end of its FY2011 total revenue guidance represents roughly 30 percent year-over-year growth. Overall, I actually think Demand will execute better than Yahoo!, particularly if Yahoo! remains on its own. The revenue divide that exists between the two companies could close relatively quickly, particularly if you view the comparison with a truly long-term lens. And if you do not look at YHOO's total revenue, but only focus on display advertising, DMD could get there in just a few years.
I think investors have priced most, if not all, Google search-related bad news into Demand Media's stock. The company continues doing an excellent job turning its business into one that does not have to rely on Google. Not only have the company's direct sales efforts taken off, but Demand appears to be serious about moving aggressively into the mobile arena.
I look at DMD as a long-term play. While not speculative, I label it one step below as high-risk. And by long-term, I mean 5, 10, 15 years burnin' down the road long-term, which makes it an ideal candidate for dollar cost averaging.
Disclosure: Author may initiate a long position in SIRI, DMD, or YHOO at any time. Author may initiate a long or short position in RIMM at any time.