While economic growth in Mexico advanced during the third quarter, fears over how to control both inflation and a fragile recovery could lead to further selling pressure on the currency. The peso has fallen nearly 6% since May as sentiment surrounding the currency has deteriorated.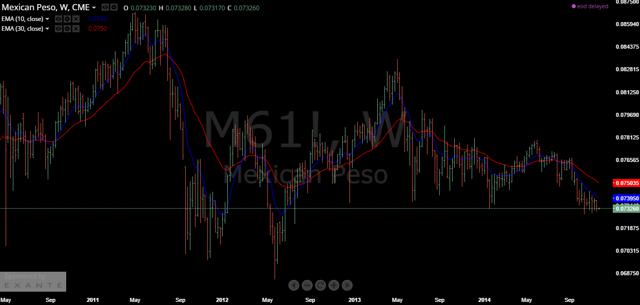 Data provided by Trading View
Economic growth in the third quarter was in line with estimates, but remains fragile. On Friday, the growth figure came in at 2.2% annually during the quarter, above last quarter's reading of 1.6%, and in line with estimates for 2.2%. Declining oil and gas production in 2014 are cited as reasons for continued weakness in growth.
"Deputy Finance Minister Fernando Aportela said the government expects lower crude-oil production to shave 0.4% points off overall growth this year. Crude output fell to 2.4 million barrels a day in the third quarter from 2.5 million a year before," according to a Wall Street Journal report.
It is seen in the chart below that the growth figure has remained below 3% since 2012. The multi-year weakness has been blamed mostly on "a sputtering recovery in the global economy, sluggish domestic consumption, as well as falling investment," claims the Wall Street Journal in a separate report.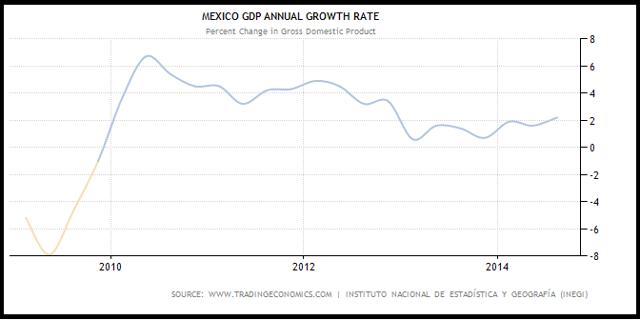 Data provided by Trading Economics
Alongside the gradual recovery in economic growth has been a quickening rise in inflation readings. October inflation data showed a rise of 4.3% annually for the month, up from last month's reading of 4.22%. In the chart below, it is apparent that inflation has been in a volatile range since 2009, while the central bank has slashed interest rates. The divide between inflation readings that are above the central bank's 4% target, and economic growth that remains tepid is presenting a challenge for monetary policy officials.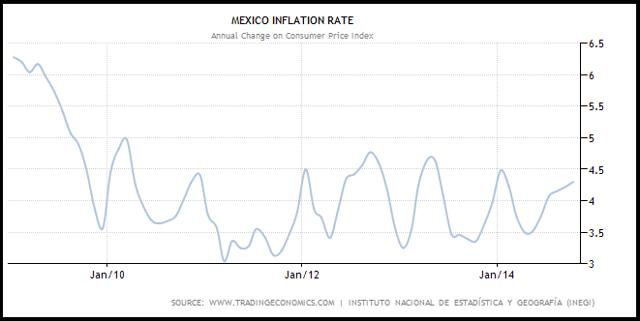 Data provided by Trading Economics
Earlier this month, The Bank of Mexico downgraded its outlook on the economy, while also voting to keep its interest rate at a decade low 3%. The BOM lowered its full-year growth estimate to between 2% to 2.5%, from 2% to 2.8% previously, said the Finance Ministry. "A continued drop in oil production and recent social unrest present risks to growth," reported the central bank to Bloomberg.
Wanting to keep inflation in check, but not upset economic growth, the central bank voted to keep rates unchanged in October. "Central Bank board members voted 5-0 at their October 31st meeting to hold the benchmark rate at a record low of 3%," a Reuters report said of the BOM's minutes.
The peso looks to continue to underperform the U.S. dollar as the BOM is hesitant to disturb its fragile economy. While the U.S. economy would not be deemed "significantly better," by definition of economic data alone, there seems to be more certainty regarding the future of U.S. policy. The Federal Reserve has had the U.S. economy on a set trajectory over the last year, preparing everyone for tighter policy. As tighter policy goes into place, while inflation in Mexico continues to accelerate alongside low domestic rates, the peso should continue to depreciate.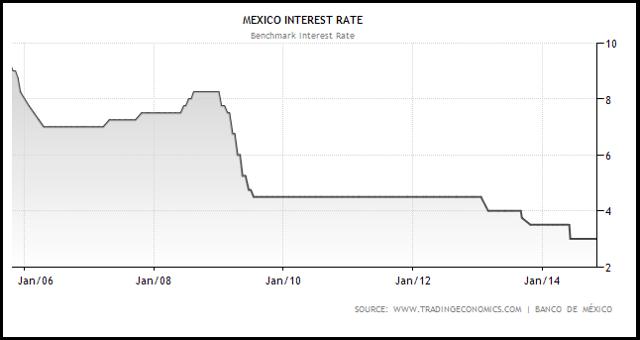 Data provided by Trading Economics
Disclosure: The author has no positions in any stocks mentioned, and no plans to initiate any positions within the next 72 hours.
The author wrote this article themselves, and it expresses their own opinions. The author is not receiving compensation for it (other than from Seeking Alpha). The author has no business relationship with any company whose stock is mentioned in this article.