Netflix (NASDAQ:NFLX) dropped 19.8 percent in 13 trading days after I wrote my last article. It has since bounced back, slightly exceeded the previous February highs, and fallen below again. At the same time, competition has been massively increasing, insider selling continues to reveal dwindling faith in the future of the company, the company's content costs have been soaring, and accounting manipulation trouble may even be on the horizon. If Netflix was a good short candidate in February, it is by far an even better short candidate now.
In my previous article, I noted seven main reasons for why Netflix was showing increasing weakness:
Valuation. Netflix is priced for perfection.
Transitioning Business Model and Competition. As it shifts from DVD rentals to streaming content, Netflix is entering a market which it no longer monopolizes and which has much bigger competition.
Streaming Library is Weak. With much higher costs involved in streaming content, Netflix's video library is very weak compared to what it offers in DVDs. Its content is limited, it takes longer for the company to offer new releases, and it is behind many competitors in terms of content offered.
CFO Resigns Unexpectedly. Such a vital company figure resigning suddenly, amidst extreme upward momentum tells me something may be brewing behind the scenes or under the surface.
Heavy Insider Selling. Large selling made by CEO Reed Hastings and others is a huge warning signal. If the leaders and executives of the company are pulling their money out of the company, why should the average investor (who has much less clarity into the company's operations) leave his money in? Heavy insider selling is many times a warning of an impending downturn or potential "shady" behavior.
Whitney Tilson Gives Up. The capitulation by one of the largest Netflix bears signaled the end of the era dominated by Netflix shorts. Many times, a downturn takes place only after the shorts give up.
Technicals. Bearish reversal candles marked the $247.55 high as significant overhead resistance – a level to short against.
While the above seven reasons were made three months ago, they all still hold strongly as very significant reasons to short Netflix. However, while the above reasons were enough then, we can add numerous more with the additional information that has surfaced over recent months:
Reasons to Short Netflix (Updated):
1) Valuation. While the P/E ratio is down to just under 70 from the nearly-80 level it reached in February, it is still tremendously above historically reasonable P/E levels of 20-30 for growth companies. Even if we allowed 40 or 50 to be reasonable considering the massive growth Netflix has shown, 70 is way too high for any prudent or rational investor. Add to that the fact that Netflix stock is up over 1000 percent since late 2008, and it is easy to see why the company may be extremely overbought at these levels.
2) Transitioning Business Model. The streaming business model simply is not as dominant as DVD rentals. Netflix is attempting to dominate the video streaming business, but it faces huge hurdles in the space since streaming is much different than the DVD-rental business model it used to launch itself to the top of the chain. Streaming will cost more, limit the selection, and increase competition.
3) Competition. Unlike with DVD-rentals, where it had a significant advantage and near-monopoly on the industry - after essentially beating Blockbuster - Netflix now faces increasing competition for streaming content. Many other companies are now attempting to enter the space, duplicate or improve on the success of Netflix, and gain market share.
And these are not just some new, small start-up companies. The companies entering the space include Amazon (NASDAQ:AMZN), Apple (NASDAQ:AAPL), Hulu, Google (NASDAQ:GOOG), Disney (NYSE:DIS), Dish Network (NASDAQ:DISH), Wal-Mart (NYSE:WMT), Best Buy (NYSE:BBY), Time Warner (NYSE:TWX), and Coinstar (NASDAQ:CSTR). These companies not only offer services and technologies that may become superior to Netflix, but they also have tremendous financial resources to back them up – something Netflix is quickly running out of. To present the recent growing competition surrounding Netflix, let's document the competitors:
Coinstar (CSTR): Offers Redbox video rentals and announced on February 17 that it is "gearing up to launch a Redbox subscription-based online streaming movie service that will take on Netflix's dominance" (Source: SeekingAlpha Market Currents).
Amazon (AMZN): Launching its own rival streaming video service on Februrary 23, Amazon became a huge competitor for Netflix. Not only does Amazon have the potential to offer a much greater selection with a much greater financial backing, but "turns out that Netflix outsources a "huge" portion of its operations to a division of Amazon, Andrew Wallenstein writes. "Talk about the fox guarding the henhouse: Netflix basically entrusts the brains behind its vast operations to a company poised to be its biggest competitor" (Source: SeekingAlpha Market Currents).
Time Warner (TWX) and Facebook: Announcing on March 8 that it will release the Batman film "The Dark Knight" on Facebook, Time Warner's plan to offer $3 film rentals on Facebook may not pose severe challenges in the short-term, but has even Goldman Sachs warning that "Facebook could become a credible threat."
Google (GOOG): With its "big overhaul" of YouTube and the addition of about 3K movies to its rental service, Google is a significantly growing threat to Netflix. According to Wedge Partners: "Unlike other streaming video competitors, YouTube is on nearly every device platform on which NFLX is running today. We believe that it is this platform distribution in particular that gives GOOG a significant leg up on the competition vs. NFLX. Time will tell how aggressive GOOG will be in competing with NFLX, but we think the threat is substantial."
Dish Network (DISH) and Blockbuster: Taking up several paragraphs in its annual letter to shareholders, Netflix mentioned the looming threat of competition. While it hopes that fast growth and more content will help it stay on top, it also mentioned that "Dish Networks is likely to launch a substantial subscription streaming effort under the Blockbuster brand" (See Netflix: Yes, Blockbuster Is Coming After Us).
Wal-Mart (WMT) and Best Buy (BBY): Attempting to also capitalize on the video streaming space, Wal-Mart and Best Buy are planning on offering "Internet-like" video services as well.
Hulu: Already a big player in online streaming video content, Hulu recently launched its subscription-based "Hulu Plus" which will also compete with Netflix.
Apple (AAPL): Even Apple may be in the midst of plans to compete with Netflix, as Jefferies analyst Peter Misek claims "Apple to Launch Assault on the Living Room" by building 2 massive data centers in North Carolina and may launch a "video-focused cloud-based service" which will rival Netflix. Don't forget, Apple also rents and sells videos on iTunes.
As we can clearly see, Netflix's competition is growing tremendously. It is not only going against companies with considerably greater access to content, superior partnerships, and significantly stronger financial backing; it is also struggling to maintain control over a video-streaming market which it is attempting to transition to and in which it is only relatively new to.
As Whitney Tilson wrote in his article "Why We're Short Netflix":
In short, Netflix is moving from a business in which it was competing against smaller, dying, heavily-indebted companies with inferior business models to some of the largest, most powerful, aggressive and deep-pocketed companies in the world, which have big competitive advantages over Netflix.
4) Streaming Library is Weak/Poor Selection. Because it offers such low-cost subcriptions of under $10 a month, Netflix doesn't necessarily have the resources to pay high fees for streaming content. Increasing costs and the unfeasibility of providing customers with the newest or most popular releases results in Netflix having a weak streaming library and largely incomplete selection. Not only does it frequently take a month longer for Netflix subscribers to gain access to new releases, but the number of available movies in the streaming library is well-below much of the competition.
Quoting Whitney Tilson again:
To come up with a representative list of popular movies, we took the top 50 grossing movies of all time, Internet Movie Database's 20 top-ranked movies of all time, Rotten Tomatoes's 20 top-ranked movies of all time, and the 10 top-selling, top-renting and top-video-on-demand DVDs for the week ending 11/28/10.

Here's the summary: of these 120 movies (including duplicates), Netflix has a mere 17 (14.2%, and 0% of the current most popular movies) vs. 77 for iTunes (64.2%), 63 for Vudu, 62 for Amazon, and 41 for cable.

This chart depicts the results graphically:
Netflix may be regarded by many as the top video provider, but if we look at the data in this case it does not appear so.
5) Streaming Costs. After releasing earnings numbers and offering a disappointing Q2 EPS guidance of $0.93-1.15 (vs. $1.19 consensus) on April 25, Netflix finally acknowledged their dramatically-growing streaming content costs. If the company was fairly valued and the stock reflected slowing growth, I wouldn't necessarily have much of an issue. But with the company expected to grow tremendously over the next few years, as reflected in its exorbitant 70 PE ratio, a growing issue of rising costs and slow growth is bigtime trouble.
How big are the streaming costs? New movie and TV deals resulted in cash outlays on content of $530 million in 2010, more than double the previous year. Such rising costs are going to cut into Netflix's profits – and that's even before this year and coming years, where content costs will be even higher as competition increases.
Here's how rapidly costs have been rising: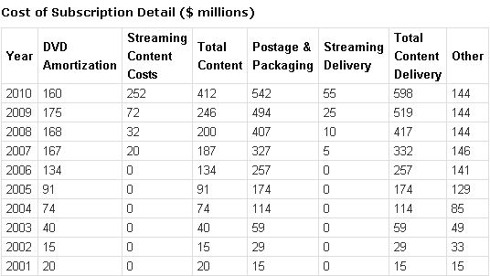 (Click to enlarge) Source: Jim Pyke
And content costs are only rising from here. According to Goldman Sachs, Netflix is facing an uphill battle for content:
We fully expect content owners to increasingly "flex their muscles" and make it incrementally harder for Netflix to acquire more content. However, until a worthy competitor emerges to either bid away or bid up the price of content, we believe that content owners will still gain and grow the overall revenue pie for themselves by selling their catalog content to Netflix.
Goldman believes that Netflix will continue to lay claim to the content "until a worthy competitor emerges to either bid away or bid up the price." But as we've seen above, those competitors may already be here and Netflix may soon lose the bidding war.
6) Accounting Manipulation? Pointed out by Lenny Brecken of Brecken Capital, Netflix is overstating its earnings by amortizing its content costs in a way that makes it appear more profitable than it really is. According to Brecken, earnings would actually have been negative for the third and fourth quarters, and 2010 pretax income would have been reduced by over 80 percent! Brecken also points out that accounts payable are up well over 100 percent – a figure that bodes very poorly for Netflix's financial stability and future.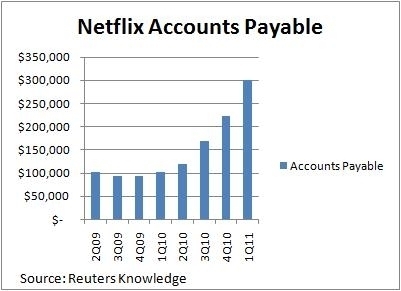 Source: Rocco Pendola
It makes sense, then, why Netflix still shows growth and strength while content cost and competition is rising – the full impact of rising costs are not showing up on the company's bottom line because it is amortizing these costs over long periods. In essence, it is attempting to prolong the time it takes to recognize its costs, and overstates its actual profits, while it hopes to grow fast enough to outpace those costs. However, if it can't continue to grow exponentially, these rapidly rising costs will eventually catch up and destroy its bottom line.
It is my opinion, then, based on these newly-revealed facts, that the sudden resignation in December 2010 by CFO Barry McCarthy may be due to a growing concern over accounting fraud or manipulation. With shady accounting practices and overstated earnings (not to mention tremendous insider selling by McCarthy, totaling over $20 million), McCarthy's resignation could have been his attempt at fleeing huge potential legal issues before they surfaced. Again, this is just an opinion based on the available facts, but it seems to fit in very well with what I had written in February:
Barry McCarthy, who had been with the company since 1999 and led it through the IPO, resigned in December 2010. To the shock of many, and with the supposed claim that such a decision was made in order to "pursue broader executive opportunities outside the company," McCarthy's designation immediately sent off a warning alarm in my head. Such a vital company figure resigning amidst extreme upward momentum tells me something may be brewing behind the scenes or under the surface. And especially when such a figure was the CFO, who is largely in charge of monitoring the books and maintaining strong finances, such a resignation may be a sign of upcoming trouble. (Why It May Finally Be Time to Short Netflix)
7) HUGE Insider Selling. In my previous article on Netflix I mentioned the heavy insider selling by CEO Reed Hastings and then-CFO McCarthy. As I mentioned then, heavy selling by insiders is many times a sign of a lack of faith in the company. If those insiders, or people working for the company – who actually have the best direct contact to the company and the most clarity and insight into the company's operations – don't believe the stock price will continue to rise, why should the rest of the investors? And if we factor in the potential underlying fraud that is going on in the accounting practices, it could become understandable why many insiders – mainly CEO Reed Hastings – are selling their shares at a frantic pace.
In fact, after selling millions of dollars worth of shares in 2010, CEO Hastings has picked up his selling pace tremendously in 2011. He has been selling at least 5,000 shares every single week since January 20 (a total of more than $1 million every week).
Take a look at his selling: REED HASTINGS
With over $20 million just from selling his stock, who needs a salary?
And Hastings is not the only one selling. In the last six months alone, over 18 percent of insider shares have been sold, compared to less than 7 percent of institutional shares: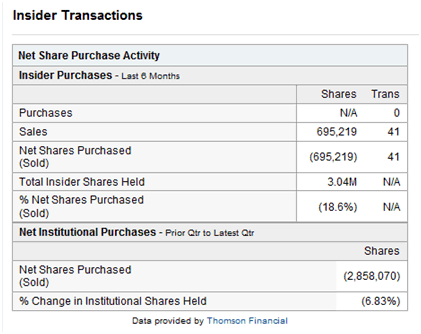 Director Jay C Hoag is also a huge seller of Netflix stock. He has sold approximately $30 million in stock over the past year.
It appears that insiders have lost faith in the company and the stock, and are selling fast. And if accounting fraud or manipulation is one day revealed, or if Netflix begins to suffer, it would be very hard to understand why Hastings, McCarthy, Hoag, and others do not find themselves in big legal trouble.
8) Short Interest. After the most well-known Netflix bear, Whitney Tilson, capitulated on his bearish bet on Netflix and threw in the towel due to a consistent rise in the stock price which hurt his performance, I noted that it was now time to short. The extremely high short interest (people betting against the stock) of nearly 25 percent at the time Tilson covered his position was simply too high to sustain a big drop in the stock. Though I agreed with almost everything Tilson said about Netflix (and he is one of the best fundamental analysts around), I knew that Netflix couldn't fall hard unless some shorts gave up – since stocks usually only collapse when no one expects them to.
When Tilson covered his position, however, I saw that a good opportunity to short was approaching. In fact, short interest has dropped to nearly 20 percent recently: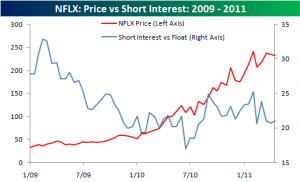 Source: Bespoke Investment Group
Counter-intuitive to what we'd assume, short interest has actually declined as Netflix stock continued to rise. If anything, as the stock price rises, short interest should increase as well – since a higher price has an even higher chance of falling. But that has not been the case; instead, as the stock has reached new all-time highs, the short interest has been falling. Since it is clear that many Netflix bears have removed their positions, now is actually a much better time to short – as the focus on the company has faded, and as the overcrowding by shorts has cleared.
9) Technicals. Following a meteoric rise from 2008 until February 2011, Netflix stock is beginning to show considerable technical weakness.
One Year Chart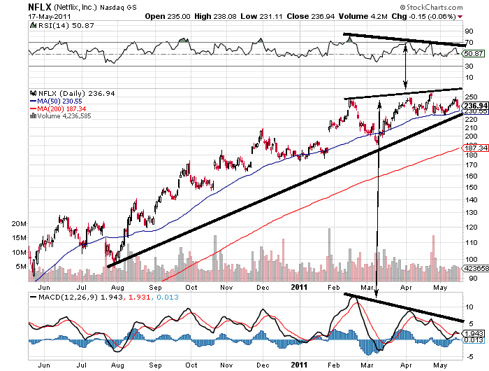 (Click to enlarge)
On the one year chart, above, we can see a clearly-defined uptrend from the August 2010 low until now. In terms of the one-year trend, then, we are still holding up. However, while the stock has moved sideways and even made a new high since February, the momentum (as measured by the MACD) and the relative strength (as measured by the RSI) are in a clear downtrend over that period. The divergences relative to price action, as shown by the two indicators, are revealing decreasing momentum and an upcoming reversal of trend. Price continues to stay above the 50- and 200-Day Moving Averages, but this chart is warning of a major bearish reversal.
6 Month Chart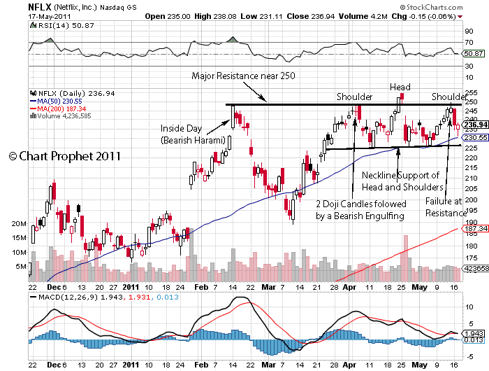 (Click to enlarge)
The 6-month chart, above, reveals extremely bearish patterns. Firstly, starting with the Bearish Harami candle pattern in February, Netflix stock price failed at the $250 level four times. The failure at a specific level on numerous occasions makes that level very important in the future. The fact that price approached or slightly exceeded the $250 level and failed four times makes $250 a very strong resistance level. We can expect resistance at that level to continue into the future. And unless price breaks strongly above $250, that level may actually be the top.
Moreover, the fact that the $250 level was touched four times highly increases the strength of the resistance. Additionally, the fact that those four touches of the $250 level involve extremely bearish candle patterns (Bearish Harami, Dojis, Bearish Engulfing) and a breakaway gap to the downside on huge volume in late April, makes the $250 resistance level one of the strongest resistance levels I have ever witnessed. Add to that the fact that $250 is a round number and is easily recognized and remembered by the average investor, and it is easily understood why the stock may have tremendous issues breaking above it.
And if all the candle patterns, huge volume downward breakout, momentum and relative strength divergences, and tremendous resistance levels weren't enough – the potential Head and Shoulders pattern that has formed from late March to now should be enough to convince you. The Head and Shoulders pattern is one of the most-recognized and deadliest reversal patterns in technical analysis. Signaling the end of huge run-ups in price led by investor greed or over-enthusiasm, the Head and Shoulders pattern is warning of a big potential top. If price breaks below $225, expect a severe correction.
As we have seen, Netflix has been a revolutionary company which has changed the way we watch movies and videos, and has continuously shocked investors as it rose time and time again in the face of high valuations and numerous doubters. But with big competition emerging and gaining momentum, soaring streaming costs which will cut into its future profits, a transitioning and struggling business model, a weak video streaming library, huge insider selling, weak and possibly deadly price behavior, and potential accounting manipulation and fraud, Netflix appears to no longer justify a sky-high PE ratio of 70 and may be setting up for a huge disaster.
Disclosure: I am short NFLX through long put option positions.