All over the world, gold has emotional, cultural and financial value, which supports demand across generations. Gold is fashioned into jewelry and used to manage risk in financial portfolios and protect the wealth of nations.
Gold producers are struggling to adapt to a lower bullion price after a decade of debt-fueled expansion, acquisitions and cost inflation during the boom years that saw bullion peak at $1,921.17 an ounce in September 2011. The spot price has tumbled in the past 18 months as investors speculate the Federal Reserve will raise interest rates due to an improving U.S. economy, lowering demand for the safe-haven metal. Also, the increasing global production has contributed for the crash of the metal.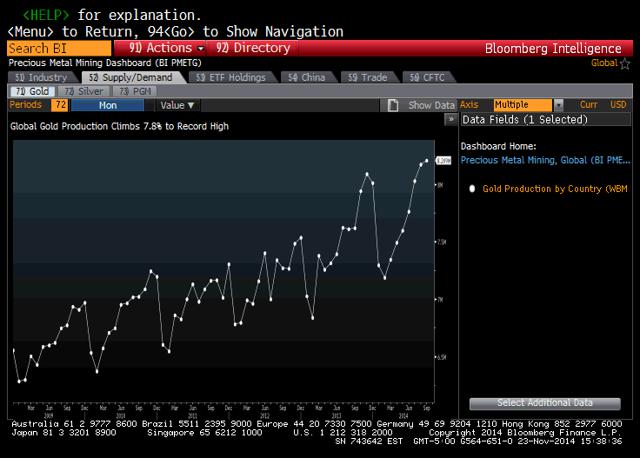 Source: Bloomberg Terminal
The metal's 35% decline since 2Q11 has forced producers to streamline and optimize their project portfolios to become sustainable in the low-price environment.
How Will Miners Stay Alive?
With precious and base metal prices down 20% to 65% below their six-year peak levels, miners are faced with record debt, high costs and declining revenue.
Historically, miners have been able to sharply lower the cost curve during a mining crisis to conserve capital.
Plunging metals prices have sent mining companies into crisis mode to conserve and raise cash. Gold has produced the most visible price decline in the past several years, with a 40% drop vs. its historical peak. How rapidly companies can cut spending and dial back mine development could go a long way to determining how quickly prices can rebound.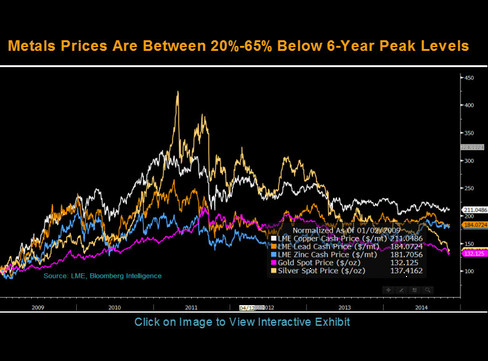 Source: Bloomberg Terminal
Miner's debts at record highs
Mining debt has soared to all-time highs as companies rushed to complete major projects and meet expected Chinese demand and higher prices that never materialized. Lower prices and higher-than-expected capital costs have sent large-cap miners' total net debt to almost $250 billion, from less than $100 billion in 2006.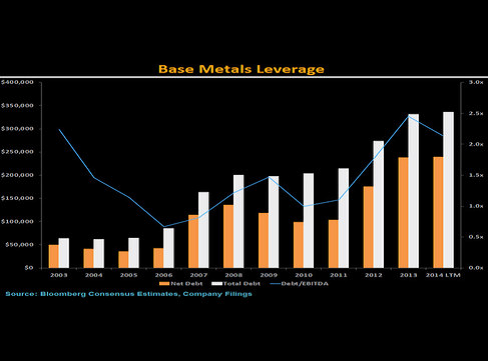 Source: Bloomberg Terminal
Mining cost have gone up 447%
Senior gold miner gold cash costs surged 226% to $707 an ounce, according to a study. All-in sustaining cash costs are now $995 an ounce. At the same time, labor costs rose by 250% in Australia and 154% in South Africa through 2Q. As metal prices rose, miners were granted ever higher wages, with some earning more than $180,000 annually.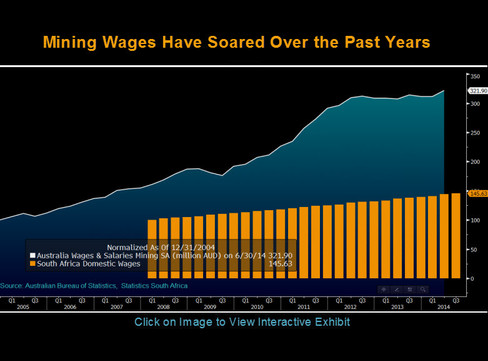 Source: Bloomberg Terminal
As metal prices have receded, mining companies have been in full retreat and sharply cut staffs and taken a hard look at all unnecessary costs. In the past two years, gold companies have reduced their all-in sustaining costs by more than 10% and more cuts have been announced.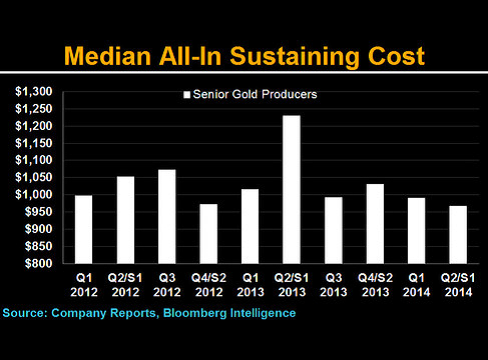 Source: Bloomberg Terminal
Lower dividend yield
The median dividend yield for senior gold miners has fallen 42% since 2Q13. As gold prices fell, companies were forced to reduce or eliminated dividend payouts to shareholders, instead keeping that capital on hand. Dividend cuts outweighed stock price decreases, resulting in the falling yields. Only Goldcorp (NYSE:GG) has not cut its dividend, instead raising it slightly. Newmont (NYSE:NEM) has tried a new tactic, directly linking its dividend to the price of gold.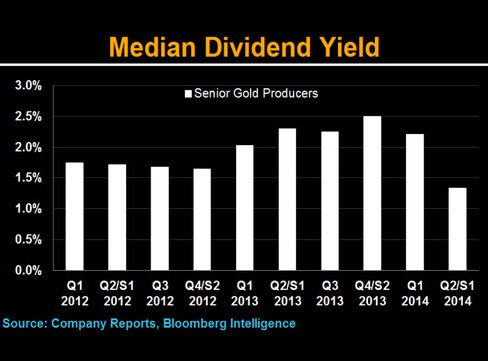 Source: Bloomberg Terminal
Has the gold found a bottom level?
Shanghai gold trade opens China market
The opening up of the Shanghai gold market to the rest of the world through the Shanghai Free Trade Zone in September may lead to further growth in demand for gold inside of China. China is seeking to open its currency markets. The Shanghai Free Trade Zone, in addition to new currency trading partnerships around the world, could lead to a continued increase in gold interest in the world's largest gold buying economy.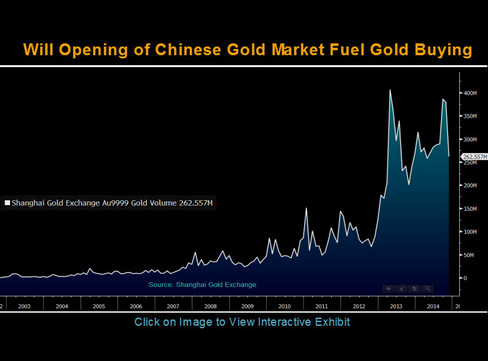 Source: Bloomberg Terminal
China's Hong Kong gold imports reach 5-month high before holiday
China's net gold imports from Hong Kong fell 44% in September from a year earlier, though were still up 141% from August. Net imports of 61.7 metric tons were the highest in five months as Chinese consumers bought gold for the "golden holiday" in October. Gold prices fell 8.5% during the month. China imports set a record last year as the nation passed India as the world's largest gold market with one-third of global demand.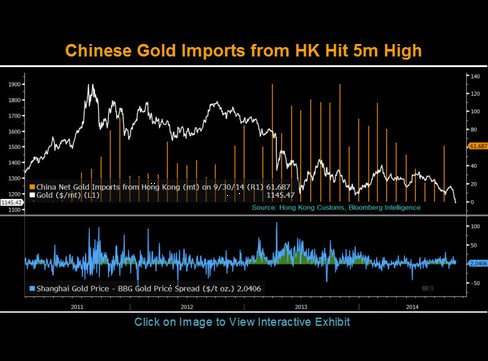 Source: Bloomberg Terminal
In other news, last week the World Gold Council announced that central banks bought 93 tonnes of gold in Q3, led by Russia with 55 tonnes. Shanghai Gold Exchange deliveries last week were up 20% to 54.2 tonnes.
Final thoughts
Gold miners' costs are mostly higher than current spot prices, increasing the likelihood of writedowns next year, which could help to decrease the overall supply and boost the price.
Gold may also trade higher due to the data showed that Japan had slipped into recession, and the raising concerns about global growth. However, right now the strength in the dollar has kept the metal from going up.
Although it is clear that we will see more volatility, gold remains a favorite play for speculators due to the growing list of worries spanning global economics and geopolitics.
Disclosure: The author has no positions in any stocks mentioned, and no plans to initiate any positions within the next 72 hours.
The author wrote this article themselves, and it expresses their own opinions. The author is not receiving compensation for it (other than from Seeking Alpha). The author has no business relationship with any company whose stock is mentioned in this article.