By Eric Monte
In this article, I was looking for a micro-cap restaurant name with a focus on healthy eating and potential for growth
To review a list of companies in the sector, I used the Restaurant Stocks Index at tickerspy.com. The company I took interest in was Cosi (NASDAQ:COSI). For those not familiar, Cosi was founded in 1996 and now has 141 stores in 18 states, District of Columbia, and the United Arab Emirates. Of the 141 stores, 82 are company-owned with the remainder owned by franchisees. Cosi serves breakfast, lunch, and dinner. It is best known for its signature flatbread and salads, among other menu offerings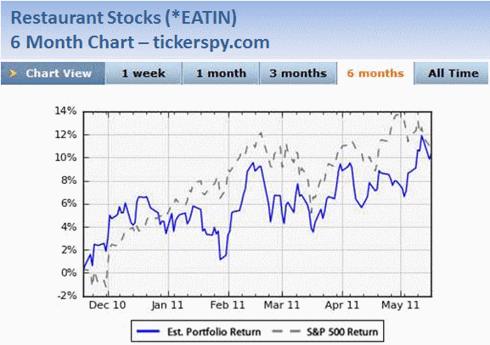 (Click to enlarge)
From a qualitative standpoint, I like Cosi because it offers a diversified menu that targets the health-conscious consumer. Its restaurants are warm, pleasant, inviting spaces that suggest the customer could stay as long as they want. For those that have a time-sensitive schedule, Cosi offers a quick turnaround carry out option. I view Cosi as a company that can produce carry out the same way fastfood cchains like McDonald's (NYSE:MCD) and Wendy's Arby's Group (NYSE:WEN) do, while maintaining that core competency of healthy meal offerings. The company has also begun offering catering services, a new twist on exposing the brand and generating income
Cosi qualified for this search because it had a market capitalization of $58.51 million, at the time of writing. When analyzing a company like Cosi, it is important to think about the company's financial strength if business slowed or a major cost was incurred. After taking a look at the numbers, I believe it it is reasonably well positioned. The company has no debt and roughly $10 million in the bank, as of its last earnings report. From a valuation standpoint, the company has negative earnings so I like to use the P/S ratio, which is 0.54, a number that can be viewed as a discount to the market.
When investing, it is always good to create a basket of stocks that could benefit from your thesis. It can be difficult to pinpoint just what company will prevail, for this reason I used the tickerspy.com Restaurant Stocks Index. Two other stocks to that fit a similar profile but are much more well established than Cosi are Panera Bread Company (NASDAQ:PNRA) and Chipotle Mexican Grill (NYSE:CMG)
With only 141 stores, Cosi has established itself in the restaurant industry, while still offering significant growth opportunities in new markets going forward. As the population continues to become busier and more health conscious, I believe Cosi is positioned to greatly benefit from these trends. The demand for its products will continue to increase; it now lies on the company to strategically lay out a road map for achieving higher market share. A focus on its bottom line and positive earnings per share will help make Cosi a solid investment. The food business is difficult, but if the company can keep costs down and continue to grow locations, this might be a stock worth taking a look at.
Disclosure: I have no positions in any stocks mentioned, and no plans to initiate any positions within the next 72 hours.